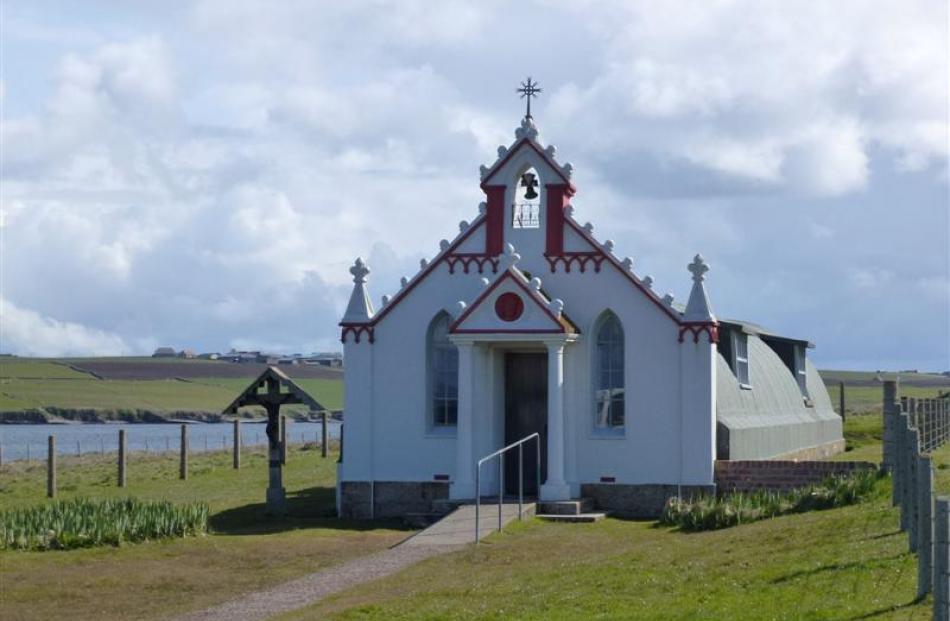 Dunedin writer Neville Peat visits a fabled Far North place of selkies and standing stones, with a human history so old the Vikings appear relative newcomers.
Like jigsaw-puzzle pieces on a dark-blue canvas, the islands of the Orkney archipelago form a group of scattered, indented and irregular shapes separating the North Sea from the Atlantic Ocean an hour's ferry ride north of the Scottish mainland.
There is plenty of "north" about Orkney. Straddling latitude 59 degrees north, it is so far north and climatically challenging that trees don't like it. To find an equivalent spot in our southwest Pacific region you would need to sail 750km south of subantarctic Campbell Island.
Orkney's climate - cool, wet and windy much of the year, with sunbathing days a rarity but 20 hours of daylight a day a given in summer - can also be challenging for many visitors.
Orkney does have attributes, though. It has attracted visitors and settlers for nigh on 6000 years. People were living on these islands centuries before the construction of the Egyptian Pyramids began and more than 3000 years before the Great Wall of China was built. Vikings occupied Orkney from 1400 to 600 years ago, taking over from the Iron Age Picts, who built stone towers called brochs.
Before them were Neolithic peoples, whose stories, in the absence of written records, are largely hidden.
Thus Orkney has seen the passage of Stone Age, Iron Age and the Bronze Age peoples. The evidence is found in large chambered burial mounds, excavated remains of oval stone buildings and mysterious standing stones up to 6m tall - all of which make the Vikings, let alone the Scots, seem like newcomers.
The archipelago that successive cultures inherited was worn down by ice-age glaciations - the last lot of ice retreated about 13,000 years ago - and by erosion from wind and rain.
Sea-level rise following the last ice age drowned the shallow land bridges and created today's maritime jigsaw puzzle.
There are 70 islands and islets in the group, 16 of which are inhabited.
The largest, Mainland, is about 45km across, and is home to three-quarters of the population of 20,000.
Most of the islands are low-lying as if hunkered down against the gales and sweeping rain. Their gently rolling and open topography is covered by perennially green farmland, peat-rich heathland and grassland. Lochs and wetlands are the calling cards of the ample rainfall.
Unless you fly from Inverness or Aberdeen, you are likely to be relying on ferries for transport to Orkney.
The fast catamaran Pentalina takes an hour to cross Pentland Firth. She is remarkably steady in 4m or 5m seas in the most exposed part of the strait.
Her course is determined by the strong tidal races and whirlpools that churn at either end of the mid-strait islands of Stroma and Swona and hint of the growing commercial interest in Orkney of harnessing wave and tidal energy, as well as wind power.
On Stroma, houses and farm buildings stand abandoned, glass windows removed, inhabitants, once more than 500, gone. Clearly it was too hard to make a living here.
The ferry takes 30 cars, loaded over a stern ramp, and from where the ferry docks in Orkney, at the delightfully named village of St Margaret's Hope, you can reach the capital, Kirkwall, in 20 minutes via a series of causeways called the Churchill Barriers. These were built during World War 2 to deter enemy submarines from raiding the old Royal Navy anchorage, an island-encircled bay called Scapa Flow.
It is advisable to take a car to Orkney because the neolithic wonders and other attractions are well spaced across the main island.
Kirkwall, whose name is derived from old Norse meaning Church Bay, is a town of 7500 people that squeezes on to a narrow neck of land between the two sprawling lobes of the main island. Streets are narrow and confusingly one-way in the centre of town, but you can get your bearings from a visitor centre and guidance on the ancient history from the quaint Orkney Museum.
Accommodation comes in all forms - hotel, bed and breakfast, guest house, self-catering unit, holiday home, hostel, backpacker lodge and caravan park. We opted for a friendly family-owned hostel with kitchen and warm lounge called Orcades, a short walk from the town centre.
On the cobble streets and in the enticing cafes, listen for the Orkney lilt, which mixes Scots and Welsh accents in a charming way. You will hear strange words, especially for food - bannocks (scone-like crispbreads) and clootie dumplings (spicy, dried-fruit puddings).
Kirkwall home gardens are limited but do their best to encourage trees and shrubs. New Zealand cabbage trees, flax bushes, hebes and pittosporums are conspicuous. On seaside streets are signs warning motorists to watch for otters crossing to the water to feed on fish and crabs.
The town's centrepiece is St Magnus Cathedral. Built of local red sandstone, it has Viking origins going back nearly 900 years. The remains of a martyr, Earl Magnus, are secreted in the church, which used to come under the wing of the Norwegian diocese of Trondheim. When Scotland usurped Norse rule in 1468, it became Presbyterian. An estimated 100,000 people a year visit its spectacular interior.
Within earshot of the cathedral bells is another popular place for visitors - the Highland Park Distillery, which has been producing whisky for more than 200 years and exporting it. I took the hour-long tour because I knew it still used peat in its kilns to impart a fragrant smokiness to the malted barley, the basis of Scotch - and I had a book in mind.
In the 19th century, Orkney peat was shipped to Inverness for the Glen Mhor Distillery, which produced the malt whisky ordered by Ernest Shackleton for his 1907 British Antarctic Expedition. In 2007, New Zealanders working on the conservation of his expedition hut at Cape Royds found three cases of whisky under the hut. I intended unravelling the whole story in a book.
The visit to Highland Park Distillery led me to the company's peat source on heather-clad Hobbister Moor, which has enough peat to keep the kilns going for another 250 years. Hobbister Moor is also a great place for birdwatching - hen harrier, falcon and redshank among the species.
Carry on west and you soon reach Mainland's second port and second-largest town, Stromness, a cafe stop and staging point for exploring the neolithic highlights nearby. They include the great standing stones of Stennness which, unlike those at Stonehenge, you are able to get up close to and shelter behind in strong winds, and the prehistoric coastal settlement at Skara Brae, surrounded by farmland with beef cattle and a few sheep that reputedly eat seaweed.
Stromness is also good for getting a look at seals. Their dark, sad but knowing eyes speak of the old Selkie traditions - of fisherfolk and sailors who ended up living as seals after offending the gods, of seals talking and singing of lives past. There seems to be a rivalry between Kirkwall and Stromness of Napier-Hastings proportions. When you ask at the Kirkwall visitor centre about Mainland's "must-sees", as we did, top of the list was not one of the tomb or standing-stone sites but a 70-year-old wartime monument to peace called the Italian Chapel, at Lambholm. Standing strangely ornate in the middle of farmland about 10 minutes' drive from Kirkwall, the chapel was built in 1943 by Italian prisoners of war from the North Africa campaign. Several hundred were kept on Orkney until the end of the war. Mostly they helped built the Churchill Barriers but a group was offered two half-round Nissen huts to create a small church, the interior of which was transformed by the artwork of one of the POWs, artist Domenico Chiochetti. His beautiful trompe-l'oeil paintings feature a Madonna and Child behind the altar.
Orkney impresses as a land apart from Scotland, defined by the sea, the elements, traditions and structures ranging far back in time. Orcadians, as the locals are known, have emigrated around the world. Some helped settle the Scottish south of New Zealand. On Stewart Island/Rakiura, Orkney is remembered through the Traill family - Charles Traill, the island's first postmaster and storekeeper, established the Foveaux Strait ferry service - and the pioneering endeavours in commercial fishing and shipbuilding of Captain James Harrold.
From the sing-song accent of modern Orcadians to the eerie presence of the Stone Age sites, Orkney is a step worth taking.