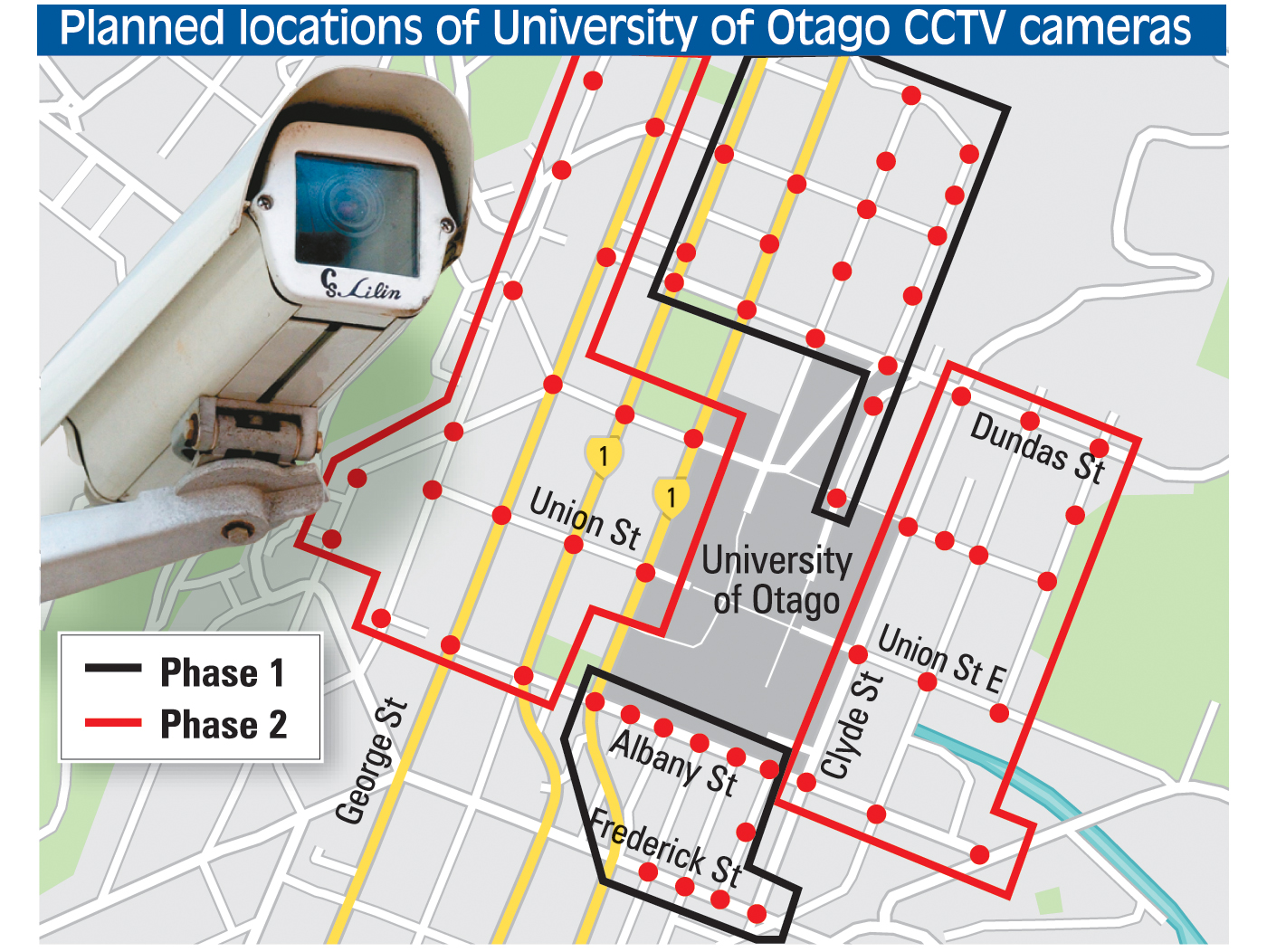 The University of Otago has unveiled a  plan to dot 60 cameras around the student quarter and central Dunedin.
The $1.275 million project, which is supported by police and the Dunedin City Council, is set to be split into two phases and the university hopes to begin rolling out cameras covering areas north and south of the campus, including on Castle and Leith Sts, this year.
The next phase would be carried out next year and involved the areas east of the campus, including Clyde, Dundas and George Sts.
However, the plan could face some obstacles, as the council believed the university would require resource consent to install cameras in some of the proposed areas.
A university spokeswoman said it took the view resource consent was not needed, but was happy to discuss the issue with council further.
Vice-chancellor Prof Harlene Hayne said it would consult with students before introducing  the project, which was aimed at keeping students safe.
"The plan regarding CCTV has not been finalised because we were waiting for input from students, including Otago University Students' Association (OUSA), which began on Monday with a visit from the deputy proctor," Prof Hayne said.
But she believed the project had merit.
"We have done substantial work in this area and in my view, CCTV is the best way to keep our students safe.
"But if someone can come up with an alternative idea, I'm all ears."
Prof Hayne  expected there would be some concerns about the plan, but likened it to the introduction of Campus Watch, which prompted suspicion at the time but was now highly rated by students.
"However, I make no apology that we need to do something about non-students committing crime in our area."
The news prompted some concern from students after the plan was first revealed by student magazine Critic  yesterday.
Some students on the magazine's Facebook page were concerned about their privacy being invaded, while others believed it was necessary to keep them safe.
Of eight students spoken to by the Otago Daily Times yesterday, only one was against the initiative.
Castle St resident Matt Beasley (20) and a group of his friends said they would be supportive of the plan as long as the university did not use the cameras to catch out students for minor offences, such as urinating in public.
It would be comforting knowing if students were assaulted or robbed the culprits would be more likely to be caught, Mr Beasley said.
Otago police coastal area prevention manager Acting Inspector Ben Butterfield said he supported the initiative as a way of improving the safety in  the North Dunedin community.
"All too often students and other residents in the North Dunedin area are a target for numerous crimes, including burglaries and assaults.
"The installation of CCTV cameras will act as a good deterrent against this type of criminal behaviour and will assist us during our investigations when offending in this area does happen," Insp Butterfield said.
A council spokeswoman said the university had discussed its plans with council representatives.
In principle, the council "broadly supports the initiative" but further discussions would be needed with councillors and senior staff.
"This will be made a priority."
The council's view was resource consent would be required in some of the areas and this would be discussed further with the university.
Deputy Proctor Andy Ferguson said the plan was not a foregone conclusion and would be dependent on consultation with students and other parties.
They would also be open to receiving feedback from non-students given the cameras covered areas, such as George St, outside the student quarter.
It did not need any special permission from council to install the cameras  and only needed approval from power pole owner Aurora Energy, which it had already gained.
The plan was just an extension of its current CCTV network, which included about 400 cameras on university property, some of which were already focused on public streets and walkways.
To ensure privacy was protected it would develop a CCTV policy and there would be a strict process over how footage was accessed and who could access it.
The footage would only be reviewed on request and staff would not be sitting watching cameras 24 hours a day.
OUSA president Hugh Baird said it would hold a referendum and student forum on the topic later this month.
It would take a view based on the response from students and was confident the university would listen to students if the majority were against the plan, Mr Baird said.
He disputed any suggestion OUSA and the university had kept the plan secret from students, saying OUSA only received the plans on Monday.