Being called Dave rather than David could be one of the secrets to Dunedin Mayor Dave Cull's success.
University of Otago researchers have shown having a name that  matches your face could help you win friends and even elections.
The researchers found people with rounder sounding names performed better when they had rounder faces and people with angular sounding names performed better when they had angular faces.
And while the polls may not have predicted president Donald Trump's victory, he comfortably beats  Hillary  Clinton when it comes to matching names against faces.
Labour leader Andrew Little was marginally worse than Prime Minister Bill English.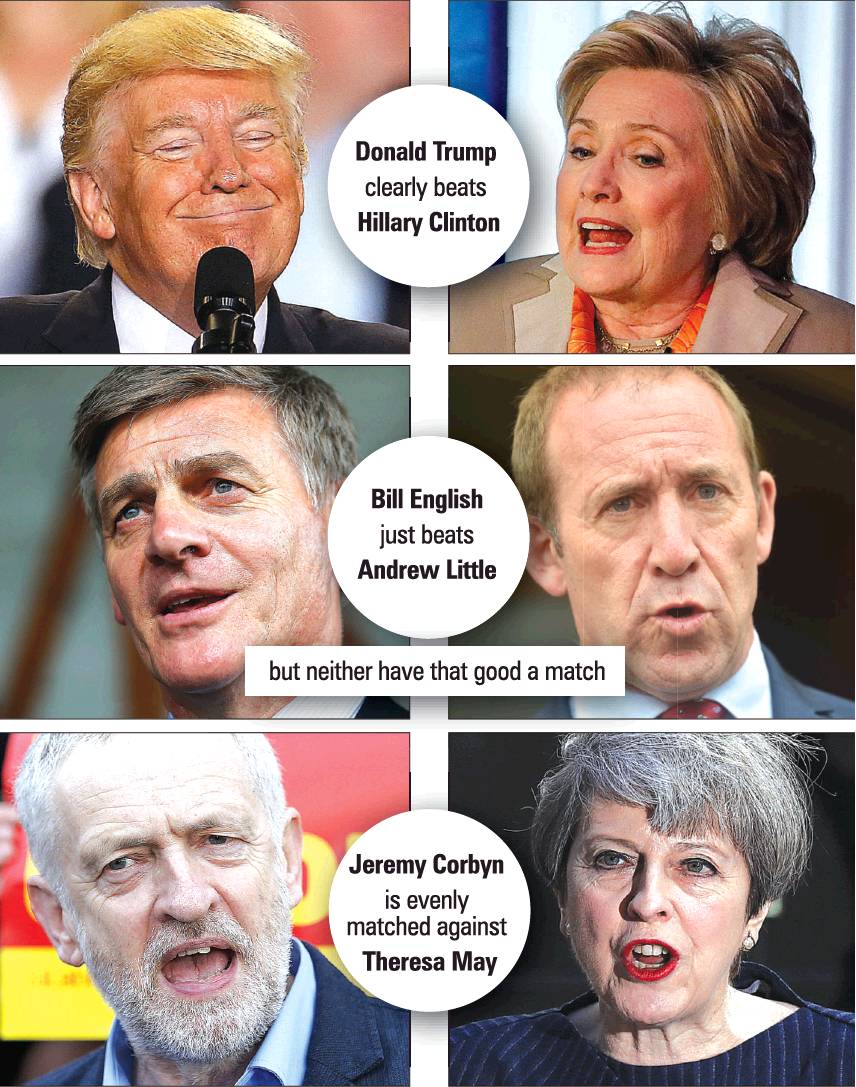 In fact, out of eight local and international politicians provided to the University of Otago by the Otago Daily Times yesterday, Mr Trump came out on top.
Researchers Prof Jamin Halberst and David Barton stressed the results  were not as thorough as those included in their study, which involved candidates for the United States senate.
They found candidates with names that closely matched their faces earned an average of 10 percentage points more when they were facing candidates who had names that fitted their faces very poorly.
But, asked for his quick assessment, Mr Barton said Mr Cull had a good match and definitely made the right move to go by Dave as opposed to David.This was because the name Dave was a better match for his round face than the much sharper and angular David.
He believed Mr Cull and other people might subconsciously chose to shorten names based on their face shape, so Roberts with rounder faces could become Bobs and Davids Dave.
Mr Trump stood out as having a good match, especially compared with Mrs Clinton.
"His face is pretty round and his name is quite round as well.
"Whereas Clinton has a much more angular name and she has also got a rounder face."
He was uncertain whether this had any impact on the United States election, but their research results suggested it "could have been a factor".
The research was based on the so-called bouba-kiki phenomenon, in which people associated rounded objects with names that required the rounding of the mouth to pronounce and angular objects with angular sounding names.
Round names such as "Bob" and "Lou" were associated with round-faced individuals, while sharp names such as Pete and Kirk were associated with sharp-faced individuals.
Nine out of 10 participants matched round faces with round names and eight out of 10 matched angular faces with angular names.
In another experiment, they found participants liked another person more when they learnt they had a name that matched their face.
In contrast, their estimation of a person went down if the opposite was true.
Prof Halberstadt said the results told a consistent story.
"Face shapes produce expectations about the names that should denote them, and violations of those expectations carry affective implications, which in turn feed into more complex social judgement, including voting decisions."