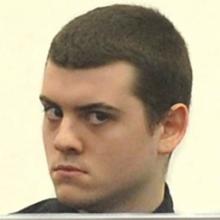 A Dunedin cleaner's underlying psychological issues went undiagnosed for years, eventually leading to the vengeful slaying of his boss over a perceived slight.
Alexander James William Merritt was yesterday sentenced to life imprisonment for the murder of Karin Ann Ross.
The 22-year-old will remain behind bars for more than a decade after Judge Nicholas Davidson imposed a minimum non-parole period of 12 years.
Merritt's eligibility for parole will largely depend on his response to treatment behind bars for his previously undiagnosed psychological disorder.
It was revealed in court yesterday that Merritt had suffered from autistic spectrum disorder for years, an affliction that went undiagnosed until after the slaying of his 51-year-old supervisor.
Merritt sat silently and impassively in the dock throughout his sentencing in the  High Court at Dunedin yesterday.
His eyes were fixed on the front of the court for much of the hearing, only occasionally darting around the room when a noise caught his attention.
Merritt had clashed with Ms Ross, his supervisor at Spotless Cleaning Services, after taking to parking his car in a disabled parking space at the company's Strathallan St facility.
She also questioned his performance and raised issues with his lacklustre cleaning of some windows.
The evening before his  attack,  he received a disciplinary letter detailing his perceived shortcomings. They necessitated a meeting with company bosses. As he was unable to read or write, his mother read him the letter. In it, critically, was the threat of dismissal.
Early on December 2, 2015, dressed in dark clothing and armed with a hammer, Merritt drove from his parent's Kaikorai home to his workplace.
He lay in wait as Ms Ross drove into the company's car park at the finish of her shift.
Merritt bludgeoned Ms Ross with the hammer, carrying out a brutal and sustained attack. He delivered 15 blows to her head and many others to her body.
Ms Ross attempted to flee the attack, even trying to escape the area in her work van.
But Merritt pulled the victim from the vehicle and continued his assault.
"She was struck repeatedly as she lay on the ground," Crown prosecutor Robin Bates said at yesterday's sentencing.
Merritt sat emotionless as details of the attack were read to the court.
Mr Bates said the murder was premeditated and "entirely disproportionate to the perceived slight".
He accepted Merritt's "mild" autism was a mitigating factor in his offending and the Crown sought a minimum non-parole period of 14 and a-half years' jail.
Defence lawyer Anne Stevens said there was a "significant relationship" between Merrett's mental disorder and his actions.
His "grossly disproportionate response" to the employment letter was as a result of a misguided fight or flight response to what he perceived as a "sudden, almost catastrophic invasion of personal space" tied to his autistic view of the world.
"Until this tragedy occurred Mr Merritt was undiagnosed," Mrs Stevens said.
"We have a long history of his mother taking him from one specialist to another from the age of a toddler to the age of a teenager when he was isolated, friendless and in a very rigid regime."
His brutal killing of Ms Ross "can only be explained in the context of having this lifelong disorder of autistic spectrum disorder".
Since he was young he had been different from other children, struggling to communicate and lacking empathy, she said.
She sought a minimum non-parole period of 10 years.
Judge Nicholas Davidson said Merritt's disorder had impacted his life and was connected to the murder of Ms Ross.
"References to the mild end of the ASD spectrum shouldn't, in my view, trivialise your impairment," he said.
"You do suffer from a mental disorder as the law understands it. It's part of your make-up and the reason you killed Ms Ross."
He hoped the details of Merrett's disorder might help Ms Ross' family understand her killer's "underlying make-up" and the reasoning behind an "otherwise senseless murder".
"It's a real mental disorder and it's not your fault that years have passed without real help," he said.
When he perceived his job was threatened, Merritt lashed out in a totally disproportionate way.
"Over time, your world has shrunk around you," Judge Davidson said.
"This job meant everything to you. You had no friends and were isolated."
Killing Ms Ross was Merritt's way of "dealing with a problem".
"You thought you could go on living your life having dealt with the problem Ms Ross posed to you," Judge Davidson said.
"No-one could have foreseen the risk you posed, but it was real and crystallised when something threatened your world."
No victim impact statements were read to the court but Judge Davidson expressed some of their thoughts to Merritt.
Ms Ross was her mother's only child and she had relied on her daughter for assistance in getting to medical appointments and other tasks.
Her daughter's death had "left a huge hole in my life and I always expected to die before my daughter", she had written to the court.
Ms Ross' partner, Richard Leckie, told the court his partner's death had dashed his hopes of moving south and buying a farm with her.
"He hopes they won't have to sell the family home," Judge Davidson said.
Ms Ross left behind a 17-year-old son and a 20-year-daughter.
Tears flowed from those seated in the public gallery as the details were read out.Merritt remained in denial of killing Ms Ross and showed no empathy to her, her family or his own family.
"You are truly unable to show remorse because you don't feel it," he said.
The court heard Merritt told the writer of a pre-sentence report that "you do not do emotions".
He had "comfortably adjusted to the prison regime, reassured by its structure".
"You are at risk of further violence as things stand," Judge Davidson said.
"The effect of the sentence I will impose ... is you will be sentenced to life imprisonment and under the control and care of the Department of Corrections for the rest of your life.
"What sort of man the parole board sees before it depends on you and the help you receive.
"You will come to understand that it's likely that only when you accept responsibility for what you have done and the help we will offer to you that parole will be considered."
When his sentence was read, he stood emotionless and walked from the dock accompanied by guards. He did not acknowledge the family of Ms Ross or his own.
Merritt also received his first strike under the three strikes warning legislation.
He had not previously appeared before the court.
Neither police, Ms Ross' family nor Merritt's family wished to comment following the hearing.