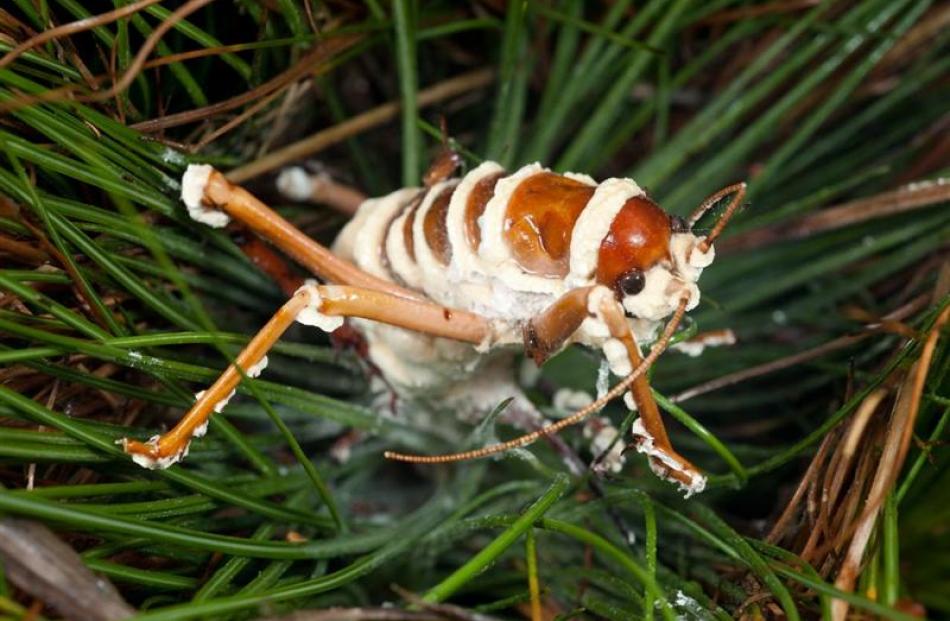 Sir Alan Mark and Rod Morris say the Denniston Plateau is too precious a treasure trove to disturb with opencast mining and must be protected for its unique heritage values.
So, we've lost Stockton but we will resist giving Denniston as well, even if it means another major Manapouri-like campaign AS business reporter Simon Hartley has revealed in a large feature (ODT, 6.3.11), he and predictably similar senior reporters from the country's other media were hosted on a day-long visit to Australian mining giant Bathurst Resources Ltd's target opencast mining area on the Denniston Plateau above Westport.
The local Westport News devoted its entire front page to Bathurst's huge and no doubt costly promotion exercise, part of the "more than $100 million [spent] on the Buller project to date".
By contrast, we, along with more than 150 other conservation enthusiasts, gathered on the Denniston Plateau last weekend for Forest and Bird's BioBlitz, at our own expense.
The BioBlitz was to further unravel the many biodiversity secrets on the plateau before the Environment Court appeal against the several resource consents recently issued by a special hearings panel. Of the two unique coal measure plateaus in New Zealand, both in North Westland, the Stockton Plateau has already been almost entirely committed to opencast mining by Government-owned Solid Energy.
While the Denniston Plateau to the south has been subjected to considerable underground mining, there has been only very limited opencast mining to date, so that its unique landscape and native biodiversity remains largely intact.
Results of the BioBlitz will take time to analyse and collate but there were clear indications of a great diversity of indigenous plants and animals, and ecosystems, from a wide range of wetlands through tall shrubland to numerous patches of tall mixed rainforest on the sites more sheltered from the often ferocious westerly winds. Among the real "finds" were several interesting and possibly undescribed species of weta, butterflies, moths, liverworts, a flatworm, a pale olive-green gecko and a cicada. These will take some time for the particular specialist scientists to clarify. About 13 ecosystems have been identified, each with its unique collection of native plants and animals.
We can unreservedly refute Hamish Bohannan's claim to the company's recent visitors, as reported by Mr Hartley, that "the impact [of mining] is temporary" and that "The areas mined, if properly rehabilitated, will be undetectable." Even the most successful attempts at restoration of native ecosystems can only be described as pathetic. The transplanting of the commonest plants such as red tussock and manuka does not restore the native plant communities and their fauna, while predator-control agreements, mentioned by Mr Bohannan, are only meaningful if they are commitments in perpetuity.
A "cut and cover" system of opencast mining, as described by Mr Bohannan, requires very large areas just to store vegetation, topsoil and the 60m-80m deep substrate of underlying sandstone, before removing the coal and replacing the sandstone "into benched, similar-shaped hills, with the topsoil and native seedlings and cuttings replanted". Hardly a reassuring outlook for ecosystem restoration!Do we think we can save the Denniston Plateau from mining?
It depends on how important New Zealanders think our native biodiversity is. We had about 20 top scientists helping out on the BioBlitz, people interested in everything from ants and lichens to great-spotted kiwi and forests. The programme leader from one research company was interested in two species of fungi which had infected and killed two tree weta species on the plateau.
So what, you might say?
Well, new fungus species with as yet undiscovered properties may one day be used in farming, food production, or medicine. It's an example of the sort of "smart" thinking needed on the Denniston: we can no longer afford to destroy an entire ecosystem just to get at a single resource. Coal mining is no longer "smart" thinking, for exactly the same reason destroying the Amazon rainforest is no longer "smart". Once you destroy an ecosystem, it's gone - gone for ever, and everything has gone with it.
Mr Bohannan complains we are taking too long to decide on the Denniston Plateau's fate. He points out the appeal process has taken four months, creating a "never-ending" loop of "tortuous regulatory process".
To an enterprise interested in short-term gain, this might seem an eternity, but all New Zealanders maintain stewardship of the land on Denniston; not Bathurst Resources Ltd.
Despite the funded media hype and assurances, Bathurst's mining of the Denniston will destroy the ecosystems above and below ground, to an estimated depth of 60m. That's the nature of mining: it's destructive, dirty, and at times downright dangerous.
It will profoundly change catchments and drainage patterns, disturb and drain saturated wetland soils, alter the pH, annihilate vegetation types, and encourage weedy species as happens everywhere else where ecosystems are disturbed by mining.
And it will destroy something more than that; it will undermine our reputation as a nation of sensible, pragmatic people who care for and appreciate our environment, and enjoy the outdoors. Given the nearby Stockton Plateau has been essentially given over to opencast mining, there is a strong case for protecting the Denniston Plateau for its many heritage values as the quid pro quo for conservation.
This is Forest and Bird's proposal: a 5900ha reserve that would be included in schedule 4 of the Crown Minerals Act to effectively ban any further mining.
This can be justified on its ecological, biodiversity and landscape values and will be actively promoted after the heritage values hopefully are accepted as the basis for rejection, in the Environment Court, of the recent resource consents.
The present situation on the Stockton and Denniston Plateaus reminds us of the earlier Manapouri-Te Anau Lakes controversy, which was finally resolved to everybody's satisfaction by integrating lake conservation with the hydro-electric development.
Here we have the Stockton Plateau which has already been mostly committed to opencast mining and associated development.
The Denniston Plateau has to be the compromise made for heritage conservation, now and for all time: there aren't any others. Future generations will look back to this time and decide whether we made the right decision or we revealed our greed and really stuffed up. So, we've lost Stockton but we will resist giving Denniston as well, even if it means another major Manapouri-like campaign.
 - Alan Mark is an emeritus professor in botany at the University of Otago, while Rod Morris is a Dunedin conservationist and natural history photographer.