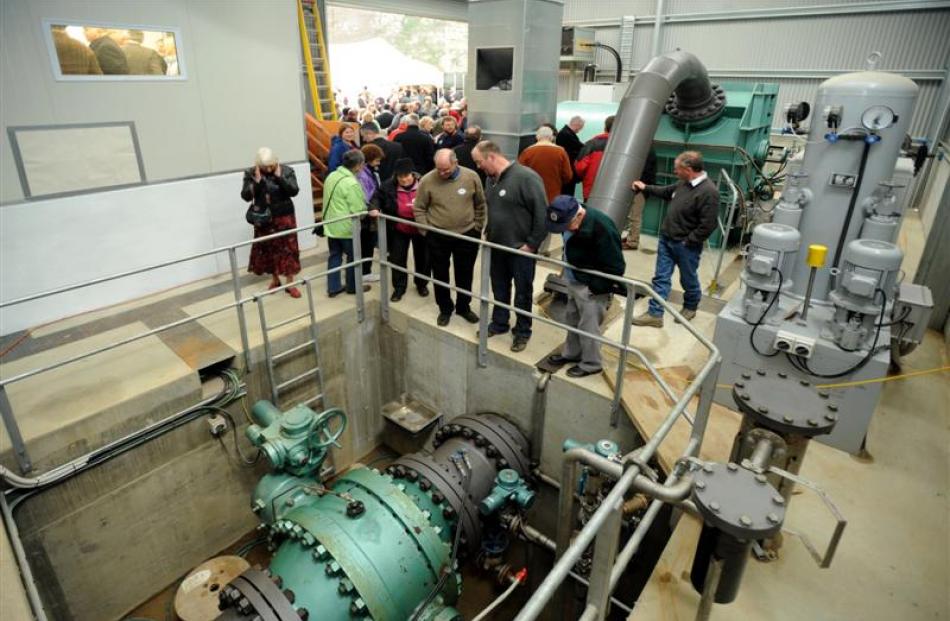 Smaller-scale hydro-generation schemes were "the face of the future", Deputy Prime Minister Bill English said yesterday, applauding the initiative of the two families who developed the Talla Burn scheme.
Mr English opened the scheme's power station near Beaumont. The power scheme, based on the Talla Burn, is owned by the Hore and Wilson families and has been generating power since November.
It generates enough power for more than 1000 households between Raes Junction and Clyde.
"The days of the big hydro scheme might be numbered - but don't tell that to Contact, who have plans for Beaumont up the road," Mr English said.
It was getting more difficult to build large dams and New Zealand had plenty of opportunities for smaller-scale operations, such as Talla Burn.
The two families behind Talla Burn had taken a considerable financial risk and it was fantastic to see a project like this come to fruition when such schemes were usually associated with big companies, he said.
"This scheme is a tribute to the practical wisdom and skills of the people of this part of the country."
Talla Burn director Jeff Wilson said the official opening of the station was a "bittersweet" day.
His 28-year-old son Paul, a civil engineer who was instrumental in setting up the project, drowned in February while taking water samples from the swollen Talla Burn near the power station.
The power house was officially named the Paul Wilson Station yesterday and Jeff and his wife, Sue, unveiled a memorial plaque on the outside of the building.
Mr Wilson broke down as he started his speech at the dedication ceremony and his son James read out his words.
Later, Jeff Wilson said Paul spent "days and most of his nights working on this job".
Paul had plans for three other hydro-electric projects and his father hoped they would also come to fruition one day.
The Talla Burn scheme "did not come easy", Mr Wilson said.
It had been a lifelong obsession for him.
He and Talla Burn director Alan Hore declined to comment on the total cost of the power scheme.
"Let's just say you could build a hell of a lot of good dairy farms for what this cost," Mr Wilson said.
The station is on the Hores' property, Beaumont Station, and Mr Hore said the project was mooted about four years ago.
"We did the arithmetic and then decided to proceed."
The scheme would produce "clean renewable energy forever," he said.
Roxburgh Community Board chairman Stephen Jeffery also paid tribute to the Hore and Wilson families.
"This is a fantastic project and it's great to see something positive taking place," Mr Jeffery said.
Power from the scheme is sold to Pulse Energy, and Pulse Utilities Ltd managing director Dene Biddlecombe said the project was an "outrageously gutsy" venture by the two families.
---
Talla Burn Power Scheme
• Owned by the Hore and Wilson families
• Located 10km from Beaumont
• Generates 2.15MW from the Talla Burn
• Scheme completed last October
• Produces enough electricity to power more than 1000 homes a year
• Supplies customers between Raes Junction and Clyde
• Power sold to electricity retail company Pulse Energy
• Scheme layout follows old mining and water race 
---