A bold plan to manage the number of tourists visiting Milford Sound has been criticised by Queenstown tourism operators and the cruise ship industry.
The master plan for the Milford Opportunities Project was released to the public yesterday, at a presentation in Te Anau.
The reaction from locals was cautiously optimistic, but tourism operators further afield were not so happy.
The cruise ship industry says a plan to ban cruise ships from the sound could result in fewer visits to other stops in the South, including Dunedin.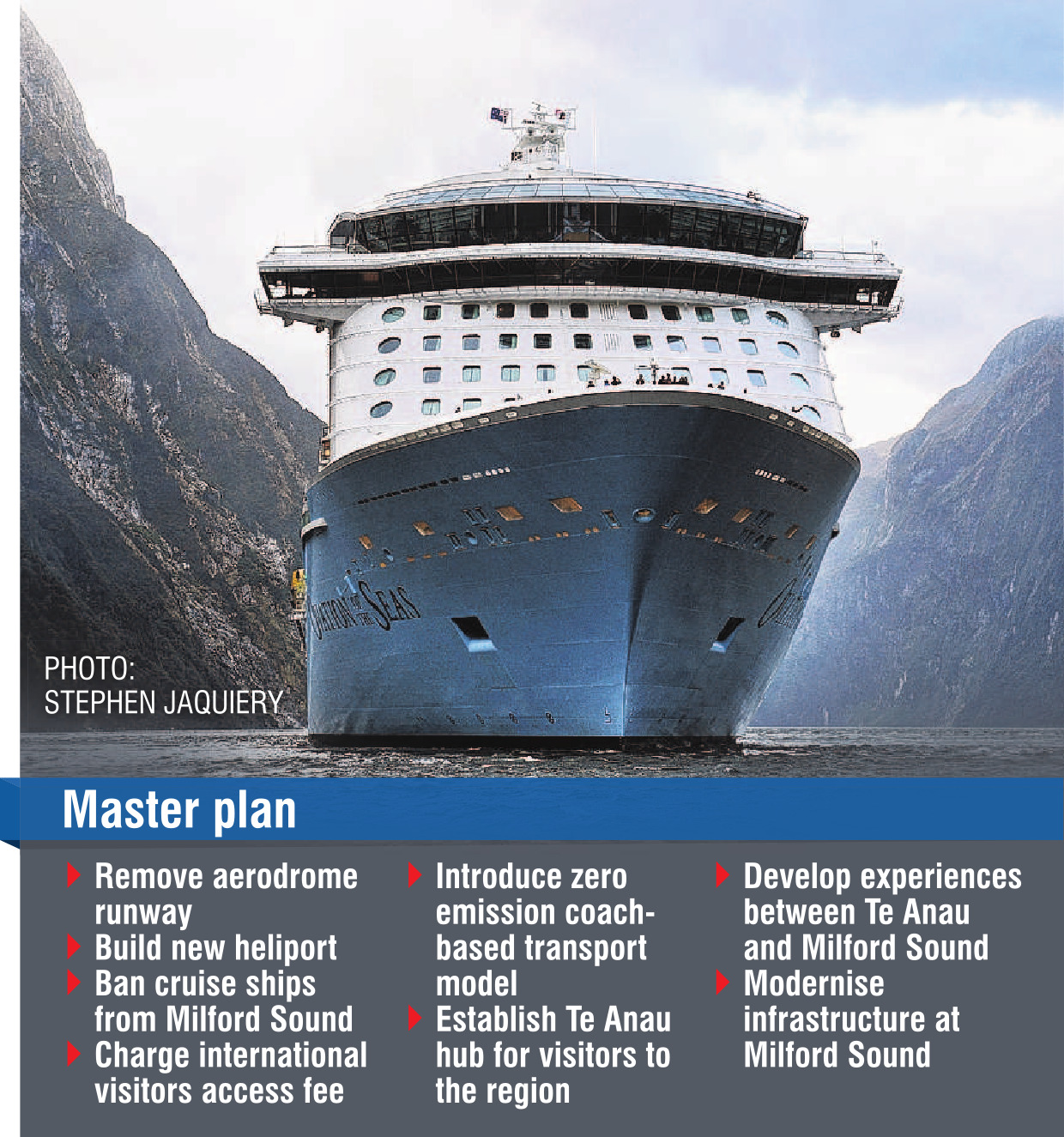 Queenstown tourism operators said they would be hit hard by the closure of the airport, which would stop visits by fixed-wing aircraft.
Years in the making, the project was the response to concern about rapidly growing visitor numbers in Milford Sound/Piopiotahi.
Numbers peaked at 870,000 visitors in 2019, up from 430,000 in 2013.
Southland Mayor Gary Tong believed the most controversial points would be the aerodrome runway removal and cruise ship ban.
"That was the only time I heard any noise from the crowd."
But he believed the plan was well received.
However, there was anger from beyond Te Anau.
Queenstown Milford Users Group chairman and Glenorchy Air owner James Stokes said the proposal to close the airport was a "kick in the guts" for tourism operators already hit hard by Covid-19.
"This would have an immediate impact, not only on the many family run businesses in the region, but on tourism, too,"
"For the businesses operating out of Queenstown, Wanaka and Te Anau, Milford Sound experiences make up more than 90% of their revenue."
The group would make its feelings known at a special meeting the project was having with fixed-wing operators today.
Queenstown Lakes Mayor Jim Boult promised to work with operators to lobby for the airstrip's retention.
New Zealand Cruise association's Kevin O'Sullivan believed cruise companies could abandon visiting Fiordland if the entry ban went ahead.
Losing such an "iconic destination" could also affect the viability of cruise ships for visiting other New Zealand locations, including Dunedin which was, in part, sold as being a gateway to Fiordland, he said.
Cruise ships only made a small impact on the sound and tended to visit early in the morning or late in the afternoon and only stayed for about an hour, he said.
Great South chief executive Graham Budd said those whom he had spoken to found the plan bold.
Some of the key proposals had been flagged in the past and so were not necessarily a surprise, he said.
He generally supported the cruise ship ban.
In regards to international visitors needing to pay for a permit, he did not think it would be a barrier.
He said while the plan was to build on the Southland visitor experience as a whole, it did not diminish the connection to Queenstown.
Real Journeys general manager Paul Norris thought the announcement gave them a chance to think about the effects for visitors and companies.
"There are things about it that are fantastic."
There was a lot to take in, and a lot to work through in the next few years.
The project's governance group chairman, Dr Keith Turner, said the plan was not a wish list.
"There are 1600 pages of research and analysis and evidence and data to back it up," Dr Turner said.
"It's a system, it's not about any one silver bullet."
When asked if he was confident everything announced yesterday would go ahead, he replied he did not hold the pen for legislative outcomes.
Tourism Minister Stuart Nash said the release of the plan marked a step to improved access and protection of "this jewel in our tourism crown".
"Tourism at Milford Sound/Piopiotahi cannot return to its pre-Covid state. As a tourist experience, it was crowded, rushed, noisy and unsafe."