Police have praised the behaviour of New Year's Eve revellers across the South and say there were no major issues.
A police spokeswoman said the crowd in Dunedin was well-behaved.
"No issues were reported regarding Rhythm and Alps, Wanaka and Queenstown both had large crowds but there were no major issues."
Some people were caught drink driving and two people were arrested in Queenstown for disorderly behaviour and both were given a pre-charge warning.
"Overall everyone was well behaved and it was a great New Year's for the district."
In Dunedin a good-natured crowd of up to 20,000 saw in the New Year and a new decade.
Starting off with a bang, the traditional firing of the Robbie Burns cannon at midnight marked the arrival of 2020, followed by the chiming of the Dunedin Town Hall clock.
A dazzling array of fireworks then began bursting from the roof of the Civic Centre building, captivating crowds packed into the Octagon.
The display brought to a close a lively New Year's Eve party in the city centre.
The temperature for Dunedin at midnight was a balmy 17degC.
Dunedin City Council community events co-ordinator Marilyn Anderson estimated up to 20,000 people were in the Octagon and said she was pleased with the temperament of the crowd.
As of just after midnight, no arrests had been made.
It appeared some could not wait until midnight for the fireworks, as fireworks could be heard from streets near the Octagon.
Earlier, a mix of locals and tourists made their way to the Octagon for an evening of music, dancing and the five-minute fireworks display, while Octagon and Stuart St bars were full.
From 10pm, The Easy Hearts performed a mix of originals and covers, ranging from Sympathy for the Devil by The Rolling Stones to Jump by Van Halen.
Local band The Moreporks entertained crowds from 8pm to 10pm.
Smokefree Rockquest bands Solid Merit, the Paper Frogs and Sugar Coated Bullets kicked off the New Year's Eve concert about 6.30pm, while many dined outside at restaurants in the balmy weather.
Twelve food stalls stationed around the Octagon kept people fed.
Ms Anderson reminded people to look after themselves, keep each other safe and have a good night.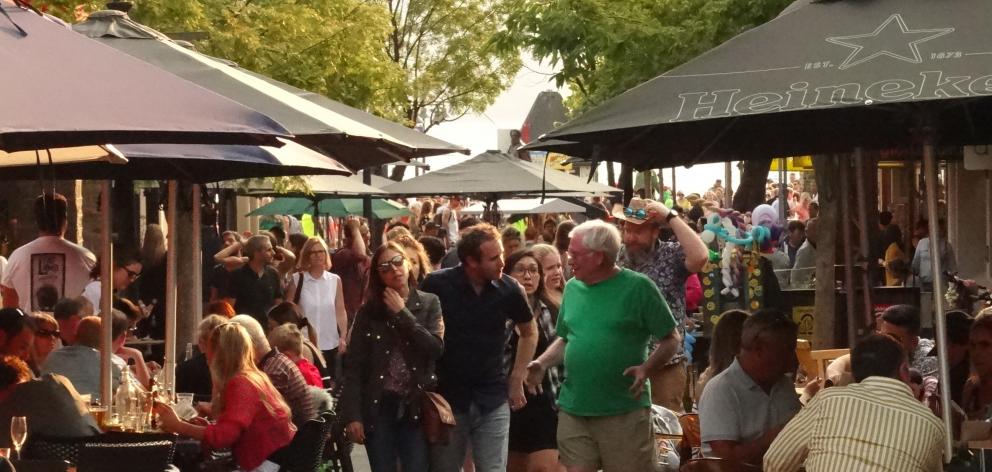 Free public buses were running at 12.30am and 1.30am, heading North, South (including Andersons Bay) and out to Mosgiel, funded by the New Zealand Transport Agency.
Crowds gather to celebrate New Year 
Queenstown
Central Queenstown is gradually transforming into a party zone as the crowds gradually grow.
A fine, breezy summer's evening means the outdoor areas of bars and restaurants are busy, while the audience watching live music on stage in Earnslaw Park is also steadily building.
Sections of Rees St, Marine Parade and Beach St are closed to vehicles, while security guards and a highly visible police presence are keeping watch on the holiday period liquor ban in streets and other public areas.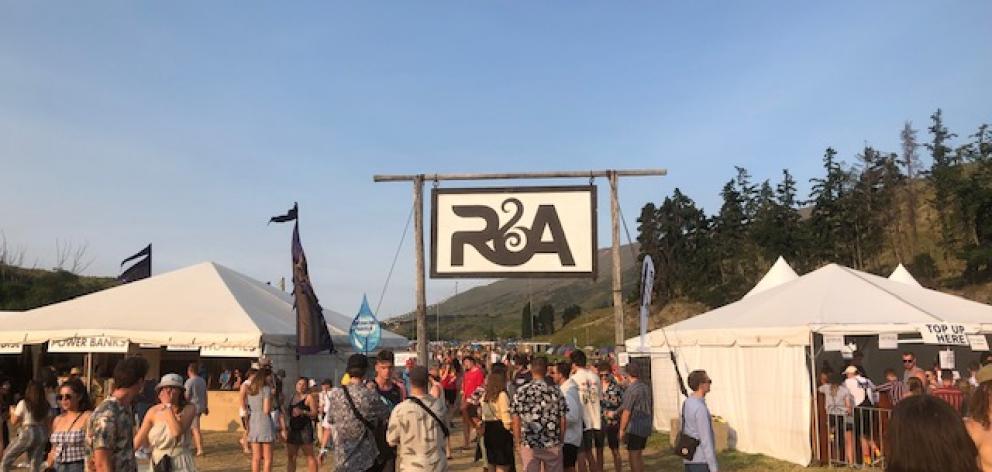 Wanaka
New Year's might be hours away but the party has well and truly begun at the Rhythm and Alps music festival in Cardrona Valley.
Set on a working sheep station, the green paddocks could barely be seen for the sea of tents and the stream of concert goers heading to the main stage.
The temperatures have stayed hot during the day and into the night so anything goes as far as what to wear.
In Wanaka down by the lakefront, the crowds are building in anticipation of the music and fireworks at midnight. 
Clyde
Meanwhile, temperatures hitting about 31degC in Clyde have residents and visitors seeking shade ahead of New Year's Eve celebrations in the town.
Hundreds are expected at Oliver's Restaurant and Bar tonight which will feature live music from solo performer Neil Chilton.
Aaron McCloy, who has stopped off at Oliver's, said he and two others were en route to Millers Flat for the night.
About 90 are also booked in around the corner at The Post Office bar in Clyde.
Oamaru
Crowds have also started gathering at Oamaru Harbour under sunny skies. It is 21degC in the coastal Waitaki town. 
Dipton
While the atmosphere at Bass Camp in Dipton was low-key at 5pm, event co-organiser Matt Turnball said in just a few hours it would become a buzzing New Year's party.
First held last year, the event was designed to fill a gap in Southland; Mr Turnball said there were a lack of festival type events and wanted to create something that would draw people to the region.
700 people will spend their New Years at the campsite, with two stages and a wide range of activities to participate in.
With rare sunshine in Southland, there will be no hiding in tents tonight.
Mr Turnball said they wanted it to be a family friendly kind of event and so activities include print making, children's arts and crafts, fire performers, yoga and mediation workshops, face painting and more.
Art teacher Miriam Noble, of Sydney, is one of about 45 volunteers helping at the festival.
She was putting her creative skills to use in the evening by hosting a child's art session.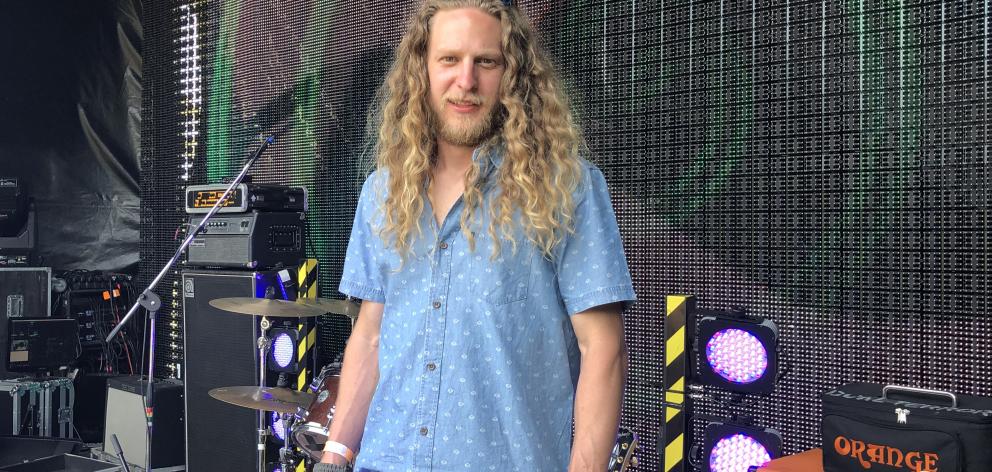 "We had been travelling around the South Island and looking for somewhere to settle and spend New Years . . . The festival is great, everyone is really friendly."
Mr Turnball said there was a conscious effort to minimise any environmental impact, and many decorations were up-cycled items such as plumbing parts.
He said he believed word about last year's event had spread, making this year larger by hundreds.
"People turn up as strangers but then leave as a wholesome family, a community."
Acts have and will include State Of Mind, Mood Swing & Chevy Bass, Rythmonyx, Optimus Gryme and more.
Te Anau
Hundreds of people are already ready to party at the Fiordland Rotary Club Party In The Park in Te Anau.
As dusk sets in, more and more are arriving to celebrate the New Year.
Fiordland Rotary member Shayne Mercer said 2000 people usually attend the fireworks at midnight, and it gets busy at 10.30pm when the bonfire is lit.
"It's a community thing, it's a good thing the club does for the community"
Later, thousands turned up in Te Anau for the waterfront fireworks display - lasting for around ten minutes, the crowd applauded the display.
Many of the crowd headed back to the park to stand around the bonfire and play on the children's apparatus as they celebrated the new year.
Forecast
A beautiful night is expected for New Year's Eve, with mild temperatures and clear skies for most of the country.
Queenstown and Wanaka will welcome a warm evening as temperatures at 6pm in Queenstown are expected to be 26C and 20C by 10pm, MetService forecasts.
Conditions are expected to be hot and dry to tomorrow as a large ridge of high pressure off the west coast and a warm front approaches the South Island to start 2020.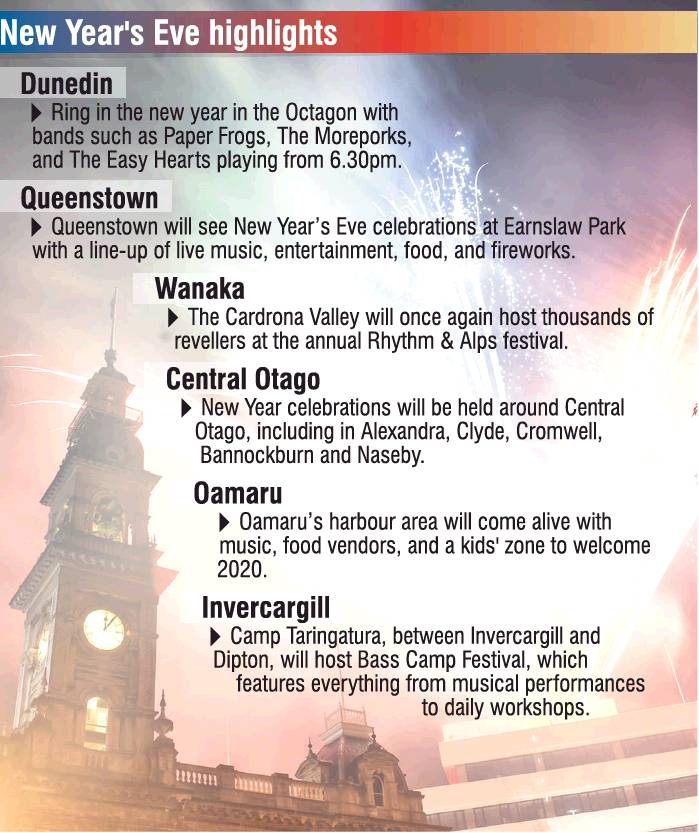 MetService predicts temperatures will be well above average for almost every major centre around the country for this time of year.
Temperatures
Dunedin -  Fine. Northeasterly winds. High of 24degC and a low of 15degC. Temperature at midnight 19degC.
Oamaru - Fine. Northeasterly winds. High of 22degC and a low of 14degC. Temperature at midnight 17degC.
Queenstown - Fine. Westerly winds. High of 29degC and a low of 13degC. Temperature at midnight 18degC.
Wanaka - Fine. Northwesterlies.  High of 29degC and a low of 13degC. Temperature at midnight 18degC.
Alexandra - Fine. Northwesterly winds. High of 32degC and a low of 13degC. Temperature at midnight 20degC.
Gore - Fine, some high cloud. Northwesterlies. High of 28degC and a low of 14degC. Temperature at midnight 18degC.
Invercargill - Fine, some high cloud. Northwesterlies.  High of 29degC and a low of 13degC. Temperature at midnight 16degC.