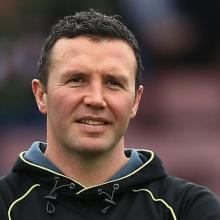 Highlanders coach Aaron Mauger said it was a huge win recorded by his side over the Brumbies, and the result was a reflection of how tight the playing group was.
The Highlanders scored in added time to record a 23-22 win over the Brumbies and bag their first win of the season.
It was a nerve-wracking victory for the Highlanders, and one coach Mauger was full of praise for.
"Just really proud of the courage and resilience shown throughout that last three to four minutes. Stood up and and showed how tight this group is," Mauger said.
"They want to work hard for themselves, for the coaches, for the fans and the region."
Mauger said the side had showed some real composure in the heat of the battle
and had been defensively strong when under attack by the Brumbies in different periods.
"Defensively we were really good and held together well. But the discipline was disappointing.
"There were just little things and penalties we did not need to give away. Avoidable penalties which gave them the advantage.
"The frustrating thing is we would do some good things but let them off the hook by giving away a soft penalty."
There were chances the side created but did not capitalise on, which was disappointing, but the side was progressing.
Centre Rob Thompson withdrew from the starting team because of a quad injury.
Michael Collins moved into the starting team and Tei Walden came on to the bench.
Walden did not take the field.
Wins away from home were a rarity last year for the Highlanders, so to get a win in Australia this early in the season was a positive sign for this year's campaign.
Mauger said the side had nailed its preparation and had done everything asked of it when in Canberra. The players were ecstatic to get the victory, but would come down to earth quickly.
It was a long day travelling home yesterday, and the Crusaders are next up in Christchurch on Friday to quickly dampen excitement.
No major injuries were recorded in the game.
In other results, the Rebels beat the Waratahs 24-10, the Chiefs — who featured two Otago forwards in their side in Adam Thomson and Dylan Nel — beat the Sunwolves 43-17, the Hurricanes beat the Sharks 38-22, the Stormers beat the Lions 33-30 and the Jaguares defeated the Reds 43-27.