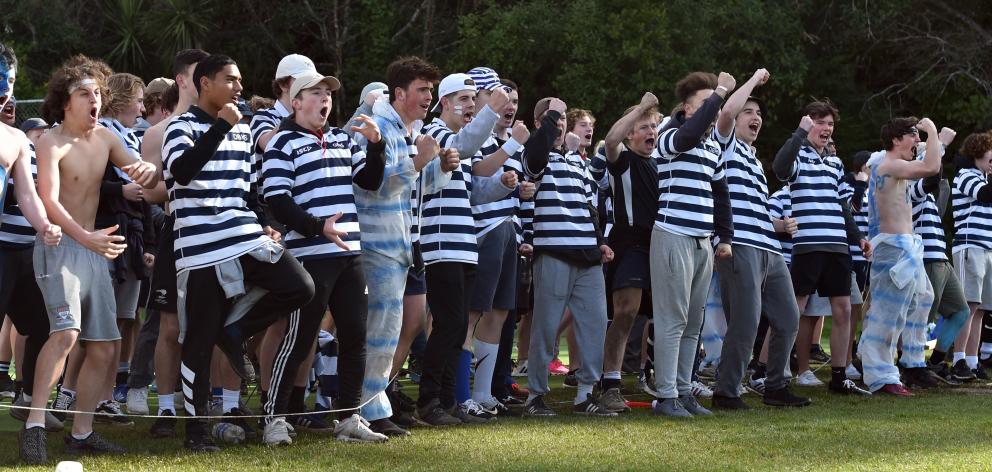 Another week, another final.
This time, a place in the national First XV Top Four finals is at stake.
Otago Boys' High School will play Christchurch Boys' High School in the South Island Top Four final in Christchurch today and the winner keeps its campaign alive.
The Trust Bank Cup and Moascar Cup are also on the line, so there is a lot to play for.
Otago Boys' has not been the dominant force it has been in recent seasons but the camp was in a buoyant mood following its 26-7 win against Southland Boys' on the weekend.
But by Tuesday, the atmosphere had turned serious. Christchurch Boys' has already had a win against Otago Boys' this season and will start as favourite.
But Otago Boys' coach Regan Turoa said his side discovered "quite a bit" about itself from the 26-23 loss and would take some momentum into the game.
"I guess we will find out [today]," he said.
"But I think there is momentum as far as our focus and concentration goes. There is a good feeling in the team, that is for sure."
Christchurch Boys' scored two quick tries after halftime to set up the win. Otago Boys' was guilty of tuning out briefly but was able to stage a late rally.
"We've learnt we have to switch on at critical times in the match ... but while we lost, we did leave there knowing we can play some good rugby," Turoa said.
"That gave us a bit of a lift and the boys did feel like they could compete against what is a very good team.
"They are quite strong right across the field. They have some good ball carriers up front, a good front row and some hard-nosed loosies and a very slick backline."
Christchurch Boys' will lean on experienced  halfback Louie Chapman and winger Ryan Barnes.
Chapman, who will play his 60th game for the team, possesses a fantastic pass and has a wonderful understanding of the game.
Barnes has missed a chunk of the season through injury but he is a terrific finisher and quality defender. He also has plenty of experience, with 39 appearances.
Another player to look out for is loosehead prop Ben Lopas. He is a strong ball carrier and solid bookend.
Otago Boys' strength is arguably out in the backline. Second five-eighth Reuben Wairau has been in impressive form and fullback Isaak Te Hiwi is an elusive runner.
First five-eighth Tevita Asi is key playmaker and has the handy habit of scoring critical tries.But that talent will be useful only if Otago Boys' can establish parity.
"We do have those weapons but what we've learnt, especially against Christchurch Boys', is you have to win the game up front," Turoa said.
"I'm still a big believer in winning that game up front first."
Christchurch Boys' has not made it through to the Top Four finals since 2014, when it beat Otago Boys' to secure a spot.
S. Island Top Four Final
CBHS, today, 12.30pm
Otago Boys': Isaak Te Hiwi, Max Brown, Jake Te Hiwi, Reuben Wairau, Michael Manson, Tevita Asi, James Arscott, Tim Dippie, Jeese Vaafusuaga, Joseph Aldrige Williams, Taylor Dale, Levi Turoa, Tevita Pole, Harry Hansen, Marika Parker. Reserves: Hilary Takau, Oliver Griffin, Oliver Haig, Nick Washington, Charlie Marsh, Warren Loulanting, Josiah Lesa.
Christchurch Boys': Max Hughes, Ryan Barnes, Brigham Riwai-Couch, Tahu Kaa-Goodwillie, Oliver Lewis, Cullen Moody, Louie Chapman, Corban Harding, Sam Caldwell, Thomas Schmack, Harri Langworthy, Nathan Fahey-Baker, George Roysmith, Henry Craw, Ben Lopas. Reserves: Clayden Paranihi, Austin Hewett, Mitchell Hay, Sam Taylor, David Ni, Taine Lanyon, Yoji Yabe.