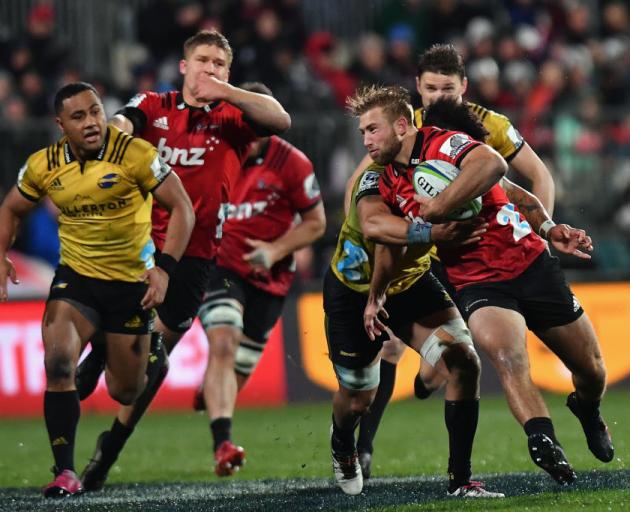 The Highlanders may be finished, but two New Zealand teams remain to go head-to-head in this weekend's Super Rugby semifinals. Jeff Cheshire takes a look at the match between the Crusaders and Hurricanes.
Form heading in . . . 
This is surely the Crusaders' game — and competition — to lose. The side is on a 14-match winning streak and comes off a 40-10 thrashing of the Sharks in last week's quarterfinal. They last loss against the Highlanders in March. The week before the side had its only other loss of the season — to the Hurricanes in Wellington. That will be encouraging for the visitors, but March was a long time ago. While early on the Hurricanes' full force was on show, it has become more of a stiff breeze as the season has worn on. The team scraped in with a one-point win over the Chiefs last week, just its second win in the past six games.
Key match-up . . . 
The first five-eighth battle is always intriguing, but this one will be particularly pivotal. Beauden Barrett has been the best in the business in recent years, a dangerous runner with the ability to create for himself and others. Meanwhile, Richie Mo'unga has made big strides for the Crusaders and is another lethal attacker who is becoming increasingly adept at controlling a game.
What to watch for . . . 
There is plenty of firepower in the Hurricanes' backline and making use of that will be key. It also has plenty of strong ball running forwards and it will need them to provide go-forward to break down a tough Crusaders defence. There is barely a weakness in the Crusaders line-up, though. In the forwards it has seven All Blacks starting, plus an eighth who has been in the national squad in Jordan Taufua. That is coupled with some classy backs, particularly in Mo'unga and Ryan Crotty. They will be clinical on attack and tough to break down on defence.
The other semi . . .
At 1.05am on Sunday the Lions host the Waratahs in the other semifinal. Having lost twice at home in the past two years — both to the Crusaders — the Lions will take some beating. The side beat the Waratahs 29-0 in Sydney last time they met and must enter as strong favourites to play next week's final.