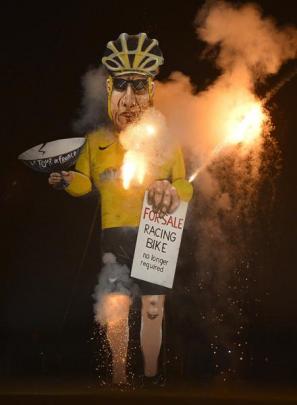 Time to play the ABC game. Sports editor Hayden Meikle looks back on the year, with an A to Z of sport in 2012.
A is for Andy Murray. The Scottish tennis hard-luck story became the British tennis champion when he broke one of sport's greatest droughts. Murray's win in the US Open was a first grand slam singles title for a British male in 76 years.
B is for Bubba Watson. I could just say his first name 100 times. Bubba, Bubba, Bubba, Bub . . er, sorry. B is also for Brilliant, which is not nearly powerful enough to describe Bubba's incredible hook shot out of the trees on his way to winning the Masters.
C is for Chiefs. A great story - coming from nowhere to win the Super 15. But it was bittersweet for the Highlanders and Hurricanes, left in the dwindling group of New Zealand franchises without a title. A great year for Waikato-Bay of Plenty sport also featured the Magic winning netball's ANZ Championship.
D is for Deaths. Losses in the sports world in 2012 included three All Black captains (Wilson Whineray, Fred Allen and Jock Hobbs), All Black great Bob Scott, American tennis star Margaret Osborne duPont, boxing stalwarts Bert Sugar, Angelo Dundee and Emanuel Steward, baseball players' association servant Marvin Miller, and recent NFL player Junior Seau, whose suicide highlighted the issue of that sport's deleterious effects on the brain.
E is for Excitement with a big old fat capital E. That summed up the incredible English Premier League season, which ended with Manchester City winning a first title since 1968 with a late, late, late winner against QPR.
F is for Frankel. The superlative British racehorse was retired after winning the Champions Stakes at Ascot, finishing his flawless career with 14 wins from 14 starts.
G is for Gates. Two of the best this year were Bountygate (NFL players paid to inflict injuries on opponents) and Taylorgate (Ross Taylor demoted as Black Caps captain and New Zealand cricket community goes bananas).
H is for Hillsborough. The families of the victims who died thanks to police and football administration incompetence in 1989 finally got the truth. Justice for the 96.
I is for Ibrahimovic. The big, enigmatic Swede banged in four goals against England. One, from a bicycle kick well outside the box, has been labelled the goal of the century.
J is for Jaw-dropping. They reckon the Richie McCaw book has sold 120,000 copies worldwide, far and away a record for the sport.
K is for Ko, our own little Lydia. The golfing phenom stunned the sport in 2012 by winning a professional tournament (at 14) and an LPGA tournament (at 15). She also became the first New Zealand woman to win the 112-year-old US amateur championship, and took individual honours by eight shots at the world teams event in Turkey.
L is for LeBron. No need for his second name. The greatest basketballer on the planet finally got his ring, winning the NBA title with the Miami Heat. He also helped the latest Dream Team win gold in London. Hey, hey, LBJ, you are a champion today.
M is for Mobot, the celebration performed by British runner Mo Farah after claiming the 5000m-10,000m Olympic double. Everyone did the Mobot, even Usain Bolt.
N is for NHL. There may not be any action in the National Hockey League this season, because of strike action, and my Meikle relatives in Canada are NOT happy about that. N is also for New York Giants, who were led to another Super Bowl win by Eli Manning.
O is for Ostapchuk. Drug cheat. You're a four-letter word in New Zealand, Nadzeya.
P is for Pup. Michael Clarke has had quite the year, with a triple century and three doubles. Didn't score a run against the Black Caps, though.
Q is for Quip. This was from London mayor Boris Johnson at the Rugby World Cup draw: ''I am proud to tell you it was here in London in 1871 that a group of burly, moustachioed, mildly inebriated Victorians met at a pub and decided they'd had enough of the namby-pamby pussyfooting around of the spheroid fetishists of Association Football.''
R is for Ryder Cup. The Miracle at Medinah, where the Europeans charged back on the final day to win, was sport at its finest. Seve would have loved it.
S is for Scandal. We had Dunedin athletics stalwart Raylene Bates hung out to dry by Dave Currie for not ticking the box on Valerie's form in London. Eight badminton players kicked out of the Olympic doubles for losing on purpose. Sickening events at Penn State University. The tragic case of the NFL player who murdered his partner then killed himself at the football stadium. But numero uno this year, by quite a stretch, was Lance Armstrong being stripped of his Tour de France titles. Sad for those of us who wanted to believe it was real.
T is for Twitter. A magnificent source for news and views, and an unparalleled platform for athletes to get into trouble. Quade Cooper described the Wallaby environment as ''toxic''. David Campese showed his misogynist side by asking why a ''girl'' was writing about rugby. Ashley Cole called the Football Association a ''bunch of twats''. And two Olympians were expelled: Swiss footballer Michel Morganella referred to South Koreans as a ''bunch of mongoloids'', and Greek triple jumper Voula Papachristou said, ''With so many Africans in Greece, the West Nile mosquitoes will be getting home food''.
U is for Uneasy. That's how many of us were feeling when we saw the Melbourne Storm beat the Canterbury Bulldogs in the NRL grand final. The memory of the salary cap rort is still fresh.
V is for Vettel, the youngest triple champion in Formula One history. Sehr gut.
W is for Wiggins, first name Bradley. The cyclist with the magnificent sideburns became the first Briton to win the Tour de France. Also claimed an Olympic gold, and the coveted BBC sports personality of the year award.
X is for Xin Xin. Tough year for the young Chinese swimmer. Failed to medal in London, and finds herself used as a gap-filler for notoriously difficult X in a New Zealand newspaper's A to Z.
Y is for Yes, which I suspect will soon be the answer to this question: Is Lionel Messi the greatest footballer of all time?
Z is for Zowsers, the sound you release when Thomas Abercrombie goes up for a dunk. Abercrombie and the Breakers celebrated back-to-back titles in the Australian league, and a threepeat is a definite show.