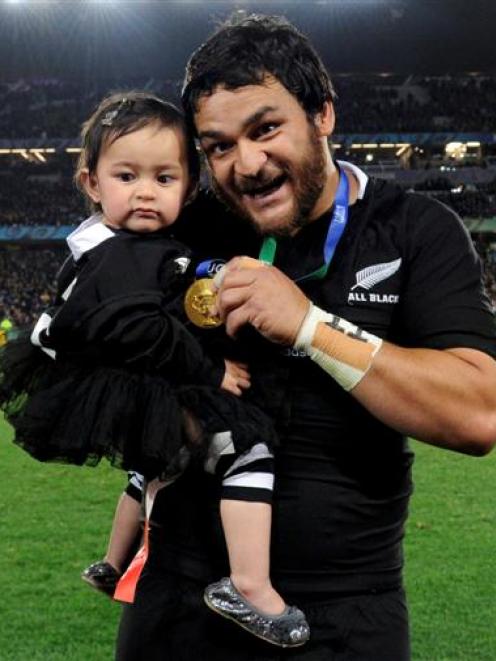 Piri Weepu could be found kneeling beside the advertising hoardings, holding hands with a few of his teammates and praying. The Eden Park clock indicated four minutes to go as the nation, and a handful of All Blacks' reserves, watched on nervously.
Weepu couldn't do anything about the situation - other than pray - because he had played his game. He was substituted in the 49th minute for Andy Ellis and had to endure an agonising final 30 minutes.
Sometimes the Saviour of the Nation can't do it all. He almost singlehandedly beat Argentina in the quarter-final after both Dan Carter and Colin Slade were lost to injury, and instantly became a national phenomenon.
There seemed nothing he couldn't do - according to the Weepu Effect, he could order a Big Mac at Burger King and get one, touch MC Hammer, divide by zero and slam a revolving door.
For a simple guy from Wainuiomata it became more than a little surreal as Piri T-shirts were printed and emails went viral.
"I think people have probably got a bit too much time on their hands,'' he said. "You can't take a lot from it. There are a lot of people who can jump on board.
"That's great for the team and great for me at times but it can get quite daunting and everyone took it up a notch from what you are used to. You just have to cope with that and put all that energy into a good cause and push it the right way. I tried to do that in the [World Cup] final but didn't play the best game of my career ... but I'm still happy to come away with the win.''
Stephen Donald became the final hero, landing the crucial penalty to help the All Blacks to a one-point win. Weepu struggled with his goalkicking against France, missing all three attempts, but he admitted his groin injury was getting the better of him.
"It definitely affected me,'' he said. "I had doubts in my mind that, if I kicked the ball, I would pull it and not be able to run around for the amount of time that I did. It played on my mind but you have to be able to push past it and, obviously, I didn't quite do that and got subbed off after 49 minutes.
"I was pretty gutted, actually. I wasn't ready to come off. Obviously I had a tweak of my groin before the game started but the coaches were only looking out for what was best for the team. If that means taking someone off because they are not 100 per cent, then you are doing it for the team's cause.
"It was tough [being on the sideline], especially when they [France] had that penalty shot at goal. The last four minutes of the game, some of us were on our knees on the sideline praying to the good Lord above that He answers our prayers. Fortunately He did that.''
There are many New Zealanders who hold Weepu in the highest reverence, too. He's one of the most popular members of the All Blacks and it probably has as much to do with his common touch than his ability on a rugby field.
He's one of them, complete with foibles and failings. He dances with fans in the street, is a joker in the team and generally just has fun. His nickname - Pow - fits his image.
Sometimes the way he trains or acts is interpreted as an attitude problem but Weepu showed during the World Cup what he was capable of. He needed to get fit to be ready to play, and was pushed to his physical limits by sevens' guru Gordon Tietjens with some additional sessions, but quickly established himself as the All Blacks' No 1 halfback in a position with arguably the most depth.
The reality of being a World Cup winner hasn't really registered, even after street parades in Auckland and Christchurch.
"It's been a hell of an occasion but it hasn't quite sunk in,'' Weepu said behind dark sunglasses. "We haven't really been able to enjoy it. We stayed at the stadium [on Sunday night] quite a while to enjoy the moment.
"All this atmosphere [at the parades] and the people who have come out to support us, it's quite touching.''
It's what Weepu and his teammates have also done for a nation.