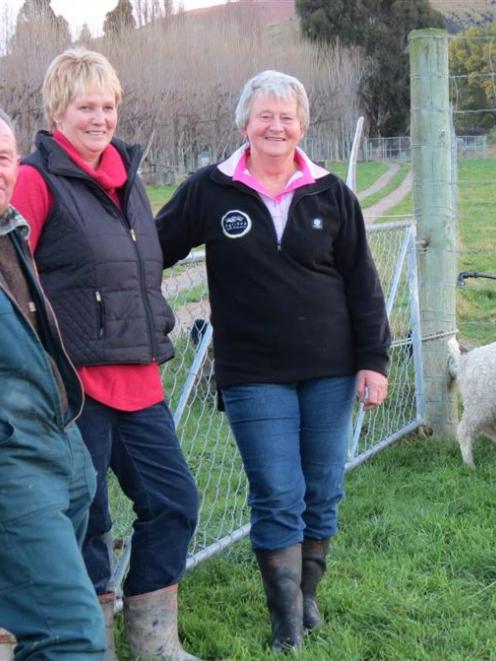 About 60 people attended a field day at mohair farmers Bill and Irene Campbell's property in Dumbarton, near Roxburgh.
The field day was part of the Federated Farmers NZGoats inaugural conference in Queenstown recently.
Originally sheep farmers, the couple now have 500 angora goats on their 70ha property. They started farming goats while in Dipton in 1986.
Mr Campbell said when they converted from sheep to goats, they went from about $40 a stock unit to $70 a stock unit.
Mrs Campbell is the only private goat-fibre classer in the country and she hand-records their herd's production and breeding data.
''We enjoy it. We are doing what we want to do,'' she said.
They do their own shearing and the goats are shorn twice a year.
The kids tend to have finer microns, from 18 to 24. As the animals get older, their fibre gets coarser.
First-shear kids produce an average of 3kg a year, and adults about 6kg a year.
Mr Campbell said 90% of the country's fibre was sold to South Africa.
''A $60 fleece is an easy target to reach for the year per goat.''
Speaking after the conference, Mrs Campbell said they had heard that their first-shear (superfine) mohair fibre had reached $NZ40/kg at last week's sale in South Africa.
''At $40/kg, that is the highest price it has been for about three years,'' Mrs Campbell said.
Once the goats are no longer producing fibre, they are culled.
Mohair New Zealand chairman John Woodward said there was a real shortage of fibre.
In addition to attracting more people into the goat industry to meet the high demand for fibre and meat, he would also like to see fibre characteristics and style developed.
''Now prices are getting up there again, I would like to see growth in production,'' he said.
''Our current facilities can handle 10 times the amount they are doing. We had up to 500 tonnes [of fibre produced] in New Zealand in the past and that has dropped to 30 tonnes a year.''