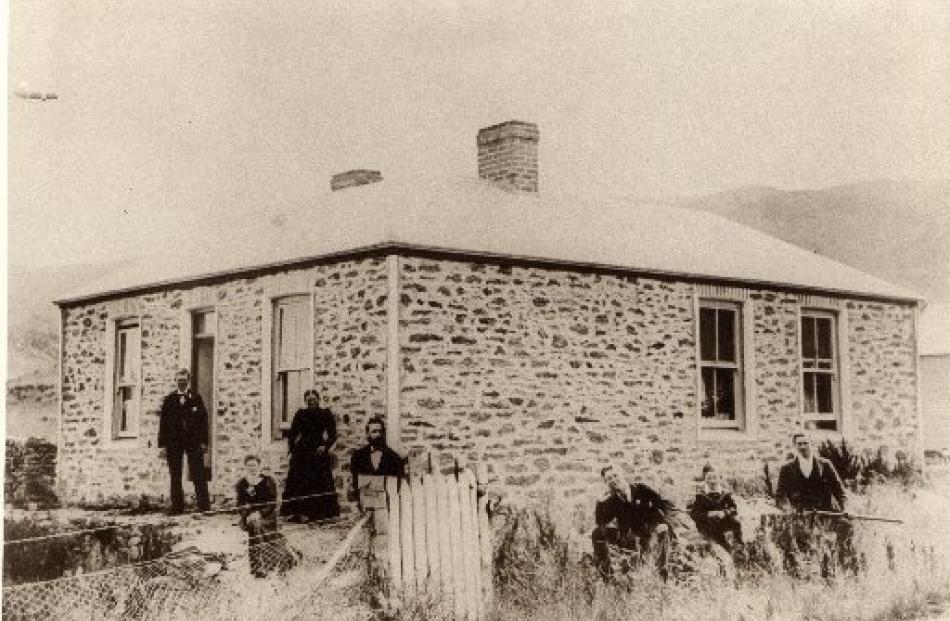 The United Nations has declared 2014 the International Year of Family Farming. Under the banner ''feeding the world, caring for the earth'' it wants to celebrate the many ways farming families contribute to communities and the economy. While New Zealand farming families do not face the same challenges as those who farm in underdeveloped or oppressive regimes, some concerns are shared by all farmers. This year is an opportunity to celebrate New Zealand farming and our ''No 8 wire'' style. This week Yvonne O'Hara talks to the Gunn family, of Roxburgh.
The Gunn family, of Roxburgh, has been an integral part of the fabric of the Teviot Valley since the first Gunn, William, set foot in the valley in 1885.
Although primarily sheep and beef farmers, the family - now in its sixth generation - has had a strong involvement within the valley, from providing cartage services in the early days, and growing fruit and other fresh product for sale to miners, dredge workers and local hotels, to school involvement and, more recently, local politics.
Fifth-generation farmer Ray Gunn has been involved in many organisations in the valley, including Roxburgh Young Farmers Club, the Millers Flat Rodeo Club and the Mt Benger A&P Show, and is deputy chairman of the Coal Creek Cycleway Trust.
As chairman of the Teviot Valley Community Board, he is the first politician in the family.
In addition, various generations of Gunns have provided spouses for other established families within the valley, marrying into the Bains, Dances, Gordons, Stevensons, Weatheralls, Waights, Rowleys and Craigs.
Ray and Leda, with their children, Sarah (9) and Katie (11), now live in the original stone homestead on their 1174ha ''Stonehaven'' farm at Coal Creek but they started their married lives on the family's other property at Shingle Creek.
William Gunn was 16 when he arrived in Port Chalmers, from Scotland, on the Silistria in 1861.
He travelled with George Trail Bain, and eventually married Mr Bain's daughter Margaret.
They initially settled in Dunedin, where their first three children, Donald, Jessie Black and William were born. The family moved in 1882 to Moutere Station, Donald worked as a fencer.
George was born at Yankee Flat, near Clyde. Ray's grandmother Hetty (Catherine) Gunn, (nee Orr) said the family had moved to Roxburgh by 1885, when Alexander was born.
''They came back here to work for Mr Bain and about that time they lived at Slaughterhouse Creek, where the Bains carried out their butchery,'' Hetty said.
About the same time, William started his own business as a carrier, taking supplies on five packhorses over the Old Man Range to mining camps.
He also bought the family's Coal Creek property, then about 120 acres (48ha) about the same time.
Ray said they had William's original account books, which showed he charged three farthings per pound for most destinations and moved food basics like flour, meat and bread as well as dynamite and coal. The family later moved to the homestead farm at Coal Creek, clearing the land and camping out until the house could be built.
''Son Donald gathered stones [off the property] for the house,'' she said.
William froze to death in a snowstorm in the Old Man Range in May 1897 and his body was found by Donald in November of that year.
At 19 he continued his father's business, carting supplies to the miners and coal to the dredges on the Clutha River by horse and wagon.
Donald married Jessie Phinn, who lived in Dunedin and prior to getting married in 1907, used to ride his bike from the valley to visit her.
The couple bought the farm from his mother Margaret for 300. They had five children: Donald, Nora, William, Robert and Agnes.
They later bought another 800 acres (320ha) from Mt Benger Station, as a result of a ballot carried out after World War 1.
A further 2200 acres (880ha) was bought in 1941 from Eustace Winslow. They later bought the balance - 560 acres (224ha) - of the property from him in 1960.
''Ray was born there [at Shingle Creek] and Hetty started off her married life there,'' Lex said.
Hetty recalled making hundreds of pounds of butter by churn, and also used a washing board and a couple of tubs to wash clothes.
There was no power, only kerosene lamps and candles.
''We were so excited when power came on at the house,'' she said.
Hetty recalled the family fight to get the school bus to come up to Shingle Creek to pick up the children''We had correspondence [from the school] that suggested the children stay with their grandparents at Coal Creek,'' she said.
Her husband met lawyer Ossie Stephens, of Clyde, on the road, and talked to him about the problem.
She said he said he was going to Wellington and would see what he could do. Shortly after she received a phone call saying the bus would pick up her children.
Donald died in 1958 and son William (Bill) took over. He married Hetty and they had Joan, Dawn, Elizabeth, Alexander (Lex) and Neville.
Lex married Gillian McDonald, of Dunedin, and Neville married Marion Moore, of Dunedin. Ray eventually bought the farm from his uncle Neville.
The family held a reunion in 2008 and nearly 160 people attended.