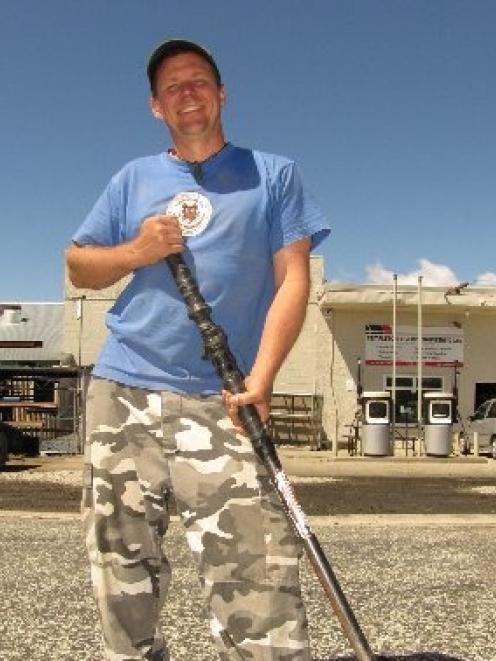 The Lake Hawea man who developed the what he branded the ''Slammertool'' is taking it to what he calls the hand tool equivalent of the Olympics.
T. J. Irvin will attend the 142,000sq m international hardware fair Eisenwarenmesse in Cologne, Germany, from March 9-12.
''That No8 wire mentality New Zealand prides itself on - Eisenwarenmesse is the Olympics of that.''
He told the Otago Daily Times yesterday he would rather be at the Winter Olympics in Sochi but could not turn down an invitation to put his multi-purpose Slammertool up against the world's best new tools - even though the trip will cost him $44,000.
The fair is described by its organisers as the No1 hardware event in the world and this year is expected to have 2665 exhibitors from 50 countries and 53,500 visitors from 132 countries.
The Slammertool is a multi-purpose tool used for such things as digging holes, splitting wood and breaking concrete. Mr Irvin says it creates less stress on the back than other tools. It sells for $250.
Each month, 500 of Mr Irvin's Slammertools are produced by Templeton and Sons Engineering of Albert Town, with another 5000 a month made by a factory in Argentina.
Mr Irvin credits the America's Cup in San Francisco last year for a threefold increase in Slammertool sales in the United States, because the catamarans were made in New Zealand.
''Whether we won or lost, it was a `go' for New Zealand manufacturing.
''New Zealand's got quite a reputation around the world as having really simple, good design.''
The Slammertool is one of a handful of exhibits at the fair nominated for an Eisen award, which was won two years ago by a torque wrench.
Mr Irvin said his intention during the fair was to find another manufacturer in Europe to service that market.
He has a stand next to American tool-making giant Snap-on, but having done the rounds of field days in New Zealand feels confident he will not be outdone.
''Selling a $250 spade to New Zealand farmers with an American accent; well, it was never going to be easy, was it?''Mr Irvin says it took six years and between $400,000 and $500,000 to obtain patents for the device.
The Slammertool's first public outing was at Wanaka's Upper Clutha A&P Show in 2009 and while it will be back at this year's show, on March 7 and 8, Mr Irvin will be on his way to Germany.