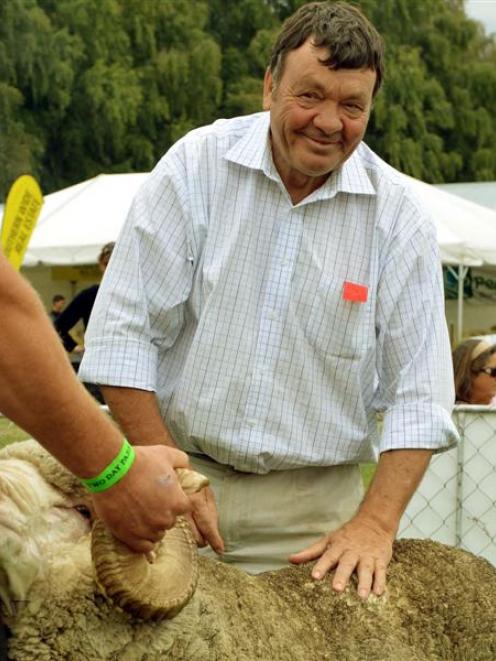 The Merriman name is closely linked with Australia's merino sheep industry.
Wal Merriman, managing director of the famed Merryville stud, was recently in Otago to judge super-fine and ultra-fine merinos at the Upper Clutha A&P Show in Wanaka.
His family's association with the New Zealand merino industry extended for 50 years or more, with Merryville's genetics featuring among the bloodlines of New Zealand sheep, Mr Merriman (62) said.
His great-grandfather, George Merriman, founded the Ravensworth stud in New South Wales in 1865, while his grandfather, Sir Walter Merriman, started Merryville in 1903 with a small flock of Ravensworth sheep.
His father, Bruce, became Merryville's managing director after the death of Sir Walter - who was knighted in 1954 for his services to the Australian wool industry - in 1972.
The stud is now run in a partnership between Wal Merriman and his brother, George. More than 100 years of continuous family ownership was ''a bit unique in the industry'', Mr Merriman said.
The 5260ha property, at Boorowa, runs 23,000 sheep, including 4000 stud ewes, and encompasses a commercial operation. About 300 rams were sold each year. There were also 750 beef cows and a cropping operation on the property, but it was the merino flock that was the best business, he said.
Mr Merriman is chairman of Australian Wool Innovation, which was established in 2001 by the Australian federal Government and the wool industry.
Owned by more than 27,000 wool-levy payers, it was responsible for delivering research and development, and marketing for the Australian wool industry.
It had a skills-based board and, while there were some farmers on it, they had ''skin in the game'' and wider experience.
As in New Zealand, it was a challenging time for Australian fine-wool growers. A big increase in fine-wool supply meant there was a glut of fine wool.
Growers needed to work out what they wanted to grow and the situation would ''balance eventually'', Mr Merriman said.
A past president of both the New South Wales and Australian stud merino associations, Mr Merriman enjoyed both judging and exhibiting at shows.
In Wanaka, he was looking for a good style and quality of wool, and as much of that as possible on a good frame.
''It's pretty simple really,'' he said.
The next major show for the Merryville stud would be the Sydney Royal Easter Show, where the Merriman family would be exhibiting about 30 sheep.
He was a strong advocate of shows as they kept breeders up to date, Mr Merriman said. Merryville was regarded as the major parent stud of fine wool in Australia ''and you've got to keep contesting your position'', he said.