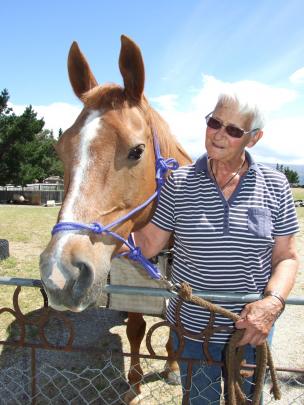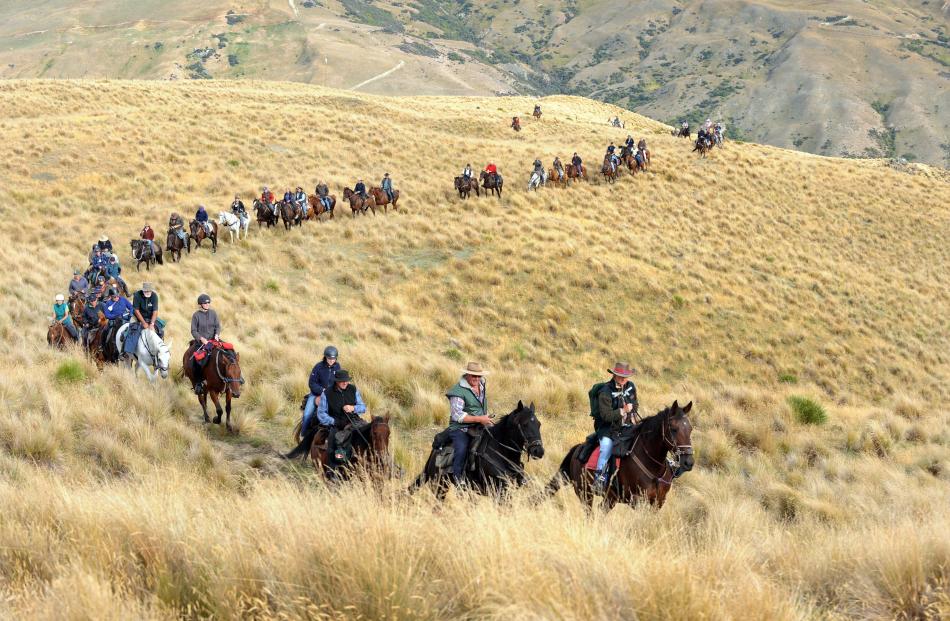 When Jeanette McKay saddled up for the first Otago Goldfields Cavalcade in 1991, it was to prove to be an "epic journey".
A blizzard hit the trail, resulting in nine people being treated for hypothermia, but it failed to dampen her enthusiasm for the event.
Mrs McKay (71), from Springvale, near Alexandra, is among a handful of equine enthusiasts who have taken part in every cavalcade. And she will be hitting the trail again for next year's 25th anniversary event which finishes in Omakau on March 4. The event still maintained its "magic" for the cavalcade veteran who always hoped it would "enthuse people to do more trekking, to see more of the country".
Brought up in the Danseys Pass, where her parents owned the hotel, Mrs McKay has been around horses all her life.
"Having lived in the high country, you know what's out there. You know what people can see. It just blows you away, the following now you have with trekking," she said.
The first cavalcade was planned as a celebration to re-enact the opening of the Dunstan Trail between Central Otago and Dunedin.
Organisers were blown away with the response — they originally thought they might get about 50 registrations — but more than 220 people took part, complete with 240 horses, a gold coach, wagons, carts, gigs and buggies.
The 160km three and-a-half day ride started officially at Rocklands Station, with overnight stops at Styx, Moa Creek and Clyde, before arriving in Cromwell. It was an eventful trip. Shortly after setting off on the first day, a blizzard struck and nine people were treated for hypothermia.
As Mrs McKay rode along towards the rear of the trail, she was oblivious to the drama ahead. Despite sleet,  snow,  and driving wind, she was well equipped and used to such  weather. But she did wonder why vehicles were going past with people wrapped in blankets. She thought they could not all have fallen off but did not know anything about hypothermia.
Then she came across a person lying on the ground, obviously injured, surrounded by a group of people clad in oilskin coats.
Riding up and asking if there was anything she could do, a voice from the ground said: "Oh, thank goodness, a woman."
The rider had come off her horse,  there was no first aid immediately available and she was complaining of being cold. So Mrs McKay's sleeping bag was cut off the back of her saddle, where it was tied on, and the stricken woman was put in it.
Mrs McKay continued along — "I wasn't cold ... another day at the office sort of thing" — and came across people leading their horses, some disorientated, and others huddled under rocks.
She tried to "jolly them along", encouraging them to continue on the trail.
That night, there was a "shindig" in the old Styx jail complete with can-can dancers. While acknowledging it was not easy to dance clad in leggings and wet-weather gear, somehow she managed.
Her sleeping bag was returned to her and she recalled that sleeping for the rest of the week in a wet sleeping bag was not much fun.
The cavalcade used to be Mrs McKay's annual holiday when she was a rural mail contractor. Her first cavalcade horse was Missy — a quarter horse-standardbred cross — whom she did everything with, from endurance and hunting to dressage. She was followed by Mini the Arab, described honestly by Mrs McKay as a "tart",  and then her current mount, Josh, a second-cross quarter horse.
She was "absolutely" looking forward to next year's event.
"It's been a wonderful, wonderful 25 years of trekking and it gets you going every year," she said.
A life member of the Dunstan Equestrian Centre and the Dunstan Adult Riding Club, she is taking part in a trek this weekend  riding over Galloway and Matakanui stations. Organised by the riding club, it is raising money for Riding for the Disabled.
Organiser Terry Davis said the 25th anniversary cavalcade was shaping up to be a big event.
Trail boss Bill Butler's riding trail was full within 24 hours, which was a record, and Chris Bayne's light wagon trail was  close to full. Other trails were "filling up nicely".
Mr Davis expected about 550 to take part, well up on last year's 440 participants.
"A few old-timers who haven't done it for a couple of years are coming back to be part of it," he said.
The trust had "every confidence" in the local Omakau organising committee.
"Omakau [is] really excited and keen to make this a very memorable cavalcade," he said.
Host town organising committee secretary Rebecca Farr said the cavalcade finale was looking "fantastic".
Entertainment had been booked, woodchopping and dog trial competitions were being held, plenty of stalls had been booked,  although organisers were keen to hear from anyone else interested in having one. Mr Davis stressed the 25th anniversary milestone did not signal the end of the event.
"There's far too many people absolutely passionate about the cavalcade for it to finish."