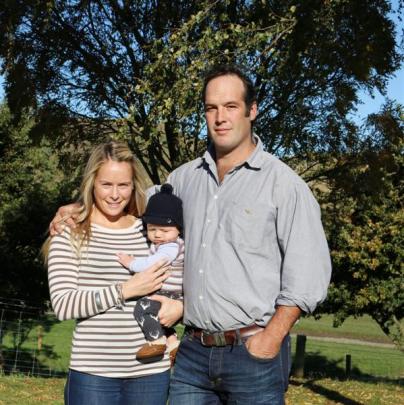 Ask Duncan Smith why he has stuck with the Perendale breed and the answer is succinct.
''They are just so tough and they just don't die,'' Mr Smith, who farms Islay Downs, on the Pigroot, said.
Mr Smith and his wife Claire are among the four entrants in the Sir Geoffrey Peren Cup competition, judged on farm last month and held in conjunction with Perendale New Zealand's national conference in Otago this week.
The winner will be announced during the conference. It was Mr Smith's late father, Ross, who took up the Perendale breed in the late 1970s. He was a ''very staunch Perendale man''.
When Duncan took over in 2006, he continued with the breed.
Mr and Mrs Smith run 2000 Perendale ewes and about 40 beef cattle on their 728ha property. Perendales performed even under challenging situations, ranging from snow to drought.
''You have a bad season and they just bounce back so quickly,'' he said.
He did consider changing the breed when he took over but then a drought hit and they ''hung on that good''.
He believed Perendales were coming into their own, as sheep were pushed back into the hills by the expansion of the dairy industry, and had better production off land that was not as good.
Peter and Vanessa Hall farm a 1730ha property at Black Rock, near Outram, running between about 13,500 and 14,000 stock units, made up of 8000 Perendale ewes, several thousand hoggets and the balance cattle.
They have been running Perendales for nearly 20 years, having previously farmed more traditional Romneys.
They wanted a more easy-care flock, particularly as they were going through a development phase, and they found them a good balance of meat and wool and good foragers.
Two of the couple's sons, Logan and Matthew, work on the property.
Preston and Tori Hope, who farm at Deep Stream, near Middlemarch, with their three teenage sons, liked the breed ''because they get up and go''.
''They look after themselves, they're really good foragers and they're just healthy and robust,'' Mrs Hope said.
Their aim was to produce good mothering, well-woolled sheep that had the ability to handle their climate, with ewes lambing unassisted and bringing in two live lambs at weaning.
When the family took over the 1029ha property 12 years ago, the sheep on the farm were lambing at 82%.
They have now achieved their goal of 150%. Mrs Hope believed they could not have done it with any other breed. The couple won the 2012 New Zealand ewe hogget competition, having first won the Perendale breed section.
Adam Lindsay, who farms in partnership with his mother Karen Lindsay and his partner Jules Blanchard, is a relative newcomer to the breed. From Central Southland, he spent 10 years working as a builder before moving to a 2000ha property at Kyeburn three years ago.
The sheep and beef and dairy grazing property runs about 9600 Perendale ewes. The farm was already stocked with Perendales and he had decided to keep them. They handled the conditions, he said.
The competition was judged by ASB rural manager Luke Tweed, retired commercial farmer and previous Peren Cup contestant Graham White and West Otago Perendale breeder Mike McElrea.
Judging criteria included general background - area, topography, climate and type of farm - production and performance, stock, farm production, financial performance, soils, irrigation, weeds/pests/diseases, and labour inputs; and personal goals, both short-term and long-term, and outlook on the sheep industry.
Mr Tweed said the winning entrants were goal-orientated, with a strong vision of where they wanted to be, and had steps in place to achieve that.