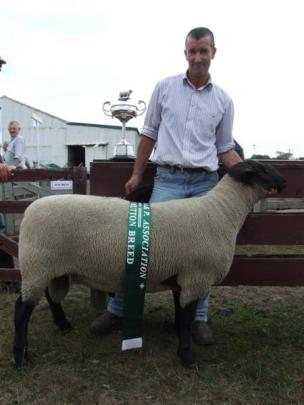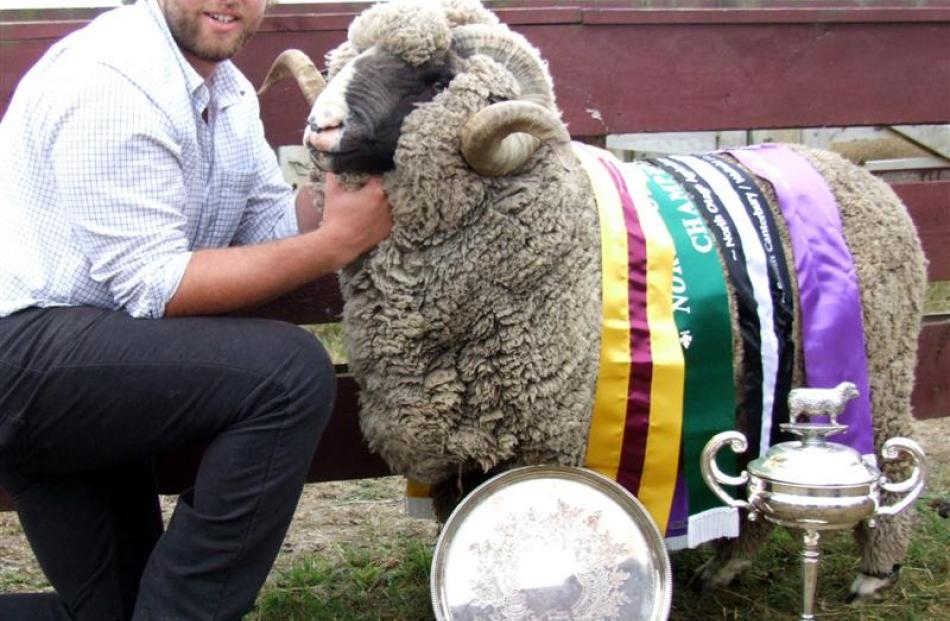 Sheep breeding is a passion for Kerry Dwyer.
And while it might just be a hobby, he was serious about breeding good sheep, he said after tying with Will Gibson for the title of supreme champion sheep at the recent North Otago A&P Show.
Mr Dwyer's Suffolk ram, which won champion meat breed, and Mr Gibson's coloured merino ram, which won champion wool breed, finished with the same number of points when it came to the judging of supreme champion.
Mr Dwyer and his wife Rosie, who farm near Maheno, have the Calluragh Suffolk sheep stud, with between about 60 and 70 ewes.
Mr Dwyer, who has had the stud for the past 35 years, enjoyed exhibiting at shows. It was good to put the sheep in front of the public and he enjoyed the day out. ''It's a bit of fun,'' he said.
A highlight was winning best meat breed ram hogget at last year's Canterbury A&P Show in Christchurch.
Also passionate about sheep was Mr Gibson (21), from the Bluestone coloured merino stud at Middlemarch, who has been breeding coloured sheep since he was 10.
It was a ''huge thrill'' to win supreme sheep at the show and it was great to see recognition for the black and coloured sheep, he said.
His winning 2 year old ram had been unbeaten in the black and coloured section at recent A&P shows, but it was the best he had done in an all breeds competition.
Mr Gibson, who got his first four purebred ewes from his great uncle, the late Bruce Anderson, also has the Foulden Hill Hereford cattle stud. He was equally passionate about his cattle as his sheep, he said.
His merino wool was destined for Jane Shand Design, in Christchurch, where it was processed and made into high end knitted and woven scarves, wraps and baby shawls.
He was very grateful for the support of his parents, Anton and Liz, who gave him the opportunity when he was young to have some sheep and then build it into ''quite a business''.
Their support continued to be instrumental in the stud's success, now he was living in Christchurch.
Mr Gibson was passionate about exhibiting at A&P shows, saying if an animal was ''up to standard and doing the job well at home'', then shows provided a vehicle to compare it with others.
What he was trying to do was breed a sheep that was ''doing everything it needs to at home'' and then came through and stood out in the show ring.
His aim was to breed a coloured merino ram that would ''beat any other merino ram out there''. He was also an enthusiastic supporter of fleece competitions at shows.
He had already used his winning sire ''fairly heavily'' last season. He described the ram as a ''hell of a character'' and remembered picking him out on the day he was born.
With an expectation of about 240 lambs this year, such scale had given Mr Gibson the ability to further what he was doing with his fully recorded flock.
A Lincoln University graduate, Mr Gibson started work in January as a production science project officer for the New Zealand Merino Company.
The goal of NZM's production science programme was to produce ''the perfect sheep''; a true multipurpose sheep, with high value wool, meat and co products, which was suited to a range of geographic areas.