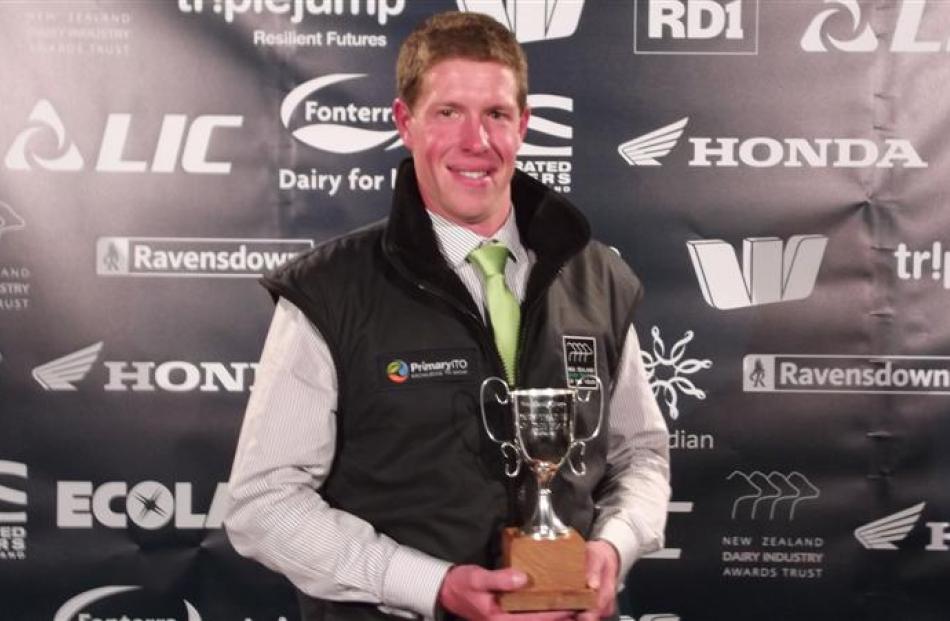 March will go down as a memorable month for Winton 50% sharemilkers Steve Henderson and Tracy Heale.
Not only did they win the 2014 Southland Otago sharemilker/equity farmer of the year title, but they also got married.
Mr Henderson (27) and Ms Heale (28) met at Lincoln University, where they completed agriculture degrees before starting in the dairy industry in 2007.
Both came from farming backgrounds, with Mr Henderson brought up on a dairy farm and Ms Heale on a sheep and beef farm in the North Island.
It was ironic that the first people Ms Heale worked for were Daniel and Emily Woolsey, who were the runners-up in the sharemilker/equity competition.
At that time, Mr and Mrs Woolsey - now lower-order sharemilkers in Gore - had won the national farm manager of the year title.
Ms Heale and Mr Henderson later went contract milking and they were now 50% sharemilking 320 cows for Adrian and Bev Simmonds at Winton, targeting to produce 125,000kg/milksolids.
Ms Heale had no regrets about joining the dairy industry, saying as long as she was working outdoors and among the cows, there was no better job. Their ultimate goal was farm ownership.
It was the second time the couple had entered the New Zealand Dairy Industry Awards and it had been a valuable exercise, Ms Heale said.
''It makes you look at your business and it turns it inside out, really,'' she said.
The couple were now looking forward to the national final in Auckland on May 9. They hoped to do the region proud and be the first Southland Otago winners of the national title.
The regions had been combined for the first time this year.
It has been an extremely busy time for the couple, who are also very involved with their community as members of the Winton Volunteer Fire Brigade, Waitane Young Farmers and the Southern Field Days committee.
''We've haven't really made it easy for ourselves this last month,'' Ms Heale laughed.
They had a ''full-on'' time prior to and also during the Field Days and, two days after they ended, they had their regional finals judging.
They were married last Friday on the farm and will host a field day on the property on Thursday.
A honeymoon was on hold until winter ''when things have calmed down a wee bit'', she said.
It was a clean sweep for Southland entrants, with Riversdale farm manager Jared Crawford winning the farm manager title and Winton 2IC Josh Lavender winning dairy trainee of the year.
Former professional rugby player Kevin O'Neill and his wife, Sara, won the Canterbury North Otago sharemilker/equity farmer of the year title.
The couple oversee an 1190-cow herd on a 340ha farm at Waiau. Phillip Columbus, from Oxford, won the farm manager title, while Isaac Vujcich, also from Oxford, won the dairy trainee title.