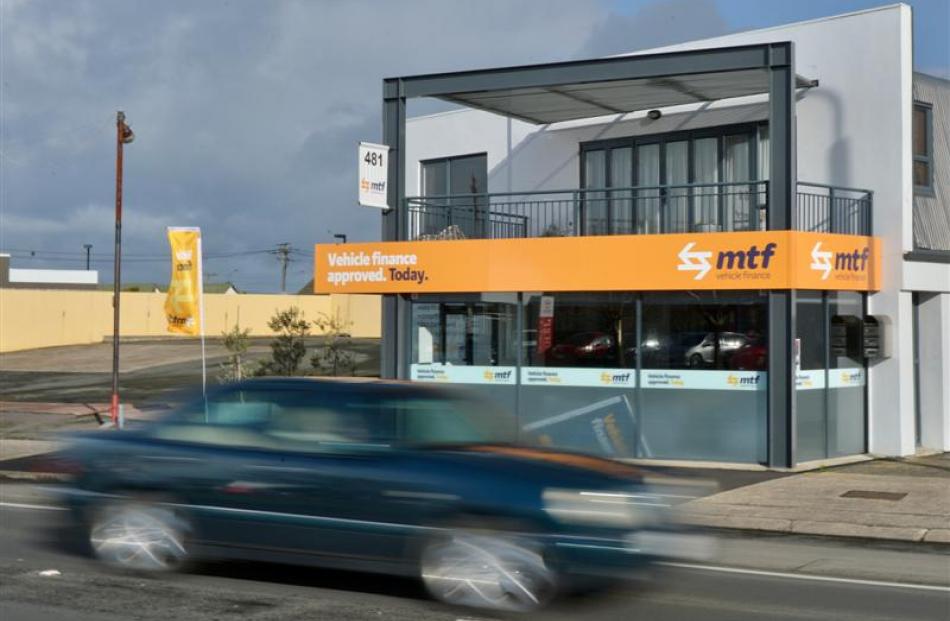 The future of Dunedin-based Motor Trade Finances is up for grabs with listed bank Heartland New Zealand making a play for the company formed in the city more than 40 years ago.
MTF chairman Stephen Higgs issued a letter yesterday to all shareholders outlining attempts by Heartland, or the bank's finance arm Marac, to engage with selected MTF shareholders.
''The board believes this engagement is related to a recent proposal by Heartland to acquire MTF that was rejected by MTF.''
Mr Higgs told the Otago Daily Times the group of selected shareholders was small and spread across New Zealand, but predominantly in the North Island.
Mr Higgs, along with senior MTF management and board members, would meet the group of shareholders tomorrow to discuss with them their concerns.
Following the meeting, MTF would proceed with a special meeting, called for by the shareholders.
''We are confident we have support across a wide section of our shareholders.
"We have a business model that is working well, growing market share and we recently issued a medium-term note issue which was oversubscribed,'' Mr Higgs said.
Craigs Investment Partners broker Peter McIntyre said the issue was headed for a ''good old boardroom stoush'' with Heartland on the acquisition trail.
Recently, Heartland had spent $87 million in cash and shares for Sentinel - the Seniors Money International home equity release firm.
MTF has $40 million of perpetual preference shares listed on NZX's debt market, which last traded at 68c in the dollar.
''This is a hostile takeover, no doubt. Heartland is seeking ways to get better value for shareholders and they can see MTF as a good opportunity.
''I suspect this is not going away any time soon and will be a long, drawn-out process,'' he said.
Mr Higgs was not ruling out a sale of MTF to Heartland but it had to come with benefits to shareholders - car dealers who own the co-operative.
Heartland earlier approached the board but the initial proposal was without merit regarding the indicative price and in other respects.
The proposal was incomplete, highly conditional and incapable of acceptance.
It emerged Heartland held a different view than MTF about the potential impact on MTF from the High Court case brought by the Commerce Commission in which the court found breaches of the Credit Contract and Consumer Finance Act.
The finding was subject to appeal at the Court of Appeal.
Mr Higgs said the board offered to talk further with Heartland to see if an appropriate proposal could be agreed upon to put before shareholders.
''This would have involved sharing MTF's confidential information regarding the commission case, and other information, with Heartland under appropriate confidentiality.
"Heartland was not prepared to accept confidentiality arrangements and undertakings which, given Heartland is a director competitor, we regarded as appropriate.
"Heartland has failed to indicate a willingness to reconsider its indicative price.''
As a result, formal discussions were ended, he said.
The board now wanted to see communications by Heartland to MTF shareholders result in shareholders having complete and correct facts.
Heartland had no obligation to act in the best interests of MTF shareholders, Mr Higgs said.
Any views Heartland expressed about MTF's business or financial position must be considered by shareholders in light of Heartland being a competitor and potential acquirer of MTF.
''If Heartland wishes to make an offer for the shares in MTF, it should do so under the Takeovers Code.
"Until Heartland is prepared to amend its proposal, we can only continue to regard it as being without merit,'' he said.
Heartland managing director Jeff Greenslade played down the issue yesterday.
He only confirmed Heartland could be interested in buying MTF if the shareholders, franchisees and dealers of MTF were receptive to a proposal.
Also, any deal was contingent on existing issues between MTF and the Commerce Commission on loan fees being resolved.
''Heartland does not have sufficient information to comment on the value it would place on that business, or the timing or structure of any acquisition if a proposal was welcomed,'' he said.
---
MTF recommendations
• Do not make any undertakings to any party regarding the special meeting until after the notice of meeting and details have been issued.
• Do not make any undertakings to Heartland New Zealand, or any other party, in regard to your MTF shares before the board of MTF has received and reviewed any formal proposal, taken proper advice and is able to make an appropriate recommendation to shareholders.
• Treat any communications from Heartland New Zealand with caution, given it is a competitor and potential acquirer of MTF. Heartland has an interest in raising unsubstantiated questions that may negatively affect the value perception of MTF.
---