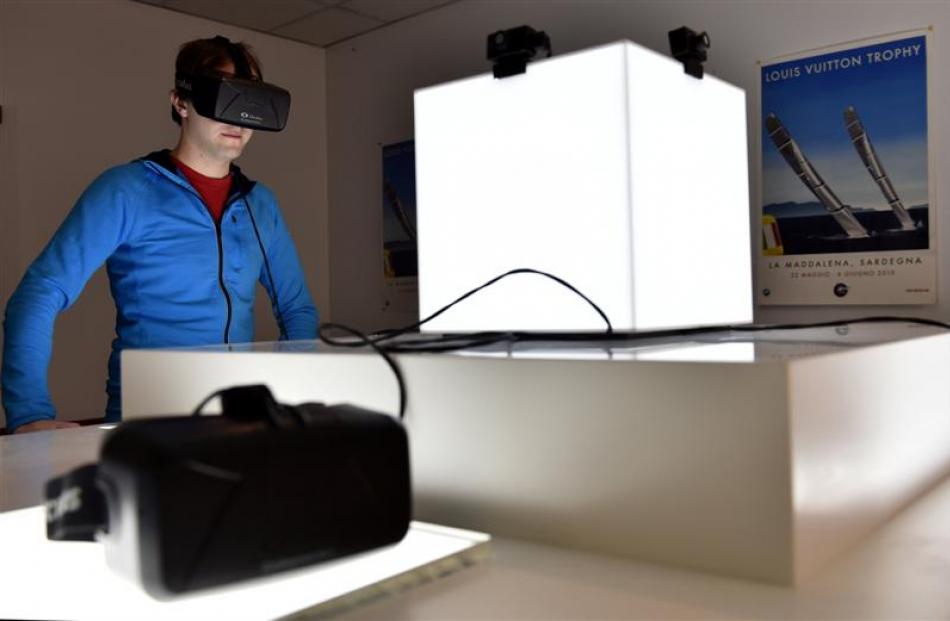 The latest instalment of cutting edge sports technology by Dunedin's Animation Research is being boxed up for delivery to Europe in time for the next round of the America's Cup World Series.
Animation Research Ltd (ARL) has developed a multiple-screen platform, which is headed for the World Series, to be used initially in Portsmouth, UK, followed by Gothenburg, Sweden, and then Bermuda later in the year.
Up to four staff will attend all events.
It is a new, near $1 million interactive six-screen development, which will incorporate real time footage from cameras aboard all six of the foiling AC45 catamarans, combined with streams of other nautical information.
The six 137cm screens act much like the fingertip swiping and overlaying of data across a massive smartphone or tablet.
In true America's Cup fashion, the project was only proposed in January and then started, from scratch, about 10 weeks ago, employing up to 25 ARL staff at times, including John Rendall as project manager and John Jenkins as systems manager and hardware engineer.
Mr Rendall said the six-screen project was being specifically developed for the exclusive ''AC Club'' - it would be used in the hospitality area for sponsors, guests, other companies and sporting VIPs.
''There's been five weeks of rock solid development going into this,'' Mr Rendall said.
''If they want it, six [live] cameras from four boats can be on at the same time,'' he said.
About to be launched is a new revised edition of ARL's Emmy-award winning America's Cup app, plus a new virtual reality software program; using innovative 3D Oculus technology.
In a four-minute sequence, the Oculus wearer sails on the 1851 yacht America before boarding a 21st century AC48.
There's also a perspective from a helicopter, all of which is so realistic the viewer's senses are tricked into feeling the motion of a moving deck under their feet.
Those three developments are separate from the usual ARL graphics, which will feature on the World Series television coverage.
ARL founder Ian Taylor was circumspect about the actual value of contracts ARL has for its multimedia developments, but is enthusiastic about the fact ARL gets the chance to make prototypes under the umbrella of the America's Cup, which is sponsored by large companies.
''Americas's Cup [organisers] trust us now. Without them we'd never be able to have a crack at this sort of development,'' Mr Taylor said.
Both the six-screen development and 3D Oculus imagery had multiple applications elsewhere, in museums, health and safety or medicine, and from a corporate point of view for promoting a raft of luxury items.
''This is big for us, [our technology] sitting up front of high-powered people,'' Mr Taylor said.
However, there was now ''very strong'' competition from numerous other companies to supply the emerging software, which was prompting ARL to come up new developments before the would-be buyer did, Mr Taylor said.
The World Series is using the AC45 boats, then for the actual America's Cup race, in Bermuda in 2017, teams switch to larger AC48.