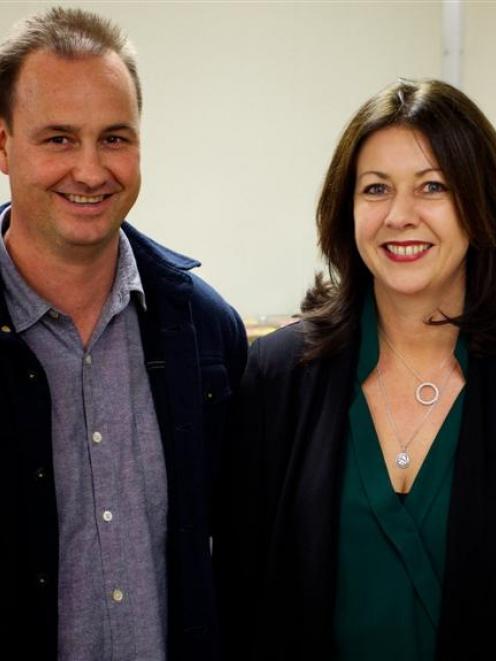 When the Mediterranean Market opened in Queenstown a decade ago, it was a venture ahead of its time, co-owner Angela Imlach recalls.
For not only was a specialty retail food store being opened in a town with a relatively small population, but also such a venture ''hadn't really been done in Auckland properly'', she said.
The move was driven by increased demand from the people who would regularly turn up at the Imlach family's wholesale premises to buy their weekly supplies.
In 1994, Nathan and Angela, Grant and Nadine, and Nathan and Grant's parents Ron and Pat Imlach bought the Queenstown Wholesale Market.
It initially supplied fresh produce to local hotels and restaurants but, as word spread, the business grew and within two years they had to move to larger premises.
Wholesale customers increased and the business expanded to supply firms as far afield as Wanaka, Te Anau, Milford and Aoraki/Mt Cook, skifields and Antarctic cruise ships.
In 2001, the family, along with Brendan and Sharon Wilson, opened the Wanaka Wholesale Market.
Two years later, Queenstown Wholesale Market entered into a supply agreement with Christchurch-based Mediterranean Foods and Wellington-based Mediterranean Warehouse, rebranding the company as Mediterranean Wholesale Market.
Soon after the rebrand, the family researched the idea of opening a retail store to meet increased demand from the general public.
Angela Imlach recalled how locals would park in the car park among the forklifts and B-trains, wander around among the chillers and staff putting together orders, pick up their fruit and vegetables and their porcini mushrooms, olive oil and other ''bits and pieces'', before going to the makeshift cashier.
Following research of local markets and producers and suppliers from around New Zealand, the Mediterranean Market opened its doors at The Junction on Gorge Rd in November 2003.
The following year, the family expanded once again, opening a retail and wholesale operation in Te Anau.
In 2005, they sold the Wanaka and Te Anau retail wholesale operations and the Queenstown wholesale business to multinational company Bidvest.
The Mediterranean Market, which now incorporates a delicatessen, cafe, imported Italian food range and a homeware department, is owned and operated by Nathan and Angela Imlach.
Grant and Nadine Imlach now live in Queensland where they have a produce business. They recently purchased an adjacent cafe.
The Mediterranean Market had been all about learning, both from staff and customers, and the business had continued to evolve, Angela Imlach said.
''People that get it understand they are lucky to have it. And they give me ideas. We do a lot of listening,'' she said.
While they were ahead of their time when it opened, there were now other alternatives to supermarkets. They had ''hung in there'' and made it work ''and that doesn't always happen in Queenstown'', she said.
She believed the secret to their success had been hard work and also being ''people people''.
''I think we get the best out of staff and give the best we can to our customers.''
The biggest challenges for such a business was consistent staffing, which was a ''Queenstown thing'', and also obtaining produce.
As much as possible was sourced locally and they had been buying off many of their suppliers for 19 years.
The business employed 17 staff. A full-time nutritionist had recently been employed to take charge of product development and also on the shop floor helping customers.
For those who chose to live in Queenstown for the lifestyle it afforded, the only thing that could ruin it was being unhealthy. More of the public was now ''really well informed'' and looking for quality produce, Mrs Imlach said.
Growing up on a farm, she recalled how good food just came naturally and the family always ate well. That had continued when she had her own family and, like her mother, she never skimped when it came to food.
Mrs Imlach loved living in Queenstown, which seemed to attract dynamic, open-minded people.
''Most come here to have a crack at it, just like we did,'' she said.
''I get to deal with some really switched-on people. They really appreciate what we do for them. These people get it,'' she said.
There were continual improvements planned and made. There were lots of things going on that the public did not see, whether it was a catering order for a private jet, platters for scenic helicopter flights, or orders for luxury lodges.
''There's all of those other things going on around the outside to make it work,'' she said.
The Imlachs made a good team, with their respective skills complementing each other. Mr Imlach was involved in the finance, computer and produce side of the business, while his wife looked after staff, products and marketing.
One of her customers recently commented that she still looked as she did on the day the Mediterranean Market opened - full of enthusiasm. And she still had the same enthusiasm for the business as that day, she said.
''I'm very fortunate . . . but I do believe in creating your own luck. The good thing is every day is something new. Every day there's a new challenge . . . it's never dull,'' she said.
A 10-day celebration of ''all things foodie'' was planned next month to mark the 10 years in business. Festivities will get under way on November 11 when customers will be greeted by a 10-tier, metre-high birthday cake crafted by the market's long-time baker Jenny Lamond.
There will be free tastings each day and suppliers from throughout New Zealand would offer insights into their products, provide recipes and educate customers about ''good food''.