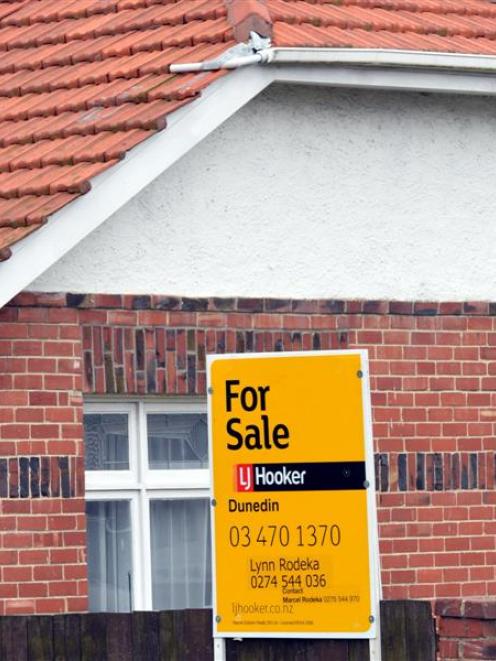 House prices appear set to continue rising but economists caution of a downturn later amid rising interest rates.
While it is likely homebuyers will have a brief respite from interest rate rises, with the Reserve Bank tipping the next official cash rate rise will not come until
early next year, declining numbers of house listings and rising prices will keep pressure on affordability. Median prices nationally rose $31,000 to $416,000 for July.
ASB chief economist Nick Tuffley said the mood of prospective homebuyers had hit its lowest point since 2007, based on the latest ASB housing confidence survey.
''Buyers are becoming increasingly negative while house price expectations remain resilient,'' he said.
The observation was borne out earlier this week, with Real Estate Institute data revealing national house sales were down 13%, while in Queenstown and Dunedin they slumped about 20%, a reflection of heightened regional volatility.
Mr Tuffley said Auckland continued to record stronger house price gains than anywhere else in the country, while a lack of housing supply was likely to be frustrating buyers in both Auckland and Canterbury.
''Recent interest rate rises, the steady increase in house prices and lending restrictions have all combined to create a growing mood of pessimism amongst prospective buyers,'' he said.
Westpac economist Dominick Stephens expects the housing market to stage a brief resurgence this year, before ''a more pervasive downturn''.
Westpac had for some time been forecasting a modest resurgence of house price inflation this year before the market turned more decisively negative later next year, Mr Stephens said.
Housing supply provided a challenge for buyers, impacting both house price expectations and housing market sentiment.
''There are a low number of houses for sale nationwide.
''Supply will lift gradually as construction picks up, but this process will take time. Throw into the mix the good performance of the economy, and we see no immediate driver for house prices to fall or interest rates to come down in the near future,'' Mr Stephens said.
Consequently, housing affordability issues were likely to impact housing market sentiment ''for the next year or two'', he said.
While net migration usually only played a relatively small role in determining house prices, Mr Stephens said that in the short term net migration was set to hit an all time high of 50,000 people per year.
''Sheer weight of numbers means that even that ... will translate into a reasonable boost to house prices over the year ahead,''he said.
However, longer term, he was forecasting a migration reversal when the Australian economy recovered and attracted New Zealanders back there, plus a further decline when Canterbury's rebuild started to wind down.
''Slower population growth will surely translate into a slower housing market in years to come,''he said.
Mr Tuffley of ASB said despite the OCR having risen earlier in the year, and subsequent flow-on effect to higher mortgage rates, New Zealanders remained confident house prices would continue to increase.
''The view that house prices will continue rising remains prevalent nationwide, with a net 49% of respondents expecting house prices to increase,'' he said.
Mr Tuffley noted that buyer sentiment had most notably declined in Auckland, with a net 21% seeing now as a bad time to buy, compared with a net 10% from April's survey.
Mr Stephens said over the coming years, rising mortgage rates would become a ''major impediment'' to the housing market.