Southern regional median house prices have taken off again, Otago and Dunedin hitting record prices of $480,000 and $430,500 respectively.
A slow start to spring and an initial lack of listings has given way to increased listing numbers and volumes sold, as well as buoyant prices well above the national percentage increases.
The national median price in October rose 6% to a record $562,000 compared with October last year.
October sales volumes increased in 13 of 16 regions around the country, 10 of the 13 regions notching up double-digit increases.
Real Estate Institute of New Zealand chief executive Bindi Norwell said October saw the real estate market ''spring back into action'', the volume of sales nationally rising 15.5% on a year ago.
Ms Norwell said the constraint on house supply had continued to drive up prices across much of the country, resulting in record prices nationally, in five different regions and several cities, including Dunedin, Christchurch, Hamilton and Tauranga.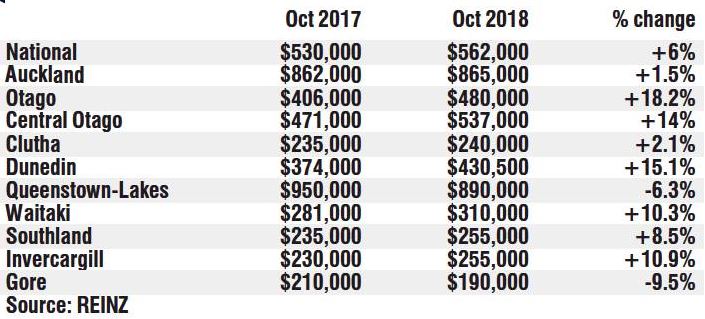 ''Until we seriously address the fundamental housing supply issues, record price increases is something that we're going to continue to see around the country,'' she said.
She was confident most of October's lift in volume was attributable to the spring lift, rather than any rush by foreign buyers looking to get in ahead of the ban on foreigners buying existing homes.
While Queenstown Lakes prices eased back from more than $1million in September, and at $890,000 were down 6% compared with a year ago, the region's October listings were up 2%.
REINZ regional director in Queenstown Gail Hudson said the listing increase was ''very positive''.
''Previously, vendors have been holding back from putting their property on the market due to the lack of alternatives [for them] to view.
She said buyers were taking longer to come to a decision, making negotiations longer.
ASB economist Kim Mundy said new legislation came in on October 22, banning foreigners from buying existing residential dwellings.
She said the strong rise in sales in October could be down to buyers and sellers trying to complete transactions ahead of the changes.
''Interestingly, sales activity in Otago was relatively muted, rising just 0.2% month on month in October,'' she said.
She noted Statistics NZ data published earlier this year suggested that Auckland and the Central Otago-Lakes district were the two areas most likely to be most impacted by the foreign buyer ban.
In Dunedin, REINZ regional commentator Liz Nidd said continued demand across Dunedin had helped push prices up 15% to a record $430,000.
''First-home buyers are looking but have a limited number of properties to look at,'' she said.
Dunedin sales numbers increased about 10% on October last year, rising from 195 to 215, while across Otago they rose 23.4%, from 342 to 422 sales.
She cautioned that until Dunedin listings increased there was unlikely to be any significant rise in sales volumes around the city.
Ms Norwell said nationally last month recorded ''the highest number of sales for a month of October in two years'', which was ''the equivalent of an additional 29 houses sold each day across the whole month''.
September sales were ''very quiet'', but she had expected listings to rise and sales to be stronger in October, Ms Norwell said.
''With strong sales this month, it's our belief ... New Zealand is taking a different path to what we're seeing across the Tasman at this point in time,'' she said of the softening of Australia's market.