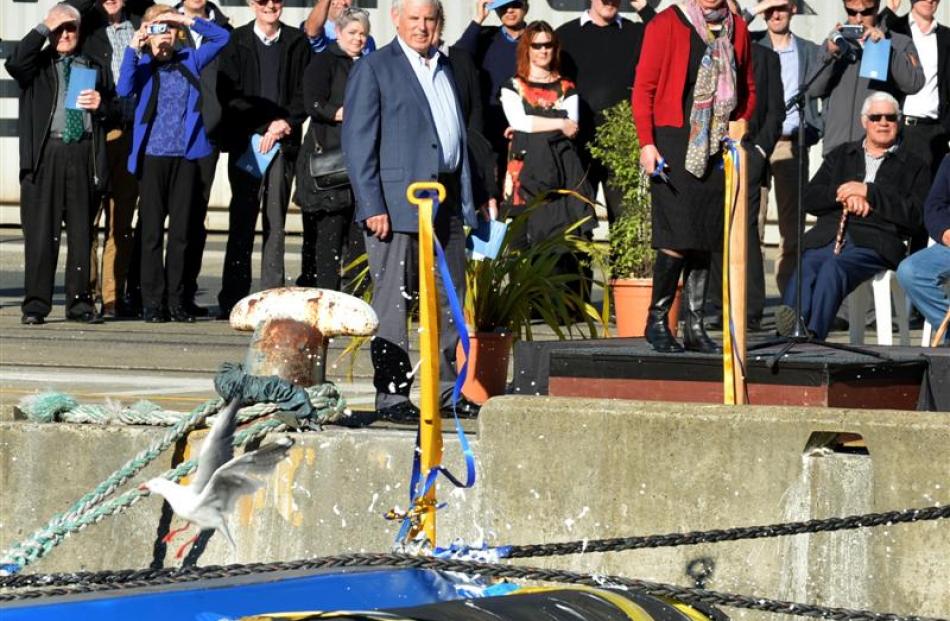 A bottle of Champagne smashing on the bow of Port Otago's new $11 million tug Taiaroa was the finale of the vessel's official launch and dedication yesterday.
Following luncheon for about 40 guests, including the whanau of namesake Taiaroa and runanga representatives, more than 140 people attended the wharfside Beach St dedication at Port Chalmers at 2pm yesterday.
Te Runanga o Ngai Tahu Otakou representative Tahu Potiki gave a brief history of the times of chief Taiaroa and his first cousin chief Karetai, after whom
Port Otago's 40-year-old tug is named, and offered up a blessing for the new tug.
Taiaroa arrived in Dunedin last month, following a 38-day delivery from Da Nang, in Vietnam, where it was built by Netherlands tug specialist Damen.
Port Otago senior pilot Hugh Marshall said if registration was completed in time, the 24m vessel could be operational to handle shipping by the end of the week.
A Damen employee is still in Port Chalmers and will be training up to five people to operate the two-person tug.
While its predecessor the Otago was lighter and has a bollard pull of 58 tonnes from its 4800 horsepower engine, the Taiaroa has a 68-tonne pull and 5800 horsepower, with twin azimuth (rotatable) propellers.