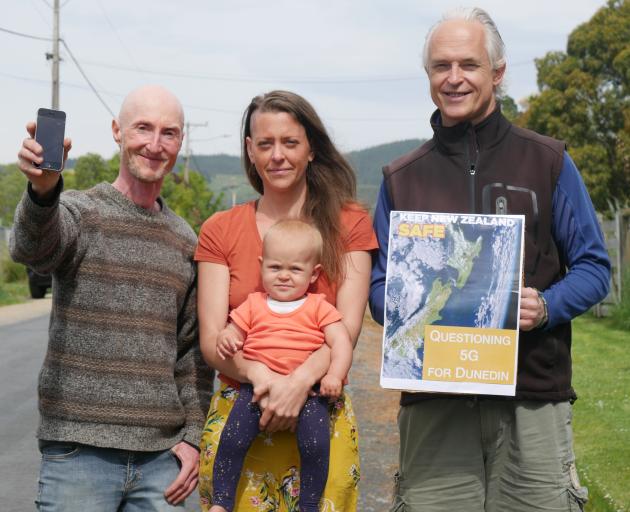 An anti-5G group is hoping to ''pause'' a roll-out in Dunedin.
Questioning 5G for Dunedin group members Christopher Le Braton and John Bentham spoke at the latest Waikouaiti Coast Community Board meeting to ask for the board's support to request the Dunedin City Council stall installation of the network.
It has been rolled out in six New Zealand towns, but there were no plans for Dunedin at present.
The group was concerned about the negative effects of 5G, including damage to children, animals and the environment.
Not enough evidence had been gathered internationally to demonstrate that it was completely safe, Mr Le Braton said.
He was also concerned there had been no public consultation by the Government or telecommunication companies about the risks or benefits of 5G.
The group did not want trees to be cut down so cell transmitters could be installed.
''A pause, pending independent scientific analysis, is far better than rushing in headstrong and assuming it's fine,'' he said.
''We are pro safe technology and we believe let's make it work for everyone.''
Board chairman Alasdair Morrison said he asked the council for its view on the 5G roll-out, and if the council had any influence with the telecommunication companies that conducted the roll-out.
Spark corporate relations partner Arwen Vant said there had been ''thousands'' of scientific studies conducted in the past and there was no clear evidence that cell sites present risks to human health.
''The Spark wireless network is fully compliant with international and national guidelines limits that are based on decades of scientific research.''
Based on its own testing, exposure levels from its cell towers were typically only a small fraction of the exposure limit.
''We understand that some people feel concerned about 5G, and we're aware that there is misinformation about 5G circulating on social media.''
No trees would be cut down, she said.
Spark recommended people get information from sources like the Ministry of Health.
A Dunedin City Council spokeswoman said cellular technology was regulated by the central government, and the city council did not have a role in the release of 5G.
Dunedin City Council Resource Consents manager Alan Worthington said a cell site would not usually require resource consent.
What is 5G?
5G is an advanced wireless technology. It is the fifth generation of mobile broadband. It is set to be faster and more responsive than previous generations.