By James Dignan 
''Laurence Aberhart''
(Brett McDowell Gallery)
The master photographer Laurence Aberhart is back at Brett McDowell Gallery with an exhibition of new selenium-toned silver gelatin prints of photographs taken from the 1980s through to last year.
Aberhart has a distinctive style in his work, no matter whether the subject is misty coastlines, portraits of street youth, or - his signature subject - the decaying facades of old town buildings.
The current exhibition consists of works on all three of these subjects, as well as a rare image from outside New Zealand of a plant nursery in Australia.
In every one of these monochrome works, focus is immaculate and composition is expert. In his small group portraits he has well captured the personalities of his subjects, and his architectural studies evoke an older disappearing New Zealand in microcosm.
In addition to these works are two standout pieces, each of them a new platinum palladium print of one of the photographer's most acclaimed works.
Near Moonlight, Taieri Ridge captures an Ansel Adams-like panorama of the backbone of the land, presenting the undulations and grandeur of the country under an infinite sky.
The other work, Taranaki, Whanganui is justifiably famous, the distant form of the great volcanic cone captured in hazy twilight from the Whanganui coast, the landscape reduced to subtle hints and shadows.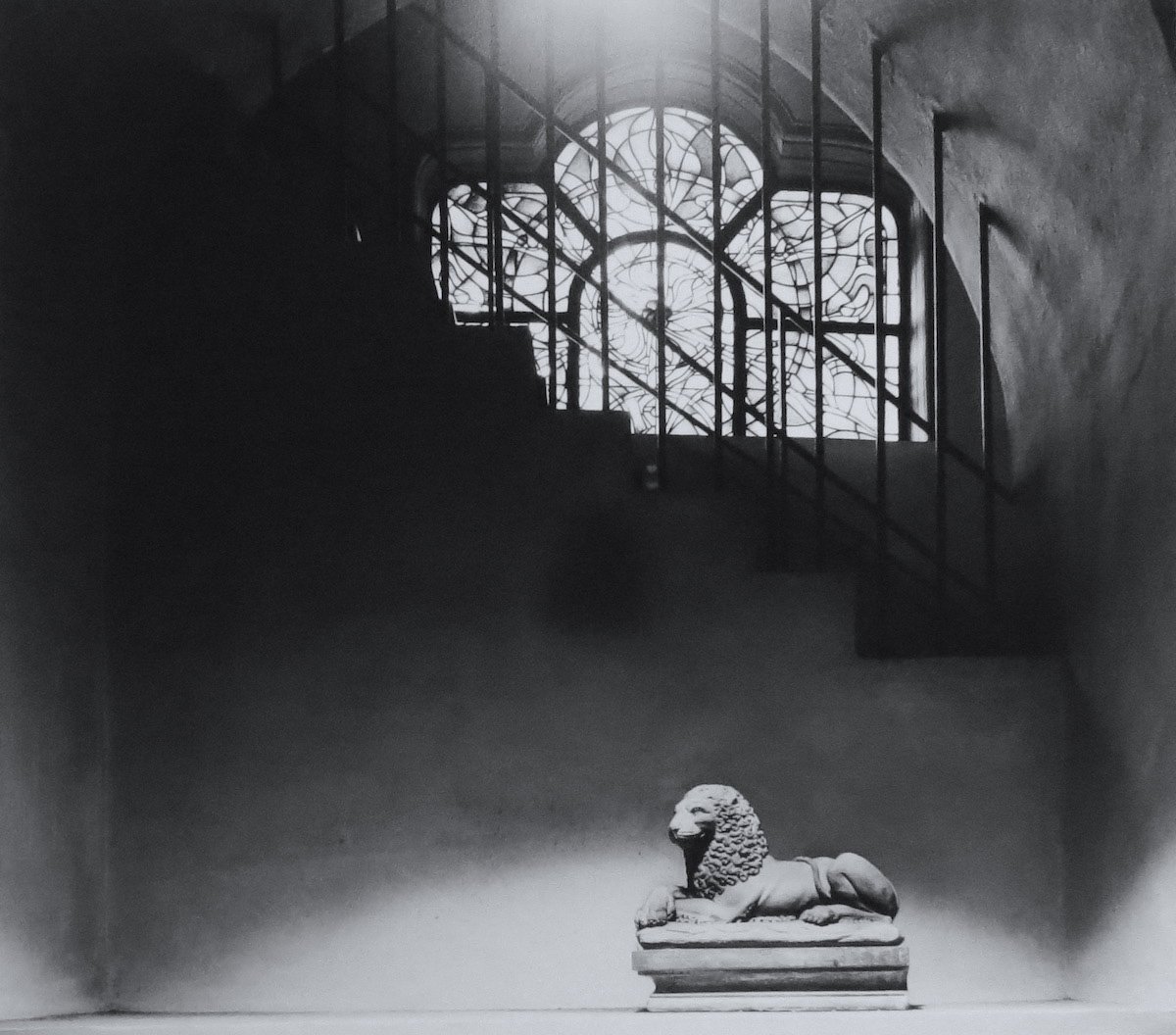 ''Placeholder'', Inge and Marc Doesburg
(RDS Gallery)
Aberhart's Taranaki, Whanganui finds misty compatriots in several of the works at RDS Gallery, where Marc and Inge Doesburg are exhibiting.
Inge is well-known for her multiple artistic talents in painting, printing, and photography, and her partner Marc's photographs are worthy equals to her work.
As with Aberhart's photographs, atmospheric lighting effects play a major part in several of the images, notably Inge Doesburg's three Chathams pieces, in which the landforms are reduced to Rothko-like bands of light, grey, and dark while retaining the power of the land.
In Waihola II, any semblance of landscape almost totally disappears, leaving only a misty intensity of light. The image becomes both a record of a place and an exploration of nothingness.
Marc Doesburg's photographs are for the most part more solid in their approach to subject, but are an effective complement to Inge's works. His images form a personal visual diary of travel through Europe.
Beautifully composed pieces such as De Wallen, Amsterdam, Landsmeer I, and the poignant Vondelpark I present hints at a narrative that remains both elusive and captivating.
Marc's still lifes, such as Ateneum, Helsinki and St Quirinus, Neuss, are somewhat colder in feel to the landscapes and townscapes, but are effective and memorable works.
''Fields of Colour'', Christine Hellyar
(Gallery Fe29)
There are ostensibly two separate Christine Hellyar exhibitions at Gallery Fe29.
The main display, Fields of Colour, is a series of deeply framed sculptural collages, each consisting of an array of natural fibres which have been hand-dyed using commercial dyes.
Each piece is named for a plant whose colour is reminiscent of the dye, plus the materials displayed. The works are fascinating sculptures in which colour and composition dominate individual form.
As exercises in colour theory they are designed as a refutation of persistent yet illogical claims that only painters understand colour.
The pieces, in their vertical ''trays'' and with their pale-coloured backgrounds, echo the forms and features of old museum displays.
This effect is intentional, and draws the viewer into private dialogues and thoughts. Is there a suggestion here that we are only preserving nature in some archival form, or that by rearranging and codifying its features we can pigeonhole the natural world?
Accompanying this exhibition is a second display of Hellyar's work which takes a completely different tack. In Farms, the artist presents 17 vignettes in which the natural landscape of rural and agricultural land is suggested in masterful broad strokes of watercolour.
Oriental art styles are evoked in some of these beautiful subtle pieces.