Ted Fox reviews a selection of crime and thriller novels.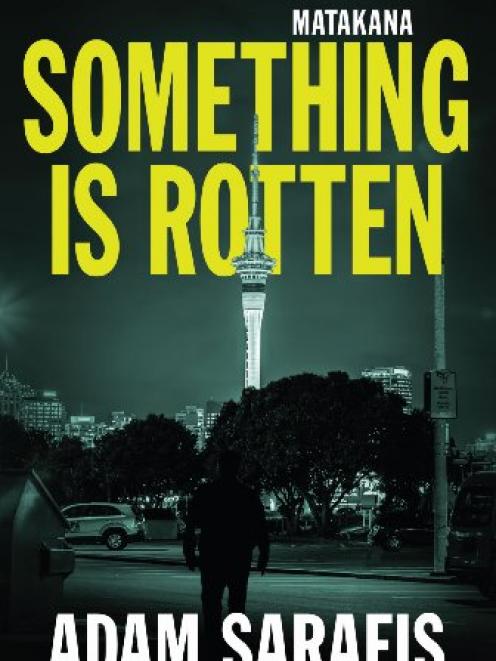 SOMETHING IS ROTTEN
Adam Sarafis
Echo Publishing
Something is Rotten starts with the murder of an aspiring writer, Brent Taylor, who is working late in the Auckland University library. Officialdom says it was an accident, that he was drunk or something. His friend Jade has other ideas. She knows he was clean and had been for 12 months.
Jade looks to Sam Hallberg for help. A grieving widower, former government terrorism adviser and now a mechanic, Sam finds himself drawn into international dirty politics as he searches for Taylor's missing manuscript.
Sam reluctantly delves into the case. He finds it intermeshed with business journalist Lynette Church's investigation into New Zealand's meat exports and shady government dealings.
An engrossing read and a darkest-hour-is-just-before-the-dawn twist at the end.
Adam Sarafis is the nom de plume adopted by Linda Olsson and Thomas Sainsbury. Sainsbury, a New Zealander, develops screenplays and Olsson, a Swede, is writing her fifth novel.
BLACK RUN
Antonio Manzini translated by Antony Shugaar
Fourth Estate/HarperCollins

This is an excellent translation of Manzini's story about irascible Deputy Police Chief Rocco Schiavone, a man ''who has more beautiful women in his bed than sensible shoes under it''.
Banished to the Alpine town of Aosta after a run-in with his Rome superiors, Schiavone longs for the warmth of his long-missed Rome, hating the cold, the provincials, his superiors and petty police regulations. Corrupt, adulterous Schiavone is in his element when a body is found in the snow on the Black Run. The corpse, thoroughly mangled by a snow-grooming machine, is identifiable only by a tattoo.
Buying suitable snow boots, making time with the attractive shoe shop assistant, getting a cut from a confiscated marijuana shipment and becoming reassigned to Rome variously divert Schiavone's professional interest in the case.
The book's rather humorous tone is strangely at odds with the grisly nature of the crime and the twist at the end. That aside, let's have more of Deputy Police Chief Rocco Schiavone.
FRIDAY ON MY MIND
Nicci French
Michael Joseph/Penguin

A man's body is found floating in the Thames near HMS Belfast; around his wrist, a hospital bracelet inscribed with a barely legible ''Dr F. Klein''. However that isn't who it is.
Tracked down, psychotherapist Frieda Klein identifies the corpse as her ex-lover Sandy Holland, who had never accepted the end of their relationship. Klein becomes the prime suspect when evidence linking her to the murder is found in her apartment.
Knowing the police have enough to arrest her and that sitting in prison won't help her find the murderer, Klein disappears into the maze of South London. Here she is hunted by both police and killer as she tries to solve the crime.
The fifth novel in the series written by the husband-and-wife team of Nicci Gerrard and Sean French, it's complex, fast-paced and full of mystery, scheming and intrigue.
It will keep you guessing until the end.

LUCKIEST GIRL ALIVE
Jessica Knoll
Macmillan

In this novel, Knoll wanted to create a complex woman, with a personality similar to that of Don Draper (Mad Men) or Tony Soprano (The Sopranos).

With the character of Ani, Knoll explores the scenario where ''bitch'' is used to describe a successful businesswoman, whereas a man in a similar situation would be viewed as a ''go-getter''. Knoll herself in an interview described Ani (TifAni FaNelli) as self-obsessed and judgemental, clawing ahead in a magazine career.

Knoll pulled much of the writing from her own experiences leading up to her wedding, and she worked out her unresolved conflicts in her written material.
Ani at first appears to be from the shallow end of the gene pool, but she's a fake. She's a survivor. She's concealing the events that occurred late in her freshman year and she's created a new TifAni. She's afraid of the truth, the truth that could destroy everything she ever wanted.
Flashbacks reveal the damage and the luckiest girl alive. An absorbing read.
THE GIRLS
Lisa Jewell
Century/Penguin Random House

In The Girls, Daddy had a severe paranoid schizophrenic episode and burnt down the family home in order to save the world from a severe alien rat invasion.
Father is committed and having treatment while Clare, his wife, and their two daughters have nothing.
Clare takes her daughters, Grace and Lola, to a closed London suburban community with its own communal garden. Here Clare discovers more about her neighbours (some of three generations' residency) and their various children.
Part of the narrative are the poignant, illustrated letters written by Lola, aka Pip (short for Pipsqueak), to her absent father.
The book is an ominous dark, gripping mystery that starts with the crime, the girl found senseless in the garden, following up with the events that lead to the transgression.
THE KILLING OF BOBBI LOMAX
Cal Moriarty
Faber & Faber/Allen & Unwin
Set in the early 1980s, this explosive first novel from Cal Moriarty sees prom queen Bobbi Lomax as the first to die, blown up on her front lawn by an attractively wrapped bomb. Two other explosions quickly follow; one killing a property investor, and the other seriously injuring a rare book dealer.
Bobbi's husband is a senior member of a sect, The Faith, that holds sway in fictitious Abraham City, Canyon County. Sect members neither drink nor smoke, have a passionate regard for their messianic founder and bristle when it comes to allegations of polygamy.
The Faith's claims to power, largely against breakaway cult The Real Faith, come from documents that, supposedly, have survived from their past. Hard-bitten detectives Marty Sinclair and his longtime partner Al Alvarez battle to find the bomber before he/she strikes again. Hampering their investigations is their well-meaning senior officer, in thrall to The Faith and known only as The Captain.
The Killing of Bobbi Lomax is a convoluted tale of forgery, faith and foul play. Enjoy.
BULL MOUNTAIN
Brian Panowich
Head of Zeus/HarperCollins

Brian Panowich's debut novel features a backwoods Georgia family on the wrong side of the law.
It's a multigenerational story of crime and retribution. First the family ran moonshine, then marijuana and finally progressed to meth.
However, one member of the family, the black sheep Clayton Burroughs, is the Sheriff of Bull Mountain, who exists in an uncomfortable truce with his folks.
That is, until a federal agent with the Bureau of Alcohol, Tobacco and Firearms arrives to light the fuse, which once lit can destroy the family.
He does what one of the characters suggests. Unable to reach the hornet's nest in the tree to destroy it, the agent sets fire to the tree.

PRETTY GIRLS
Karin Slaughter
Century/Penguin Random House

Pretty Girls is a tightly plotted story of a family's misfortune. A girl, sister and daughter Julia Scott, disappeared more than 20 years ago and the disappearance of another girl opens old, still-raw memories.
The story is told through three points of view, principally that of Julia's younger sister Claire and their father, Sam. The father never stopping looking or moving on and keeps a diary to his eldest daughter.
Claire is witness to the mugging and murder of her millionaire husband in a dark alley. As she tries to
recover she uncovers unpleasant secrets hidden in her late husband's laptop. Secrets that lead her to question her marriage and the husband she thought she knew. Secrets that disgust and horrify.
Neither Claire nor her other, estranged sister Lydia, a recovering drug addict, have recovered from their shared loss. Lydia's world of a struggling single mother is light years away from Claire's privileged life. The one thing they share is that the new disappearance is similar to that of Julia's, and Claire is convinced there is a link.
A gripping story, not for the faint-hearted.
SKIN DEEP
Gary Kemble
Echo Publishing

A ghost story and a political crime thriller set in Brisbane, Skin Deep is the debut novel from Australian author Gary Kemble.

Community newspaper hack Harry Hendrick wakes from a horrifying nightmare and discovers a tattoo has appeared on the back of his neck.
In the weeks that follow, more tattoos appear overnight, after alarming nightmares about Afghanistan, murder and a mysterious woman.

Digging deeper, Hendrick's search leads him to successful, married Jess McGrath. The only thing they have in common are unwanted tattoos and nightmares.

A dark novel that sets an energetic pace and reflects Kemble's other life as a journalist.
THE FATHER
Anton Svensson
Sphere/Hachette

The Father is the fantastic true story of three Swedish brothers who, over two years, committed 10 bodacious bank robberies.
Written by the fourth, uninvolved, brother, Thunberg, it's about three innocent boys who turn to crime because of an abusive father, their family gang being described by the media as the Militarligan (The Military League).
The detective who hunts them down, John Bronks, is similarly damaged.
Anton Svensson is the writing partnership of Stefan Thunberg and Anders Roslund. Roslund is an investigative journalist, while Thunberg is a Scandinavian screenwriter whose body of work includes Hanning Mankell's Wallender.
The Father is a brutal yet thoughtful thriller.
THE GOOD PRIEST
Gillian Galbraith
Newsouth Books

Father Vincent Ross' tranquil, celibate life goes from pray to prey in this thriller by Gillian Galbraith.
Set in Kinross and the Scottish Fyfe countryside, the story follows the misfortunes of a naive priest. Unworldly and overly susceptible to attractive intelligent women, Father Ross is unwittingly drawn into a corrupt world.
Threatened and physically assaulted, he retreats to the safety of a convent where his only male company is a bellicose African grey parrot, Bertie. Bertie, having spent his fledgling years in a pub, is given to addressing all and sundry in salty language, demanding, ''One feckin' IPA, eh! Just the one feckin' IPA, pal!''
The parrot gives a lift of humour to what is a dark tale of violence, dishonesty and other crimes.

- Ted Fox is an online marketing and social media consultant.