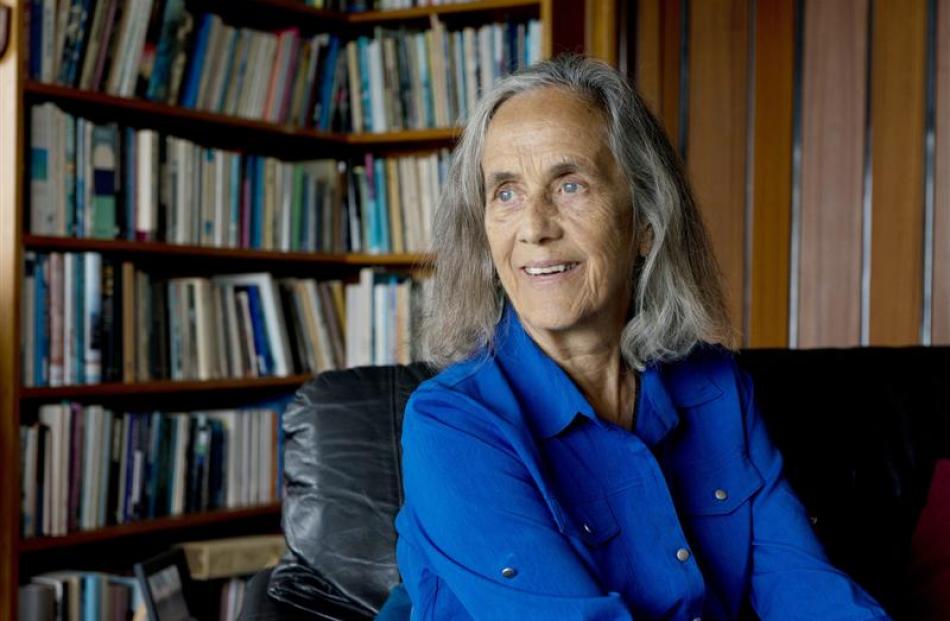 It has been 10 years, but Patricia Grace's new novel has been worth the wait, writes Lawrence Jones.
When Chappy, Patricia Grace's seventh novel, appeared in late May, it had been more than 10 years since the publication of her sixth, the award-winning Tu, in 2004.
Her readers, however, have not forgotten her, despite the long wait, for Chappy has climbed to the top of the Nielsen Bookscan fiction list of New Zealand best-sellers.
That decade without a novel had been an eventful and stressful one for Grace.
In 2006, she brought out her fifth collection of new short stories, Small Holes in the Silence, showing she was still a master in that genre.
At that point the family of Ned and Katina Nathan approached her to ask her to write the story of the relationship that began in Crete in World War 2 between the wounded Maori Battalion soldier and the young Cretan woman and lasted almost 50 years in New Zealand.
The result was Ned & Katina: a true love story, published in 2009.
The book, requiring documentary research, many interviews and travel to Crete, was very different from what she called ''flying solo in fiction'', something ''new, challenging, a shared adventure'', a ''new mountain'' for her to climb.
Different challenges faced Grace in the following five years.
The woman who earlier in her life had carved out a writing career while bearing and raising seven children, much of the time holding a full-time teaching position, had to meet different later life challenges.
She helped the family to nurse her ailing mother until her death, then cared for her husband until his death in 2013.
She had in those years completed a first draft of Chappy but had put it aside to carry out her family responsibilities.
In the last several years while completing the book, she has met other family responsibilities regarding ancestral land.
She had been left the remaining block of the land that had been gifted by her great-great-grandfather, Wiremu Parata, for the benefit of the whanau and the Waikanae community, land that she considered had ''ancestral significance'' and ''historical and cultural importance'', but part of the land had been compulsorily seized by the New Zealand Transport Authority under the Public Works Act to be used for a section of the Kapiti Expressway (an action eerily anticipated in Grace's 1986 novel Potiki).
In 2013 and 2014, Grace led the successful applications first to the Maori Land Court and then to the Environment Court to have the land set aside as an inalienable Maori Reservation.
There is considerable continuity in Grace's fiction in that all of the novels focus on the Maori whanau and/or iwi, but she has said that ''I am always keen for writing to challenge me'', especially the challenge of different elements, and the ''new mountain'' to climb in Chappy is the titular character: how does the whanau deal with a Japanese man with no Maori or English thrust upon it during a war with Japan?
Her interest had been captured by the story her husband told of a Japanese shopkeeper in Ruatoria, married to a Maori, known by the Grace family and accepted in the community, who had been interned and then deported when World War 2 came.
She decided to explore the theme of the Maori relations with representatives of ''other ethnicities'', but not to try to enter the consciousness of a Japanese character but to show him through the eyes of various members of a whanau.
As usual with her novels, she felt her way into the story, as she played variations on the themes and narrative methods of her earlier works, improvising her own structure.
Grace often used oral storytelling within a book, with different narrators, and she evolved as she went forward with this novel an elaborate, layered method, with all of the narrators embodying or encountering various ''other ethnicities''.
Daniel, the 21-year-old narrator of the prologue and epilogue, has a Maori mother and Danish father, has been raised in Europe with no experience of his Maori roots, nearly kills himself and is sent off by his mother to New Zealand to sort himself out, and is challenged to find out abut his mysterious late Japanese grandfather.
The story of the grandfather immediately becomes central to the book, but a by-product of that quest is Daniel discovering his Maori origins, learning life lessons from his mother's whanau and finding his direction as the whanau storyteller who will go to Japan, discover his grandfather's full story, and then share it.
What he has discovered in New Zealand about his grandfather makes up the body of the book.
Daniel's sources of information about Chappy are his twice-adopted great-uncle Aki and his grandmother and the wife of Chappy, Oriwia.
Each has a personal mode of narration.
Aki insists on telling his stories of Chappy and his other more personal memories in Maori, to a tape-recorder, so Oriwia has to translate them in writing for Daniel, sometimes including her written interpolations.
Oriwia's story is more mixed in mode, usually given to Daniel in conversation as she works with him in her bakery; sometimes he reports a conversation as a first-person scene with dialogue, other times he has to reconstruct the story as a third-person narrative expressing Oriwia's view of Chappy; occasionally she gives him a written episode in the first person as a signed short story (of which she is proud), and once she retells what Chappy later told her.
Daniel (and the reader) can piece together the story of Chappy from Aki's and Oriwia's contributions: his opposition to Japanese imperialism and his consequent desertion from the Japanese army; his discovery by Aki as a stowaway on his ship; his acceptance by Aki's whanau in New Zealand and his later marriage to Oriwia; his flight from the whanau when New Zealand goes to war with Japan; his arrest and internment in New Zealand and his deportation to Japan; his rediscovery by Aki in Japan in 1958; his shift to Hawai'i with Aki, and his settling there with him and his native Hawai'ian wife Ela and her extended family, and his decision to stay there with them; his reunion with Oriwia in Hawai'i and ultimate return to New Zealand, and his contented final years with her creating a traditional Japanese garden on the whanau land adjoining her bakery/tea rooms.
In the process of telling Chappy's story Aki intentionally tells his own and Oriwia reveals hers, so the novel really becomes a family portrait.
Aki's contacts through his travels as an international sailor open out the family to other ethnicities: Japanese through Chappy and native Hawai'ian through his marriage to Ela, while Daniel provides a link to European culture.
A recurrent cross-cultural theme is the contrast between those who accept cultural difference such as Aki and (in his quiet way) Chappy and those who are intolerant of other cultures, such as Noddy, who hates Chappy for the terrible things the Japanese army did to him in the war.
Cultural intolerance can be hurtful, as in the harsh treatment of the German Krausse family in New Zealand during the war which Oriwia describes, and Aki comes to see that the spiritual cause of Ela's early death is her internalisation of the ''communal distress'' of native Hawai'ians at the arrogant treatment of their culture by the white American commercial culture.
In contrast, Daniel gains greatly from his cross-cultural contacts and Oriwia learns from hers as she grows to love and accept Ela.
Her bakery/tearoom with its featured Japanese garden is an image of the fruitful mix of Maori, Pakeha and Japanese cultures.
Chappy is well worth the decade-long wait, while readers can hope that Grace's present project - a memoir of her late husband, Kerehi Waiariki Grace (to whom Chappy is dedicated) - will be her next family narrative to be shared with them.
• Lawrence Jones is an emeritus professor of English.