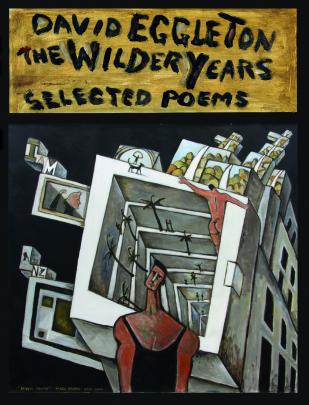 A roundup of the latest in works of poetry reviewed by Hamesh Wyatt.
THE WILDER YEARS: SELECTED POEMS
David Eggleton
Otago University Press
David Eggleton began reciting poetry in the New Zealand rock-music scene of the early 1980s. He lives here in Dunedin and is the current New Zealand Poet Laureate. 
Eggleton is a regular performer in schools, universities, pubs, clubs and cafes. The "mad Kiwi ranter" has done us proud over the years, winning every literary award that it's possible to receive in this country.
The Wilder Years is long overdue. He has worked hard over the last 35 years and his poems teem with life as he zooms in and pans out.
Eggleton produces indelible lines, sensuous apprehension and extraordinary virtuosity.
This big book, over 300 pages, has poems being "soothing balms" that tell the reader they "are not alone in the world".
Eight new poems include Two Mosques, Christchurch, fitting considering the outcry about a recently proposed film.
The Wilder Years is entertaining, infectious and a defining statement on one of our best.
The title poem begins:
Us, with our sewing, quilting, plumbing bees,
going hard yakker till the eleventh hour,
we'll be throwing on the barbie one more sacred cow,
and tossing the hoons mallowpuffs and macaroons
to keep them bemused between beers,
then hosing it all down with tanker milk...
SELECTED POEMS
Harry Ricketts
Victoria University Press
Harry Ricketts was born in London and studied English at Oxford University, before taking a position at Victoria University 40 years ago. He has written and edited more than 30 books, including 11 poetry collections.
This is vividly perceptive. Early Settlers Museum, Dunedin, with Tommy, 1989 concludes:
...And for once everything fits:
the bright morning, the lolloping dogs,
the sweet chocolate smells
from the Cadbury factory,
autumn staining the hills.
Ricketts is one of our finest and most original poets. Enjoy the humour, the retro panache and the many tributes to dead poets. Over the years he has mined the mysteries of the known world and found himself older, wiser and thoughtful.
RANGIKURA
Tayi Tibble
Victoria University Press
Rangikura is a fiery new work from Tayi Tibble. Her debut collection Poukahangatus (2018) contained beauty, activism, power and a rocking good feel. The indigenous force continues, as does the intimacy.
Life, love and living here in New Zealand are all covered. Te Araroa:
...This is what I remember.
Rising before daylight but wishing it away.
The sun coming up and the lid going on.
Uncles f....... up the reo they spent ages scraping together.
The heartbreaking habit of looking for her
laughing somewhere along the newspapered table.
Driving away, and in the rear-view mirror watching
my whole heart disappear into the whenua she grew up on.
No. That she grew up with. Not on.
Tibble is fun, brash, colourful and loud. Rangikura is an immersive trip.
THE LITTLE ACHE - A GERMAN NOTEBOOK
Ian Wedde
Victoria University Press
Ian Wedde is the author of more than 15 collections of poetry. This latest effort was written in 2013-14, when he was researching his novel The Reed Warbler. In Berlin and the north of Germany, Wedde's ancestors whisper to him. 14:
...I'm writing this in Berlin in winter
after walking in Treptower Park
in the snow among bare trees
next to the frozen river Spree
which is a long way from my good fortune
back there in Auckland in summer
where the pohutukawa will be shedding crimson flowers
into the flowing tide
at the bottom of Hamilton Road...
This is surreal, honest and moving. These are nervy, impassioned poems that search for happiness.
BRASS BAND TO FOLLOW
Bryan Walpert
Otago University Press
Bryan Walpert is a professor in creative writing at Massey University and Brass Band to Follow is his fourth collection of lyric poems.
This latest lot are witty and perceptive. Walpert's poems are like photographs. Snapshot ends:
...the way a mirror bounces
back an image which travels
a distance twice, and time,
always faster than light,
makes us that much
older than we look,
the closest we come.
Walpert offers a plethora of extended moments of clarity.
PARTY LEGEND
Sam Duckor-Jones
Victoria University Press
I loved Sam Duckor-Jones' first book of poems People from the Pit Stand Up (2018). It was fresh, funny and had moments of insight.
His second does not quite reach those heights. Creation, God, political rhetoric are all part of this latest effort, but it misses something of the vulnerability of the debut. Relationships dominate many of these poems. Dear Citizen:
do you intend to read the news . do you intend to visit your
father . how much bubble wrap is required? . do you intend to
prepare a souffle . do you intend to hand over your heart .
how much bubble wrap is required? . we're running low . we
need to know . how much bubble wrap is required?
I know Duckor-Jones has more up his sleeve.
Hamesh Wyatt lives in Bluff. He reads and writes poetry