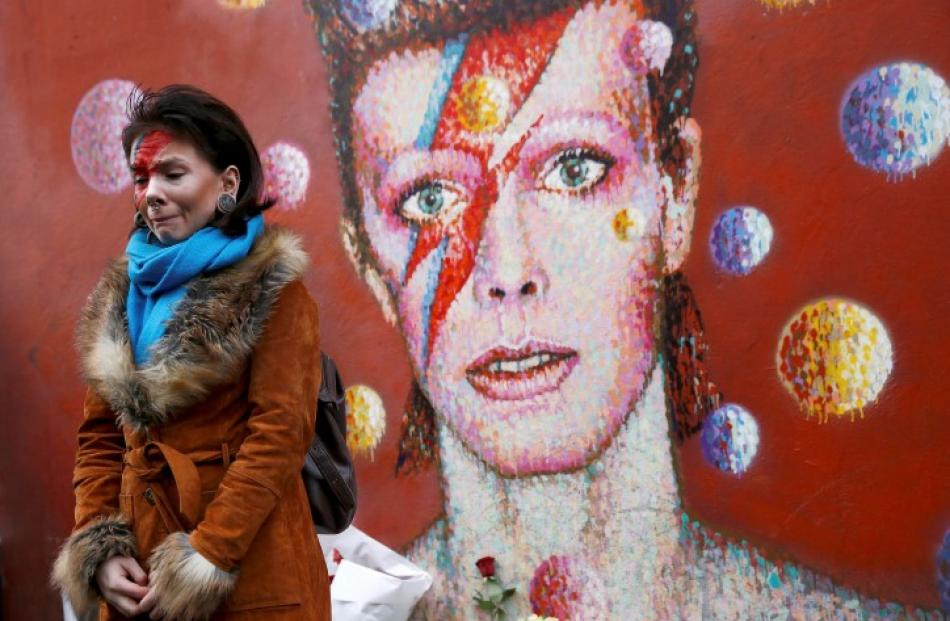 From the International Space Station to the Vatican, tributes have poured in for rock legend David Bowie following his death at 69 from cancer.
Taking to social media as well as in statements, music world collaborators and fans praised Bowie's groundbreaking oeuvre and offered their own recollections of the singer, known for a string of hits such as "Space Oddity" and "Let's Dance".
Below are some of the tributes to Bowie, who released his last album "Blackstar" on Friday, also his birthday:
Duncan Jones, Bowie's son, posting a picture of the singer on Twitter
"Very sorry and sad to say it's true. I'll be offline for a while. Love to all."
David Bowie's son Duncan Jones also confirmed the singer has died https://t.co/NAF36nN0hT pic.twitter.com/yTsc8m8YzR

— Stacey (@journostacey) January 11, 2016
Tony Visconti, music producer and long-term Bowie colloborator
"He always did what he wanted to do. And he wanted to do it his way and he wanted to do it the best way. His death was no different from his life - a work of Art. He made 'Blackstar' for us, his parting gift. I knew for a year this was the way it would be. I wasn't, however, prepared for it. He was an extraordinary man, full of love and life. He will always be with us. For now, it is appropriate to cry."
The Rolling Stones' official Twitter account
"The Rolling Stones are shocked and deeply saddened to hear of the death of our dear friend David Bowie. As well as being a wonderful and kind man, he was an extraordinary artist, and a true original."
Queen official Twitter account, posting a video of 'Under Pressure'
"This is our last dance..."
Queen drummer Roger Taylor
"David Bowie: The cleverest and most interestingly brilliant man of our time. What a vacuum he leaves, and how he will be missed. Roger"
Iggy Pop, singer
"David's friendship was the light of my life. I never met such a brilliant person. He was the best there is."
Paul McCartney, singer
"David was a great star and I treasure the moments we had together. His music played a very strong part in British musical history and I'm proud to think of the huge influence he has had on people all around the world ... His star will shine in the sky forever."
Jimmy Page, former Led Zeppelin guitarist
"Bowie was an innovator, a unique artist with a vision that changed the face of popular music. He is greatly missed."
Gary Kemp, Spandau Ballet member
"Shocked to the core."
"It feels as if the world has suddenly gone out of joint."
David Cameron, British Prime Minister
"I grew up listening to and watching the pop genius David Bowie. He was a master of reinvention, who kept getting it right. A huge loss."
Madonna, singer
"Im Devastated! This great Artist changed my life! First concert i ever saw in Detroit! R.I.P."
Kanye West, rapper
"David Bowie was one of my most important inspirations, so fearless, so creative, he gave us magic for a lifetime."
Gianfranco Ravasi, cardinal and head of the Vatican's culture council, quoting 'Space Oddity' lyrics
"Ground Control to Major Tom
Commencing countdown, engines on
Check ignition and may God's love be with you (David Bowie)"
Tim Peake, British astronaut, onboard the International Space Station
"Saddened to hear David Bowie has lost his battle with cancer - his music was an inspiration to many."
Ricky Gervais, comedian
"I just lost a hero. RIP David Bowie."
German foreign office, on Twitter
"Goodbye, David Bowie. You are now among Heroes. Thank you for helping to bring down the (Berlin) Wall."
Gene Simmons, Kiss bass player
"David Bowie, you will be sorely missed. Bowie's 'Changes' and the Ziggy story songs were a major influence for me."
Uri Geller, celebrity psychic
"I was profoundly impressed by his deep understanding of mysticism, the mysterious and the universe. There is no doubt in my mind that David believed in Heaven."