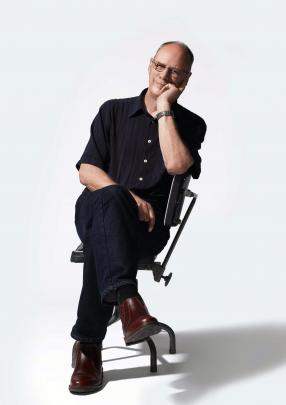 While there is no Dunedin Arts Festival this year, there are still plenty of local, national and international acts to pencil in on your calendar, Rebecca Fox discovers.
There is a smorgasbord of shows scheduled to be performed in the city this year. Near the top of the list would have to be the second concert of the popular Dunedin Sound by the Dunedin Symphony Orchestra.
The first Tally Ho! performance sold out the Dunedin Town Hall in 2015 and garnered a standing ovation for the Peter Adams-directed concert, which featured compositions by local songwriters Shayne Carter, Martin Phillipps, David and Hamish Kilgour, Robert Scott and Graeme Downes.
''Judging by the 2015 performance of Tally Ho! this is bound to be a very popular concert,'' DSO marketing and publicity officer Pieter du Plessis said.
Details of this year's concert are still slim as the DSO does not release its programme for the year until next month.
Also not being released until next month is the Dunedin Fringe Festival's programme, although festival director Josh Thomas has provided some glimpses including Auckland-based Leah Carrell, who co-presented her first contemporary dance work last year. She is returning with Composure, a 12-hour endurance piece melding choreography, instinct, dance and improvisation.
Award-winning verbatim theatre-makers Talking House will return to their hometown fringe festival with the world premiere of their multimedia spoken-word concerto, Alive in Berlin.
Other fresh work includes a brand new musical comedy written and performed by Joseph Moore and Laura Daniel, who many will recognise from TV's Jono and Ben at Ten and Funny Girl; and two separate productions of plays written by 2016 Bruce Mason Playwriting Award recipient Sam Brooks (Riding in Cars with (Mostly) Straight Boys; QUEEN).
However, the performing arts year in the city begins with the visit of the Wuhan Acrobatic and Cultural Troupe next week.
One of China's top acrobatic troupes, it will perform live in a one-off concert at the Regent Theatre on Thursday in the lead-up to Chinese New Year to help raise funds for the Dunedin Chinese Garden, the Dunedin Chinese Scholar and Student Association and the New Zealand Chinese Association Otago and Southland branch.
Ballet
The Royal New Zealand Ballet continues to bring its major works to Dunedin this year.
Its 2017 season features works never before performed in New Zealand by the late French master-choreographer Roland Petit; Carmen with L'Arlesienne, to music by Georges Bizet; three works by Alexander Ekman never before staged together, and a new version of Romeo and Juliet by departing RNZB artistic director and choreographer Francesco Ventriglia.
The ''Three by Ekman'' includes Cacti, the work included in last year's Speed of Light programme, and the company will be again joined on stage by the New Zealand String Quartet.
Otago Daily Times reviewer Penny Nelson described it as ''a fun and humorous piece that reminds the viewer not to take things so seriously''.
''Gauging from last night's audience response, it seems we cannot wait for the next instalment,'' she wrote.
The last ballet for the year is Ventriglia's Romeo and Juliet, which will feature Prokofiev's music played by the Dunedin Symphony Orchestra.
The set and costumes are being designed by three-time Academy Award-winner James Acheson (The Last Emperor, Dangerous Liaisons, Restoration), creating his first ballet.
By the time this hits the stage Ventriglia will have vacated his role as artistic director to be guest choreographer for the production before leaving to pursue international opportunities.
In April the Moscow Ballet brings its production of the classical fairy tale Swan Lake to the Regent Theatre and then in September the Imperial Russian Ballet Company brings its three-hour ballet extravaganza featuring Don Quixote in Act 1, Bolero in Act 2 and the highlights of the world's great ballets in Act 3.
Music
The Dunedin Symphony Orchestra begins the new year in its new home, Hanover Hall, as it recovers from last year's 50th anniversary celebrations.
While not ready to announce its 2017 programme it did let slip highlights will include a return visit by Chinese cellist Li Wei Qin, who will perform Dvorak's Cello Concerto, the first visit by violinist Ilya Gringolts, who is in the country to be part of the Michael Hill International Violin Competition, and two concerts to be conducted by the orchestra's principal guest conductor, Simon Over.
As well as accompanying the RNZB and City Choir Dunedin, it will maintain its usual pattern of concerts: three International Series concerts on Saturday evenings in the Dunedin Town Hall, and two Matinee Series concerts in the Kings and Queens Performing Arts Centre.
The New Zealand Symphony Orchestra, one of the world's oldest national symphony orchestras, celebrates 70 years of existence in 2017 and will bring four concerts to Dunedin.
Its first concert in March brings the Modern Maori Quartet - an award-winning Maori foursome who last appeared in Dunedin in 2014 as part of the arts festival - to the city.
They are touring the country with a mix of ''nostalgia, pop hits, classics and original works, fresh new arrangements in English and Te Reo Maori'' and will be conducted by New Zealand-born Hamish McKeich, who has been appointed associate conductor of the NZSO for 2017.
It follows with a celebration of composer John Adams' 70th birthday in April with Shaker Loops, followed by Mozart's Clarinet Concerto in A major and Beethoven's Symphony No. 6 in F major, ''Pastorale''.
The concert features Swedish clarinettist Martin Frost playing Mozart. He is considered one of the best proponents of Mozart's clarinet repertoire, as The Times suggests: ''Until you've heard Martin Frost, you really haven't heard the clarinet''.
Then in September pianist Freddy Kempf returns as a guest artist with Pianomania, a concert exploring the history of the piano over the past 300 years.
The NZSO's year in the city ends with pianist Joyce Yang in her debut with the orchestra.
Yang will perform Sergei Rachmaninov's Piano Concerto No. 3 in D minor, a famously difficult piece requiring technical virtuosity and an ability to realise the poetry of the score.
The concert will also feature soprano Madison Nonoa.
Chamber Music New Zealand (CMNZ) is bringing six of its eight concerts to Dunedin in its ''Music Up Close'' programme for the year, including a performance by Masaaki Suzuki (considered the greatest living interpreter of Bach's music) directing an ensemble of young musicians studying at the prestigious Juilliard School.
CMNZ chief executive Peter Walls said the 2017 season would offer excellence and intimacy.
''In 2017 we've engaged artists and ensembles of astounding quality with a brilliant array of concerts spanning early music to jazz, and ranging from soloists to groups of up to 20 musicians,'' Walls said.
Its season opens in March with the first New Zealand tour by French baroque/jazz crossover ensemble L'Arpeggiata.
Considered ''superstars'' of early music, the ensemble of 10 musicians will perform a programme featuring Purcell spiced up with jazz improvisation in the Auckland Arts Festival piece.
In May, Grammy Award-winning British pianist Kathryn Stott is paired with the New Zealand String Quartet to perform some of the masterpieces of the piano quintet repertoire from Dvorak and Cesar Franck, along with works from New Zealand composers Gillian Whitehead and John Psathas.
Belgian ensemble the Kuijken String Quartet, with members of La Petite Bande, will perform in the city in July. The ensemble, which includes acclaimed violinist Sigiswald Kuijken with his wife Marleen Theirs and their daughter Sara Kuijken, are musicians who have lived and breathed 18th-century repertoire for decades.
In August and September pianist Michael Houstoun and Bulgarian violinist Bella Hristova reunite for a programme of Beethoven Sonata concerts.
Hristova is well known to New Zealand audiences as she won the Michael Hill International Violin Competition in 2007 and toured New Zealand with Michael in 2008.
The last visit to the city will feature the young United States Grammy-nominated wind quintet Imani Winds performing a programme reflecting their African and Latin American roots, and including the fantasy world of Scheherazade.
As part of the tour Imani Winds will also present educational concert programmes Music is Fun and Musical Journey Around The World at a family-friendly concert in Dunedin.
City Choir Dunedin's choral season will be a mix of contemporary music by Karl Jenkins, Anthony Ritchie and Maurice Durufle, ending the year with Handel's Oratorio.
The first concert of the year at the Dunedin Town Hall in April will be Jenkin's The Armed Man, which will include a multimedia presentation.
The next concert will be Durufle's Requiem, a work heavily influenced by Gregorian chant.
Theatre
The Globe Theatre has a busy time ahead in its first full year in the newly renovated theatre.
Among the highlights will be a commemoration in October of the 50th anniversary of its connection with James K. Baxter with play readings and poetry, and the hosting of the New Zealand Theatre Federation PlayFest in August.
It is continuing its policy of presenting at least one Shakespeare play a year, with Much Ado About Nothing programmed for the end of February.
That will be followed by Henrik Ibsen's Ghosts directed by Louise Petherbridge, and then Margot McRae's Finding Murdoch, about the reclusive All Black Keith Murdoch, directed by Andrew Mackenzie.
The final works for the year are 1917: One Short Year, One Great War, written and directed by local man Keith Scott to coincide with the 100th anniversary of the Battle of Passchendaele, and The Ladykiller, by Graham Linehan, directed by Brian Beresford.
A Winter Sunday Series of three rehearsed readings of short plays is also programmed, and the children's theatre series Toybox will continue in the April and July school holidays.
The Fortune Theatre released its programme for 2017 in November, the first for artistic director Jonathan Hendry.
A ''bold new programme'' is scheduled for the main stage, more children's shows, and the collaborative productions he has secured from established and emerging New Zealand theatre companies all make for an exciting year, he said.
Among the line-up is expatriate Dunedinite Anya Tate-Manning returning to direct My Dad's Boy, and a celebration of Roger Hall's 40-year association with the Fortune with a co-production of his new comedy Last Legs.
Shakespeare returns to the Fortune with a new production of Twelfth Night in collaboration with the University of Otago.
The company will also perform the musical Into the Woods by Stephen Sondheim.
Last year's smash hit in Christchurch and Auckland That Bloody Woman, a punk-rock musical about Kate Sheppard written by Kiwis Luke Di Somma and Gregory Cooper, with direction by Kip Chapman, will hit the stage for two weeks.
The Fortune will also host the premiere of Ellie Smith's new play One Perfect Moment in October before the theatre year ends with the popular Hudson & Halls Live! by Kip Chapman with Todd Emerson and Sophie Roberts. It is about the well-known 1980s television cooks.
Its family season of three school holiday shows will be Rumpelstiltskin, Little Red Riding Hood and What You Will.
The Regent Theatre is hosting productions of Grumpy Old Women - Game of Crones in March, which Geraldine Brophy directs and stars in with Lynda Milligan and Julie Edwards; Roger Hall's Four Flat Whites in Italy in August; and a local production of Mary Poppins in May.
Giveaway
The Dunedin Chinese Garden Trust has two tickets to give away to the one-off performance by the Wuhan Acrobatic and Cultural Troupe from China at the Regent Theatre next Thursday night. Email your name and contact details, with Wuhan in the subject line, to playtime@odt.co.nz.