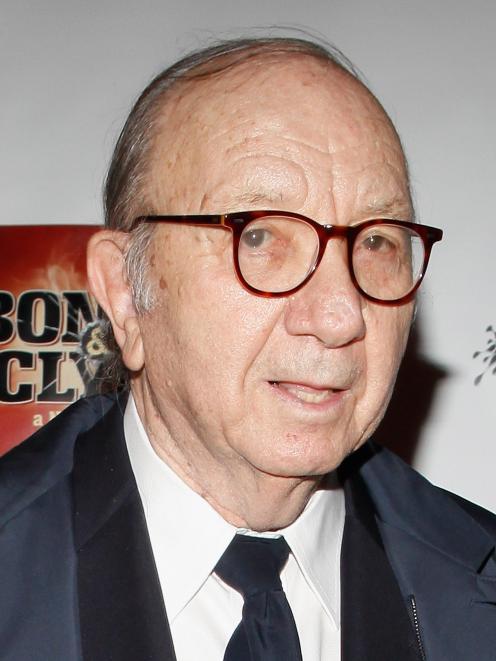 US playwright Neil Simon, who became one of Broadway's most prolific and popular playwrights as he combined humor, drama and introspection in works such as The Odd Couple, The Goodbye Girl and Lost in Yonkers, has died. He was 91.
Simon died on Sunday at New York-Presbyterian Hospital in New York City of complications from pneumonia, Broadway theatre representatives DKC/O&M said in a statement.
He was admitted to the hospital a few days ago and the pneumonia was in his lungs, Simon's longtime publicist Bill Evans said.
Evans said he gave Simon a kidney in 2004.
"It was wonderful to be in his life and for him to be in my life," Evans said, calling Simon a major figure in American culture. "It has been so great to be part of all of it."
Simon drew on his tumultuous New York Jewish upbringing in many of his works.
A new Simon play almost every theatrical season was a Broadway staple from 1960 through the mid-1990s, placing him in the ranks of America's top playwrights.
He wrote more than 40 plays that were funny, moving and immensely popular - sometimes shifting from slapstick to melodrama with the turn of a phrase.
At one point he had a record four plays running simultaneously on Broadway.
Simon was called "not just a show business success but an institution" by one New York critic. While his voice and comedy were decidedly East Coast and often reflected an ethnic Jewish experience, Simon's works played to packed houses around the world.
He won Tony Awards for The Odd Couple, Biloxi Blues and Lost in Yonkers and a fourth for his overall contribution to American theater. He was nominated for 13 other Tonys.
Lost in Yonkers (1990), a painfully funny story about the relationship between an abusive mother and her grown children, also won the Pulitzer Prize for drama in 1991.
Simon's childhood was marred by the break-up of his parents. At first he was reluctant to draw on that pain, fearing it would make his plays too dark.
Later in his career he would use his own painful experiences, such as in the semi-biographical Brighton Beach Memoirs, to give his work more depth.
But being entertaining was his primary goal.
"When I was a kid, I climbed up on a stone ledge to watch an outdoor movie of Charlie Chaplin," Simon once told Life magazine. "I laughed so hard I fell off, cut my head open and was taken to the doctor, bleeding and laughing.
"... My idea of the ultimate achievement in a comedy is to make a whole audience fall onto the floor, writhing and laughing so hard that some of them pass out."
Simon's plays made him a wealthy man and many were turned into films, which made him even wealthier and earned him four Academy Award nominations.
Among his works appearing on movie screens were Barefoot in the Park, Plaza Suite and Broadway Bound.
The Odd Couple was even made into a successful television sitcom.
Marvin Neil Simon was born on July 4, 1927, in the New York City borough of the Bronx, son of Irving, a garment salesman, and Mamie Simon.
Simon was married five times, twice to actress Diane Lander. He is survived by wife Elaine Joyce and his three daughters from different marriages.