Three Central Otago designers have been chosen as the only Otago finalists in this year's World of Wearable Art (Wow) show. Pam Jones talks to them about the ideas and the dedication that has seen them recognised in the international fashion world.
Cromwell designer Ruth Arkless says she is sometimes confused when people ask how she comes up with ideas for her creations.
"It's not a matter of coming up with just one idea, I've got a brain that's always full of ideas. I've got so many ideas in my mind all the time I haven't got time to make them all.''
But the ability to hone in on those ideas and turn them into reality has seen Ms Arkless again selected for a design competition that is recognised on the international stage. She and Clyde designers Carolyn Laing and Debbie Paton are the only designers from Otago and Southland to be accepted into the 2019 World of Wearable Art (Wow) show.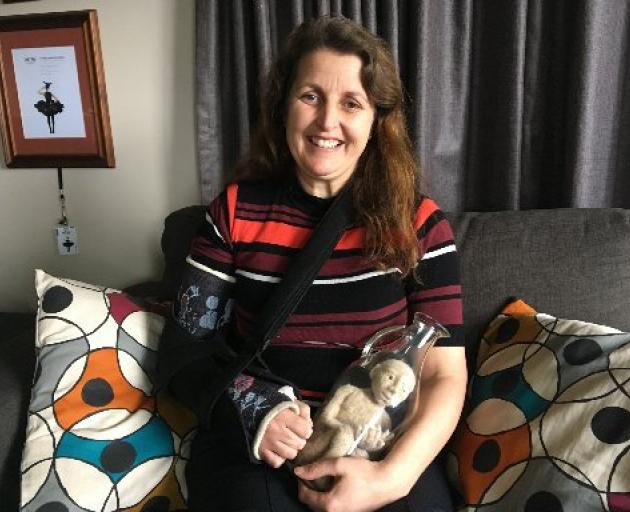 It continues a strong streak for the designers and Central Otago.
Last year, Ms Arkless and Mrs Laing were also the only Otago finalist designers in Wow, and the year before that Mrs Paton was the only Otago designer in Wow.
Ms Arkless said the creativity and construction abilities required to make Wow and other design pieces provided the perfect outlet for her twin loves of arts and science.
As a secondary school pupil, she fought with her mother when she wanted to specialise in the arts but her mother won, steering her into a "more sensible'' science career and telling her she could "do art later''.
So Ms Arkless went on to jobs and studies that included a bachelor, master's and the beginnings of a doctorate in science; and roles as a science technician, laboratory technician and science educator.
Most recently a science teacher by profession, having taught at Kaikorai Valley College for eight years until she moved with her family to Cromwell earlier this year, Ms Arkless said it was both "nerve-racking'' and "incredible'' seeing her design on the Wow stage last year. A "hexaflexagon'' skirt, "The Diatomist'' was a multimedia nod to her science career and featured different needle-felted images of diatoms - single-celled algae - as viewed under a microscope.
The title and details of all entries are kept under wraps until the opening of Wow, but Ms Arkless said her entry this year was "not as science-focused''. It will feature in the "White'' section of Wow and was an "emotional'' piece to have constructed, being a nod to her mountain guide parents, Brede and Geoff Arkless.
The design of Mrs Laing and Mrs Paton will feature in the "Aotearoa'' section and was jointly constructed by them, each working independently on separate parts of the garment and then combining the two in a final one-day session.
Friends for about 15 years, it is the first time they have worked jointly on a piece.
They joked the task "actually kept us apart'', their usual weekly catchups put on the backburner while working on Wow.
Mrs Laing, a hairdresser by profession, is a four-time Wow competitor who is also well known for her entries in the WoolOn Creative Fashion Event in Central Otago - she has won the event's Avant Garde or Accessories section every time she has entered those sections. Her previous Wow entries have included two in the "Bizarre Bra'' category.
Mrs Paton has had many careers - from working in the accounting industry to being a chocolatier and ice-cream maker in her business Nom Nom.
Within the arts, she has also painted, sculpted and now makes jewellery.
Her Wow entry last year was a chainmaille creation that took her four years to make.
Neither of them describes themself as a designer, Mrs Paton saying "I just do stuff'' and Mrs Laing saying "I go under the umbrella of crafty''.
But both say, as with Ms Arkless, their minds are always filled with constant ideas and the hard part is choosing which one to work on.
"There are just ideas constantly swimming around,'' Mrs Paton said. "It's amazing when you find one thing how many other ideas get unlocked.''
All three Central Otago designers encouraged others to enter events such as Wow, and to not be discouraged if their entries were not selected. Mrs Laing has had four entries not accepted in other years, and Ms Arkless has twice been unsuccessful.
"You've got to remember that those entries are just as important as the ones that did make it,'' Mrs Laing said. "They took just the same effort. Don't get disheartened if you enter and don't make it. Keep on trying.''
They also encouraged everybody to keep trying new things in general, and specifically in arts and crafts.
"I just think you should give things a go,'' Mrs Paton said. "If you want to do something you should just do it, otherwise how will you know if you can do it or not?''
Mrs Laing and Mrs Paton said they had more joint creations planned, and would continue submitting entries to Wow.
Ms Arkless is also working out which ideas to start next, as well as hoping to begin a master's degree in design.
This year's Wow will feature 108 creations from 115 designers from 22 countries. It will run from September 26 to October 13 in Wellington.