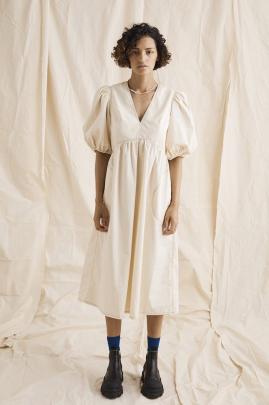 Spring styles offer a bridge between the sleep of winter and the electricity of summer.  Katie Day takes a look at spring fashion trends fresh off the global runway. 
Spring heralds fresh perspectives drawn from the hibernation of winter. Just as the sun lingers for moments longer in the evening to nurture new life, we are beckoned to emerge from the cosy shells of our winter layers. Spring fashion trends mirror the awakening of this generative season, bestowing the runways, both online and in person, with fresh, dewy, ease-filled looks.
Spring is a time of transformation, much like the times we are living in and designers are creatively approaching the need for versatility, comfort, ease and escape in their forthcoming collections.
Sara Munro, of Dunedin fashion house Company of Strangers, says dressing for comfort is becoming increasingly important.
"For us this upcoming season, we've curated a selection of easy-wearing, relaxed-fitting styles and are focusing heavily on neutrals to easily incorporate into your existing wardrobe. More and more we are dressing for comfort, versatility and creating that work/life balance, which I feel is reflecting in the clothing we are choosing to wear."
The ease of loose-fitting garments and monochromatic colour palettes is a taster of the trends we will see emerging from the spring runways.
Let's take a look at the runway-inspired trends guiding our spring selections.
Wide Leg Trousers
Wide leg trousers are here to stay, offering the relaxation of a loose fit, paired with the elegance of elongated lines to suit the adaptive flow of our work from home, indoor/outdoor lifestyles. The wide leg silhouette can be softened with a light tee or a cropped knit jumper, or can be maximised with a relaxed boyfriend blazer. These trousers offer an air of easy-going confidence to each step and with the generous sway of fabric, any shoe choice is possible.
Monochrome
Solace for the mind is found in the uniformity of a monochromatic style, where outfits are formed of one colour or different shades or hues of the same colour. The runway's draw to outfits constructed of crisp whites or mesmerising blacks is notable, as when colour and print dissipate, the beauty of form, line and silhouette arise. These neutral tones are often already found in our existing wardrobes and can be easily sourced from a thoughtful thrift through an op-shop. When styled together, the tonal pieces of your wardrobe merge seamlessly into monochromatic magic.
Pastel
Pastel and sorbet tones add a gentle brush of colour to the blacks, whites and neutrals of monochromatic style. These dewey hues have presented throughout the year and will linger long into the haze of summer, as they offer a soft soothing presence to any outfit, a softness that is naturally desired amidst transformative times. The refreshment and vitality of a new season is reflected through incorporating the colours of warmer weather produce such as honeydew melon, these tones add ease and restorative comfort to any springtime style.
Sheer Maxi Dresses
The softness spring calls forth is found in both colour and material palette. Delicate, voluminous, sheer dresses constructed from silk georgettes, chiffons and organzas have floated from runways into boutiques and stores. The abundant fabric of these floor-length gowns is surprisingly subtle due to their diaphanous nature, inviting an ethereal lightness and play. The wearer is gifted with a gentle escape from the harsher edges of reality as they sink into these daydream-inducing, versatile and effortless garments. For ease and comfort of wear, a simple cotton or silk slip can be worn underneath these sheer visions.
Puff Sleeves
The celebration of light, space and air continues on into the voluminous addition of above the elbow puff sleeves found in shirts and dresses. The romantic sleeve trend is another that has lingered across multiple seasons as it offers the wearer comfort, the billowy fabric cushioning one from outer forces. For a refreshing spring outfit, this breezy sleeve could be paired with a wide leg pant and strappy sandal, in co-ordinated pastel or monochromatic tones, synthesising an array of spring trends.
Boyfriend Blazer
Ease has been breathed into our office attire over the past year and design houses are embracing this looser take on workwear. The classic boyfriend blazer has found new life in the exaggerated length, fit and oversized pocket features of blazers on offer. A mellowed approach to the corporate is finding form in the softer material and tones chosen for the design of boyfriend blazers. Wool crepes and suitings give drape and sway to these blazers and neutral or pastel tones temper their structured silhouettes. Relaxation is found in the styling, a subtle printed tee can be layered underneath the blazer with airy wide leg pants or a draped skirt.