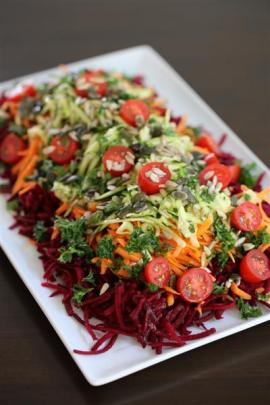 New Year resolutions to live a healthier, happier life can easily fade but Claire Turnbull has some good advice to help you stay on track. Charmian Smith reports.
Feeling good depends on several factors according to Claire Turnbull, author of Feel Good for Life (Penguin). The Auckland nutritionist and personal trainer says people are realising the number on the scales isn't everything.
''It's how you feel when you wake in the morning, how much you are getting out of your day, and how much energy you have. We are living in this world which is just so crazy that people need help adapting to it,'' she says in a phone interview from Auckland.
''I guess no longer can we look at one aspect of health in isolation. We have to look at the way you move your body, what you eat, how you think.''
Her recipe for health and happiness has several aspects: eating nourishing food, keeping active, sleeping, rest, time outside, managing your mind, connecting with your soul and having fun.
Many people rarely spend time outside although we live in the most beautiful country in the world, she says.
''There's a huge issue with people becoming vitamin D deficient because we just don't get enough time outside. The other thing that's important is we are animals essentially and our bodies respond to light and dark.
"They are regulated based on light and dark and we completely screw that up being inside all the time with artificial light and air conditioning. It means our body's natural ability to regulate itself is really disrupted.''
When our eyes are exposed to daylight, the body produces its own natural antidepressant, seratonin, so one of many reasons for people feeling depressed could be that they don't get outside, or they wear sunglasses when they don't need to, she says.
As a child growing up in the UK, she says she was fat, unhealthy, unpopular and had a dysfunctional relationship with food, using food to control her feelings.
Now, with born-again fervour, she is adamant that it is a combination of factors that help you feel good consistently.
No one thing, whether it's a paleo diet, Atkins diet, coconut oil, or any other fad, is going to change your life.
Instead, you have to take yourself in hand and become aware of your habits and how you think - your default mode.
''Why we do what we do is based on what we think and our habits.
''I talk a lot in the book about habits and behaviours around food because I honestly believe that is what leads people to what they eat. People do things based on cultural norms, the environment, the people that surround them.''
Someone who smokes, drinks a lot and eats fast food will have completely different belief systems and thoughts; their default settings will be different from those of a balanced healthy person.
You can't just tell them to go on a diet and start running to become balanced and healthy, she says.
''You've got to understand what's driving the person to drink more.
''It's possibly because they are miserable in their marriage or they hate their job.
''What is driving them to eat too many biscuits is that they are really unhappy with who they are, and when you know why you are doing what you are doing, you can change it long term rather than what I call a band-aid solution which says we'll just follow this diet and we'll be right.
''What I'm passionate about is helping people create a new normal. This is not temporary and not boring.''
When she entertains, her dinner guests have a good time eating and drinking but they don't feel bloated, gross or hung over afterwards, she says.
She finds the fads for different types of diet and individual superfoods counterproductive.
Everyone agrees basically on certain things such as eating a lot more vegetables and more fruit, and less highly processed grains, good types of fat and protein, and that extra-virgin, cold pressed olive oil is a great choice, so why the big debate about other things, she asks.
She has brown and white sugar in her pantry but she uses only a small amount a year so she doesn't need substitutes like agave syrup or rice bran malt because she is not eating them all the time.
''So many people use these alternative sugars and are eating them every day. It's still sugar,'' she says.
''I want people to feel better about themselves and focus on what's important which is spending time with your family, doing a job you like, enjoying your life.
''There are so many things that impact on how long you live. Stress and anxiety kills people every day. It causes high blood pressure; it causes heart issues and if you are stressed and anxious about trying to be healthy, it adds another element of stress.''
She recommends creating boundaries round yourself, like leaving your phone in another room while you sleep, or having face-to-face conversations with people without flipping through Facebook or emails at the same time.
She was proofreading this book shortly after her baby Zac was born and found re-reading her advice helpful, she said.
''It's crazy that your own book can help you.
''These are skills and tools I've developed and used myself.''
---
Rainbow power salad
Serves 4-6 as a main, 8-10 as a side

A fresh, colourful salad packed with goodness.
Ingredients
2 medium beetroot, peeled and grated
3 large carrots, peeled and grated
2 courgettes, grated
½ punnet cherry tomatoes (approx. 100g), cut in half
¼ cup pumpkin seeds
¼ cup sunflower seeds
1 handful parsley, finely chopped
Dressing
¼ cup balsamic vinegar
2 Tbsp runny honey
juice of 1 large orange
1 tsp sesame oil
Method
On a large platter or plate, lay out the grated beetroot. Sprinkle the grated carrot on top to create a layer that is slightly smaller than the first. Add a layer of grated courgette - again, making it smaller than the carrot layer so you can see the rainbow effect.
Place the sliced tomatoes on the top and sprinkle with seeds and parsley.
To make the dressing, simply mix all the ingredients together and serve with the salad.
Mix the salad up just before you eat it, if you like, or leave it all layered up; whatever works for you! Enjoy as a main for lunch or dinner with grilled chicken, lean meat, fish, tofu, a boiled egg or pulses, or serve as a side salad with a main meal.
Nutrition information 
Per serve (without dressing, based on 6 serves)
kJ = 518
kcals = 123
Carbs = 7g
Protein = 6g
Fat = 8g
Fibre = 4g
per serve (dressing only, based on 6 serves)
kJ = 183
kcals = 44
Carbs = 9g
Protein = <1g
Fat = 1g Fibre = <1g
---
Beef and chickpea casserole
Serves 6
A wonderful winter recipe that uses pulses and plenty of vegies for extra goodness.
Ingredients
500g beef rump, fat removed and cut into chunks
2 Tbsp flour
1 Tbsp oil
1 large onion, peeled and chopped
1 Tbsp dried sage or small handful fresh sage leaves
2 medium carrots, peeled and chopped
1 large or 2 small parsnips, peeled and chopped
¼ large pumpkin (600g), peeled and chopped
2 400g cans chopped tomatoes
2 Tbsp tomato paste
1 cup reduced-salt beef stock
1½ cups cooked chickpeas (1 400g can, drained)
1 cup peas (frozen is fine)
2-3 large handfuls spinach, well washed
zest of 1 large lemon
Coat the beef chunks in the flour and put to one side.
Method
Heat the oil in a large pan and add the onion and sage. Cook over a medium heat for 5 minutes or until onion is soft.
Add the beef to the pan and brown very slightly for five minutes, then add the carrot, parsnip, pumpkin, canned tomatoes, tomato paste and stock. Bring to the boil, then reduce to a simmer. Cook over a low heat with a lid on for 1 -2 hours or until meat is soft and vegetables are well cooked. Check and stir every 20 minutes or so and add an extra splash of water if needed.
Add chickpeas, peas and spinach and cook for another 5-10 minutes.
Add lemon zest and stir through. Serve with brown rice, mashed kumara or potato, mashed beans (eg butter beans) and lots of green veges.
Adapt it
• Use lamb instead of beef.
• If you are gluten free, leave the flour out. If you want, you can thicken the casserole towards the end of cooking with cornflour (mix 1 tablespoon of cornflour with 3 tablespoons of cold water to make a paste, add in and stir quickly through, cooking for a good 10 minutes before serving).
Top tips
• The vegetables need to be chunky for this.
• As odd as the lemon zest might sound, don't miss it out - it is really essential for flavour balance!
• This dish freezes well.
Nutrition information
Per serve (without rice/vegies)
kJ = 1335
kcals = 318
Carbs = 23g
Protein = 30g
Fat = 12g
Fibre = 12g
---
• Recipes courtesy of Claire Turnbull, from Feel Good for Life, published by Penguin Group NZ. RRP $30. Copyright text, Claire Turnbull, 2015. Copyright photographs, Emma Bass, 2015.