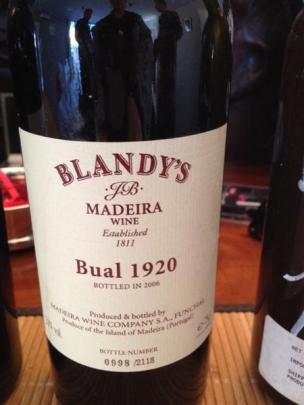 It's an aged red indeed, my dearMany of us like to believe that wines improve with age although we generally drink them young. Some do get better, some don't, but the ability to develop with age has always been a mark of fine wine. Charmian Smith reports on a remarkable tasting of wines many decades old.
For the best part of four decades, John Buck, of Te Mata Estate, has been driven by the vision of creating fine wine in the style of the great French wines of Bordeaux, the best of which have the ability to develop complexity and charm over a couple of decades of cellaring.
He celebrated his 70th birthday recently with tastings of not only older Te Mata wines, but also with a tasting of 14 Madeira wines which have the ability to age longer than any other wines in the world. With wines up to 185 years old, it is probably the first tasting of this type in New Zealand.
Wine has been made on the Madeira islands for more than five centuries, but it developed its present fortified style in the 18th century. Sailing ships stopped at the Portuguese mid-Atlantic island on the way to the American colonies or to India to load casks of the wine. It benefited from the tropical voyage so they replicated the effect by storing barrels in the roofs of the warehouses on the island, allowing it to cook.
As John Buck said, Madeira breaks all the rules of winemaking.
It is exposed to air, it is heated in-barrel, and it has a searing acidity, as well as, in most styles, sweetness. The classic styles are kept in barrels for years.
The youngest wine in the tasting, a 1985 Blandy's Malmsey was bottled in 2009, the Blandy's Bual 1920 bottled in 2006, and the 1827 Quinta de Serrado Bual bottled in 1988.
It was a surreal experience drinking a wine made the year Beethoven died, before Queen Victoria came to the throne, and before the Treaty of Waitangi, but unless you were told, you wouldn't realise it was 185 years old.
It was intense, rich and sweet with hints of cumquat marmalade, toffee, caramel, malt and a searing, refreshing acidity on the finish.
It's that searing but refreshing acidity that is characteristic of good Madeira, along with hints of citrus peel, marmalade, toffee, malt, and sometimes a hint of iodine and the complexity of other aromas and flavours.
As one of the tasters said, you sniff them and expect a comfy couch, but when you taste them, you get a samurai sword.
Such old wines are rare. Premium Madeira makes up only 5% of the island's production. Most Madeira is much younger, a minimum of three years age being required. Madeira has been out of fashion for decades, but there are signs of it returning to favour, especially among wine cognoscenti who seek out fine old bottles. But they do not have to be that old.
The youngest, Blandy's Malmsey 1985 was stunningly complex, oozing orange peel, caramel and exotic spices with a long finish, beautifully balanced between sweetness and acidity.
Te Mata Estate itself has a venerable history. The winery was established in 1892 by Bernard Chambers, son of John Chambers who established Te Mata Station, a large pastoral land-holding in 1854. The 1872 brick cellars, originally a stable, are still in use, surrounded by more modern buildings. John Buck and Michael Morris and their families bought the rundown winery and vineyards in 1978.
Some early, unlabelled wines from between 1896 and 1906 were given to the present owners by Bernard Chambers' daughter Hazel, and were brought out as curiosities at the end of the tasting.
There was a dry red, now brown and feeble, and a sweet fortified wine, unctuous and hinting of olives, syrup of figs and Marmite - amazing that it was still alive, if not exactly kicking. However, the vertical tastings of Te Mata's showcase wines demonstrated the realisation of John Buck's vision to make ageworthy wine.
Cape Crest, a barrel-fermented sauvignon blanc with a little semillon, is one of the few New Zealand sauvignons to develop and mellow with bottle age.
The 2007 was drinking particularly well, and the current release, 2011 is still fresh, zesty and intense, good now but it would be a shame not to allow it to develop into something more.
Te Mata Elston Chardonnay has been one of the longest-lived New Zealand chardonnays, going by the old bottles from my cellar I have opened.
At this tasting the 1996 had developed hints of toffee and creamy nuttiness with persistence and length, but I felt the 2006 stood out - it was developing that lovely creamy nuttiness with hints of toffee but the vibrant citrus fruit was still there, in harmony with the other components.
Until 1989, Te Mata's cabernet merlots, Coleraine and Awatea, were single-vineyard wines, after which they were blended to create the flagship Coleraine and the more approachable Awatea.
Awatea 1982 hinted of leather, cigar box and forest floor, perhaps past its best to our palates, but no doubt at its peak for those with a taste for mature Bordeaux.
Coleraine 1995 was one of my favourite older wines, perfumed, with clear fruit, savoury undertones, persistent fine-grained tannins and a fresh finish, something winemaker Peter Cowley and his team strive for.
Coleraine 2000 was at its peak, still with lots of blackcurrant fruit, complex undertones, a silky texture and elegant, refreshing finish. The younger wines exuded fruit and spicy oak yet to mellow and mature.
The characteristic of Te Mata's reds, whether old or young, is the persistent tannin backbone that starts when you put it in your mouth and continues to the end, unlike some wines where the tannins blow out at the end, leaving you prising your lips from your teeth. They are elegant and refreshing and certainly ageworthy.
• Charmian Smith attended the tastings in Hawke's Bay as a guest of Te Mata Estate.