Gillian Vine finds familiar plants among the unknown in a subtropical Australian garden.
I did expect to see bananas and palms but not azaleas and camellias in Frank Shipp'sextensive garden on Queensland's Sunshine Coast.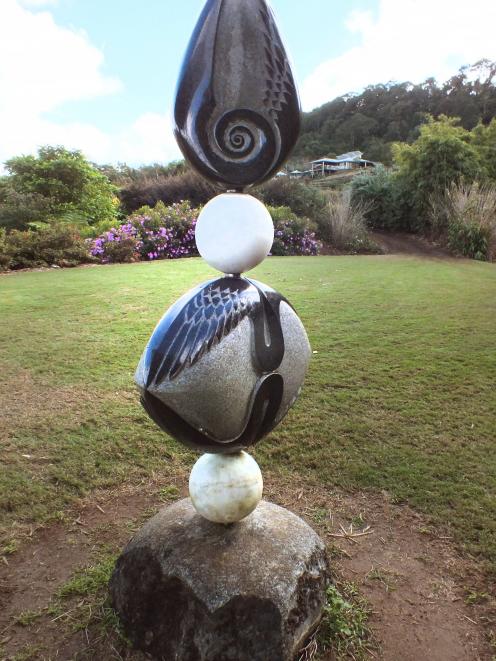 The Maleny Botanic Gardens and Bird World is in the region's hinterlands, about an hour and a-half's drive from Brisbane. The elevated situation means cooler nights and warm (low 20s) daytime temperatures in winter, perfect for an extensive range of plants that thrive in a subtropical environment.
It is the Australian school holidays when I visit, so Frank is flat out giving visitors the opportunity to be photographed with birds. While I wait for him to be free, he "decorates'' me with 10 colourful specimens and lines up a young visitor to take photos of me.
When a staff member arrives to take over, we grab a golf buggy for a tour of the property, a "once in a lifetime'' project, Frank says.
He ran a successful engineering company in South Africa until 2003, when he moved to Australia and began to realise his long-held ambition to create his own botanic garden.
Like most great gardens, his choice of site looked unpromising at first, needing extraordinary vision to grasp its potential.
On the plus side, it had stunning views from the top to the odd-looking peaks Captain James Cook dubbed the Glasshouse Mountains. The down side was that the 55ha property was a steep, boggy, rundown cattle farm, "mostly just a swamp and 90% weeds'', Frank says.
His engineering background was invaluable, as he was able to take a DIY approach, deciding it would be less costly to buy machinery and do most of the work himself. He started by digging a series of deep ponds, using the material he removed, including huge rocks, to change the steep hillside into a series of terraces.
He created roads and paths and designed dams, ponds and waterfalls that interconnect and recycle the water, installing the hydraulics and electrics that make it all work.
Seven cottages on the site were demolished - "I tore them all out'' - and a car-parking area levelled beside a new visitor centre.
That makes it sounds simpler than it was, for the project took untold man-hours and Frank was lucky to escape serious injury when he was driving a Bobcat that rolled down a hillside.
"A huge challenge'' was bringing in a small boat, popular with children, who love to go aboard.
Thousands of plants were added, some imported, others sourced locally.
In the main garden, the approach has been broad brush - lots of lavender-flowered Tibouchina and Buddleia, banks of camellias, evergreen azaleas and Dietes with sword-like leaves and lemon flowers. There are sweeps of lawn enhanced with sculptures and patches of bush, the latter home to more than 4000 orchids given by a generous benefactor. There is even a quietly contemplative Japanese-themed area.
Excellent use has been made of tall salvias, their pink and lavender flower stems dipping over paths and ponds, giving winter colour before the magnolias bloom or the skeleton-like frangipani - one of the few deciduous trees - burst into leaf.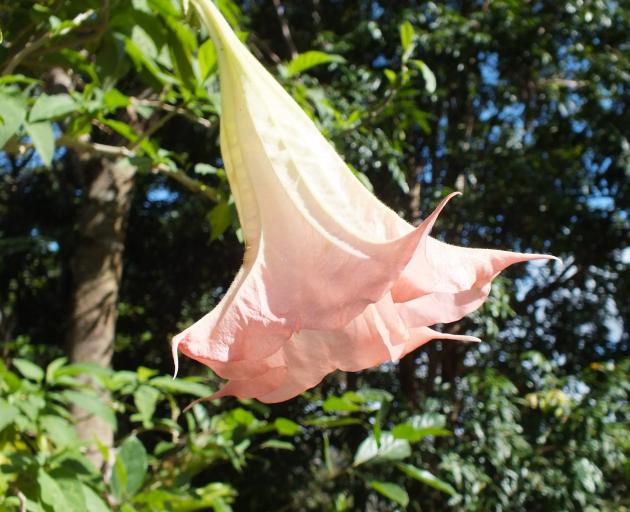 The trees on the hillside above the car park were retained as a natural rainforest, enhanced with smaller plants alongside the walkways. Here, the likes of clivias and bromeliads thrive, alongside ornamental gingers and Australian tree ferns.
Frank is delighted at one side-effect of his work, saying: "There's been a dramatic rise in birdlife.'' There has even been a reported sighting of the critically endangered Coxen's Fig Parrot.
His aviary, with 600-plus birds, is a big drawcard, 80% of visitors choosing to pay extra to take a guided walk through the three giant enclosures to get up close to everything from budgies to macaws and cockatoos.
For the garden lover, though, the Maleny Botanic Garden is an opportunity to appreciate not only some of the plants that thrive here but also the vision one man has turned into beautiful reality.
• For directions, opening houses and admission charges, visit www.malenybotanicgardens.com.au.