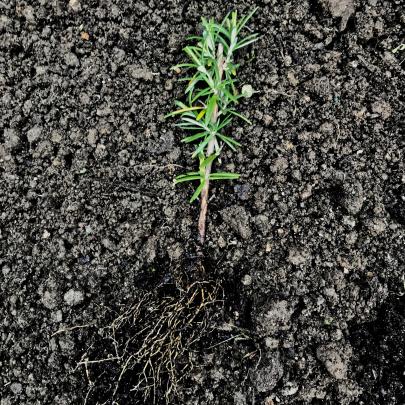 Gillian Vine says growing some of your own food has never been more enticing.
Autumn is not the ideal time to be in lockdown, as gardeners may struggle to find edibles to grow.
With garden centres closed, buying vegetable plants is not always easy, although some are available online. It would be fantastic if supermarkets in the south could get together with wholesale nurseries to keep the supply coming through and give wider choices.
Some supermarkets still have a limited quantity of seed but the country's two best online retailers, Egmont Seeds and Kings Seeds, closed over Easter to try to catch up with the volume ordered and earlier this week were still closed.
Even if the lockdown ends on April 22, supply chains are likely to be disrupted for a period afterwards, so growing any herbs and vegetables will prove worthwhile. As well as moving towards more sustainability with homegrown produce, there is the pleasure of gardening, an activity that gets everyone in the family outdoors on fine days.
So, if you can get them, what could you grow now?
Silverbeet and brassicas (kale, cauliflowers, cabbages, Asian vegetables) are among the most reliable plants to put in now. If the weather is mild into May, silverbeet will grow quickly and can be cut throughout the winter. Don't chop the entire plant, just take the outer leaves and let the inner ones develop. Kale can be harvested in the same way.
Most people who like the spicy tang of watercress just gather it from a ditch, so it is rarely grown at home. This could be the year to give it a go, as it is hardy to about minus 15degC and extremely easy to propagate. All you need is a largish plastic flower pot and a leak-proof container, such as an old tub or plastic basin, for it to stand in.
Fill the flower pot with good soil or compost, water well then stand it in the tub. Put seedlings or rooted bits of watercress into the pot. Pieces gathered from a farm ditch should be checked for cysts and any removed before planting.
Now add water to the container to a depth of about 10cm, replenishing it every week or so, as the aim is never to let the mix dry out. Cut bits off as the plants grow to use in salads, sandwiches, stir-fries and soups. Kings Seeds markets the seed, a relative of nasturtium.
Traditionally, April is the month to sow broad beans, although if the weather is suitable, they can go in as late as mid-May. They may not do much initially, but will sit quietly over winter and leap away in spring when the weather warms up. Hughey is a heritage broad bean selected for strong red flower colour by Denis Hughes of Blue Mountain Nurseries. Dwarf varieties, such as Robin Hood, can be grown in pots.
Lettuce seed can be sown now in warmer places but look for the loose-leaved ones, sometimes described as "cut and come again" as they do much better in cool conditions. Mesclun lettuce mixes, eaten at baby-leaf stage, are a fast-growing alternative, especially where space is limited for, like microgreens, they are perfect for container growing. Leftover lettuce, spinach and beetroot seed from last spring can be mixed for a homemade mesclun.
Asian vegetables are tops for sowing in autumn, as some of the pak choi varieties mature in as little as five weeks.
Looking ahead, onions can be sown for planting out in spring and harvesting next summer, while garlic and shallots can go in now, too. Choose rich soil, then press cloves of garlic down to about half their depth. Check occasionally to make sure they haven't pushed themselves out of the ground. Use a similar technique when growing shallots.
If you buy a head of supermarket to separate into cloves to grow, make sure it has not had the roots cut right off or it will fail.
This would be a good time to consider having a herb garden, grown either in a dedicated patch, tucked in empty spots in flower beds or cultivated in pots.
Thyme, rosemary, lavender and sage are easily grown from cuttings put in damp potting mix. Older thyme and sage plants can be divided now and rooted pieces planted, as can pieces of mint, oregano, marjoram and lemon balm.
If you have extra seed or pot up more plants than you need, surplus plants can be shared later with friends and neighbours.
As the Prime Minister says, "We're all in this together," and every little helps.