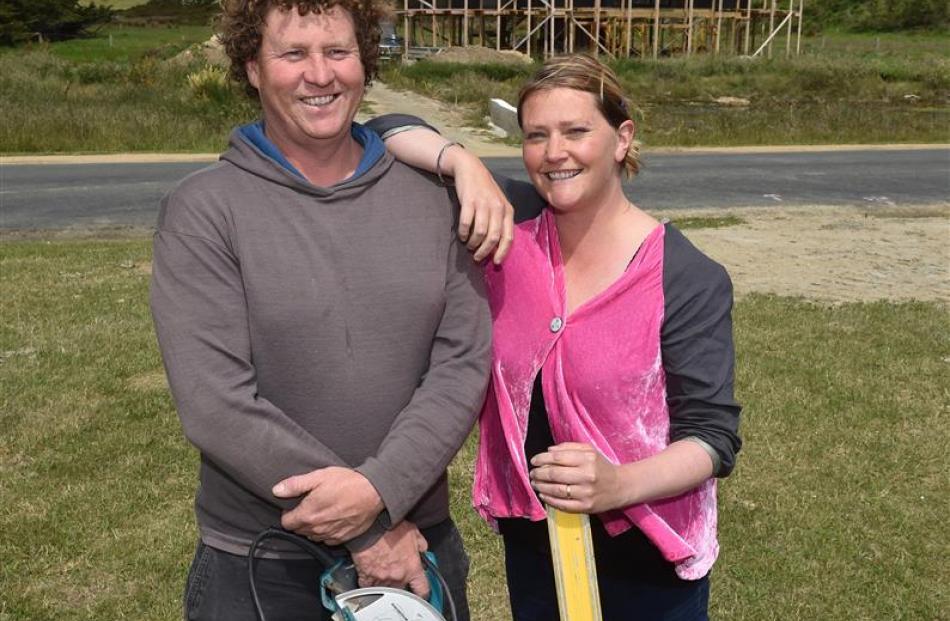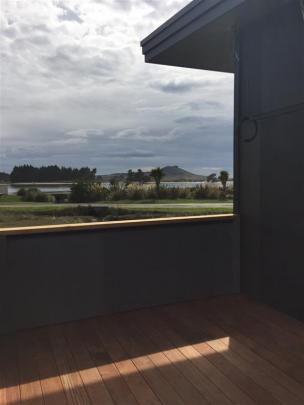 As rising sea levels highlight the problems of building in low-lying areas, Kim Dungey talks to a Karitane couple who battled for the right to build on flood-prone land.
Some people go to greater lengths than others to secure their dream homes.
Take Brendan and Rowan Holt.
For seven years, the Karitane couple have devoted time, energy and money to the idea of creating a home for their young family.
It's not just that they had to fight for the right to build in a flood-prone area or that the case went to the Environment Court and by the time it was over, they were almost broke.
Partway through, work stopped for six weeks as authorities discussed the position of the house on the section and the couple applied for a variation to their resource consent.
Their lack of equity and their desire to build the house themselves made banks nervous about lending them money, so they borrowed elsewhere, at high interest rates, to get started.
Then, after proving to a bank that their previous building experience made them good candidates, the couple secured a mortgage and the demands became physical.
Mr Holt built his own timber scaffolding and frames, family and friends volunteered to help and Mrs Holt acted as project manager, painter and labourer, also planting more than 700 flaxes.
The couple know that many people question their decision to build on the Stornoway St section, which is within the flood plain of the Waikouaiti River and subject to periodic inundation.
At one stage they even proposed having a lifeboat with an outboard motor, suspended from davits off the house, to allay concerns about them reaching high ground in an emergency.
However, they see their story as a positive one, saying they are happy to be finally moving in at Easter.
"You start to wonder if it's ever going to happen,'' says Mr Holt, surrounded by building materials.
"But you keep pushing forward because you've invested so much time in it that you don't want to give up.''
Sitting 3.7m above sea level, the pole house has a lightweight concrete and polystyrene rib-raft foundation and has been designed with earthquakes, floods, high winds and liquefaction in mind, he says.
"At the end of the century, the sea level will be 0.8m higher than it is now and in a one-in-100-year flood with a low-pressure storm surge and tsunami, the potential water level would clear the underside of the floor by 200mm.''
The couple gained resource consent from the Dunedin City Council in 2009 but the Otago Regional Council challenged the decision on the grounds of the potential damage or loss of life posed by the property's hazards.
In 2010, the Environment Court rejected the appeal and ordered draft deeds be made with the councils that the Holts and any successor acknowledged they bore the risk of the property flooding and would not seek flood protection works.
The court accepted there might be some tension with the regional policy of avoiding development in unstable coastal areas but said the couple had assessed the probabilities rationally.
There came a point where a consent authority should not be "paternalistic ... but leave people to be responsible for themselves, provided they do not place the moral hazard of things going wrong on other people''.
Mrs Holt says they had acknowledged the risks, sought expert help and were proud of what they had achieved with the support of professionals.
Those people understood that the Resource Management Act was there to protect people "but not to quash out-of-the-box ideas''.
"I believe in the RMA. It just needs to be used in a way that's effective for people who want to do something a little bit different.''
Conditions on the build prevent them subdividing and required them to have a landscape management plan, employ an engineer to design the foundations and leave the area under the house open so floodwaters will meet minimal resistance.
The court thought attaching a lifeboat to the house was unnecessary but recommended having a boat on the property at all times.
That should not be a problem, with the water-loving family owning nine craft, including kayaks, dinghies and an 11.5m former trawler.
The "wetland environment'' that was at the centre of the case also makes the property an interesting place for their three children, aged 11, 8 and 6, to explore, Mrs Holt says.
When they bought the section 10 years ago they saw the occasional duck, but since removing rubbish and allowing water to flow again there has been an increase in the water quality and wildlife: "Our whole design has been about the site and bringing out its special characteristics.''
The city council was supportive throughout and a grant from its biodiversity fund enabled them to buy the flaxes through the Yellow Eyed Penguin Trust.
Further landscaping work will take place after they move in.
The boatbuilder and the textile artist enjoy"making things'' so doing the building work themselves has not only saved them money but been rewarding.
The couple estimate they have spent $250,000 to $300,000, including $100,000 for legal and specialist fees and $10,000 for the section.
When legal costs swallowed up much of the money they had raised for the build, they had to sell their Warrington home and two other properties, but were grateful to be able to rent the Karitane School house.
Licensed building practitioner laws make building your own home "a bit more of a process'' but more people should do it, says Mr Holt, explaining that they sought an owner-builder exemption and gave up their jobs so they could fully commit to the project.
"It's one of the most satisfying things you can do in life and you can certainly save yourself a few dollars ... but also you get something a bit different.''
The 165sq m four-bedroom house will feature thicker-than-usual wall frames and insulation, and recycled materials, including jarrah parquet flooring from the Dunedin Town Hall.
Mr Holt will make the kitchen cabinets, bathroom joinery and most of the furniture.
This includes window seats, bookshelves, a "massive'' dining table that will be made from donated lengths of kauri and macrocarpa and the children's bunk beds, which will have desks and seating underneath.
The home's rectangle shape was chosen partly to make the raft foundation more effective and also because they wanted ''simple, more multipurpose spaces'', Mrs Holt says.
Rough-sawn plywood is being used inside and out, sliding doors will allow the main living room to be divided into three smaller areas and graduated colours will accentuate the changing light and the reflections off the water (to achieve this effect on the exterior, she applied four coats of stain in five slightly different colours from blue through to black on 120 sheets of plywood).
Ultimately, they would like to design, build and project-manage for others planning their dream homes and to continue to make furniture and sculptures. But first they are looking forward to being settled in their own house and leading a "normal family life''.
"Whatever that is,'' she says, laughing.
"It's a bit surreal. I've got so used to the idea that we don't live there, that I don't think I'll quite believe it until we're in ... But we're really excited.''