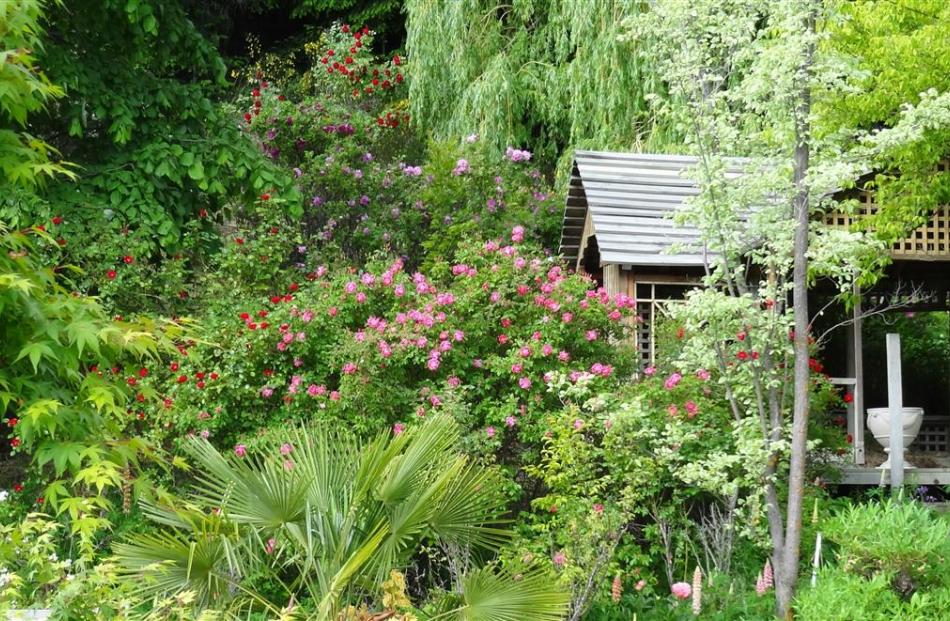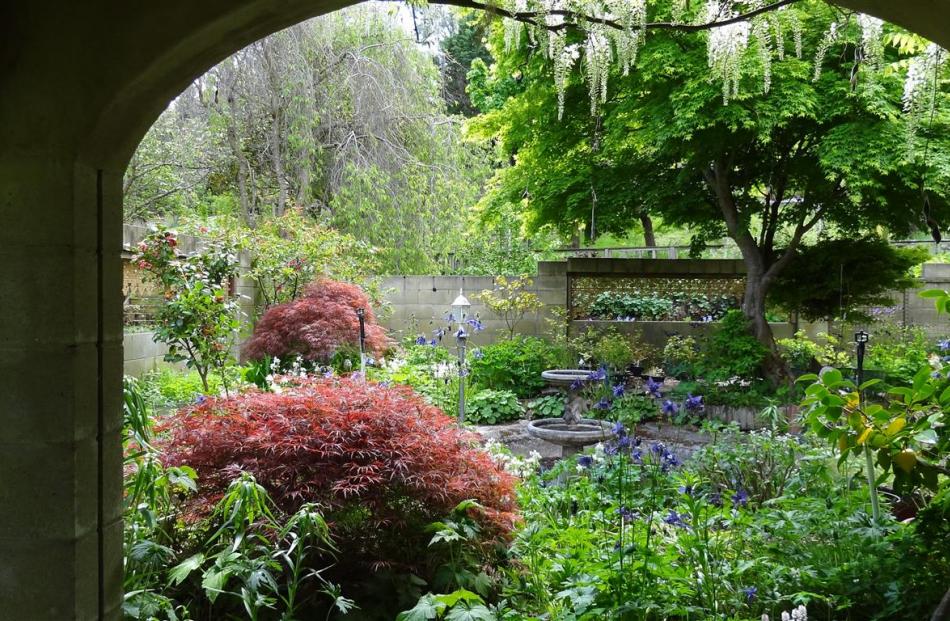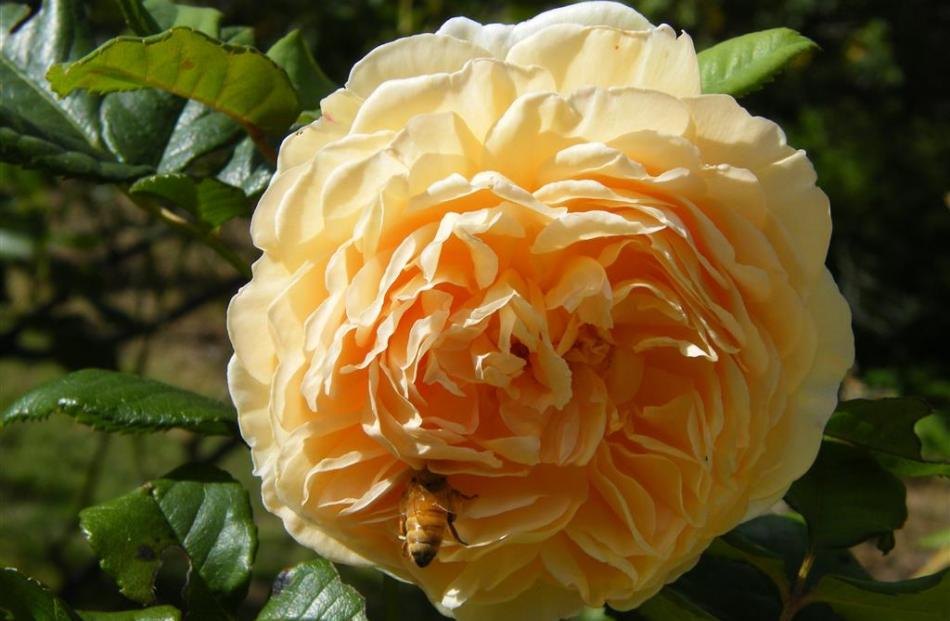 It started out as a ''leisurely garden''. But more than 1000 heritage rose varieties later, Murray Radka's Springvale property has grown into a living archive of international renown. Pam Jones reflects on the changing seasons of Brandy Hill.
Modern-day roses have old Chinese varieties to thank for some of their form and beauty, but rose gardening in China was almost out of control 2000 years ago.
So consumed were the ancient Chinese of the Han dynasty (about 206BC to AD220) with rose gardens, their plantings posed a threat to agricultural lands and the Chinese emperor of the day issued an order to plough up some roses to protect food production.
The tale is one of many told with a mix of sentimentality and glee by Alexandra heritage rose-lover Murray Radka, who has become the caretaker of many ancient roses in his adored wild garden.
Damasks sit below Scots roses and tea roses flower alongside briars. More than 1000 heritage varieties are spread in 17 sections (separated by ramblers and climbing roses) throughout his sloping 4ha property, and their survival has become a personal mission for the passionate gardener-historian.
A former history teacher and a lover of all tales of old, it was the centuries of stories behind the heritage varieties that got him hooked on the old varieties.
''When I found out you could still get the white rose of York that's what got me going.''
Now he has the red rose of Lancaster, too, and what started out as a ''leisurely garden'' has become a heritage rose collection of national and international significance.
''I've never set out to make it that way, I've never publicised it. But people have found out what I'm doing and they've publicised it.''
Now visitors love the garden's fragrant air, thrilled with its sprawling less formal style and Central Otago flavour.
''People are charmed by the rusticity of it. They love the fact that it's wild.''
Mr Radka had originally wanted a woodland garden on the Brandy Hill property at Springvale he and his wife Noeleen bought more than 40 years ago and where their sons grew up.
Dozens of trees were planted, deliberately shunning the formal English garden style Mr Radka didn't want, and creating something more rustic and wild from where people could still see the Central Otago hills.
But as rose fever gradually took hold, Mr Radka started making clearings to add heritage roses, arranging plantings around features such as schist and old tree remains.
''If there's a schist rock there I'll plant the rose beside the rock, or even an old tree stump. I never take them out. I love roses planted beside tree stumps.''
Now his garden is a living monument to the past generations who developed and tended ancient roses.
''It's living history. I stand among them [the roses] and I think of all the other people who smelt and held these roses all those centuries ago.''
The simplicity and integrity of the ''quite spectacular'' heritage roses, as well as their intense scent, is what he adores.
''I'm not above the glamour and the size of the big modern roses, but there's something about the simplicity of these old roses that I love.''
He bemoans the global loss of heritage roses, due to the growing preference for perfectly shaped but non-fragrant modern roses and changing gardening tendencies.
''Our habitats are shrinking and people are gardening less, so roses like this will be lost.''
Many of his roses are now the only ones of their kind in New Zealand, the ''mother'' plant from which the rose was taken having since disappeared.
His heritage rose collection is the most complete in New Zealand - containing every heritage rose commercially available in New Zealand, and many more besides - and forms the basis of a national collection that is attracting growing attention in New Zealand and from overseas.
Many of his roses are so rare they are no longer commercially available and/or are one of the last remaining roses of their kind.
His collection includes roses with romantic names such as Moonbeam, Windflower, Lordly Oberon, Madame de Sancy de Parabere and the Duchess de Brabant, also known as the Teddy Roosevelt rose or Teddy's rose, as the former United States' president always wore one in his buttonhole.
He also has the Tibetan rose, once only found in one Tibetan valley but now extinct there; almost every briar rose that exists, including a white briar Rosa afzeliana, that Mr Radka thinks doesn't exist anywhere else in New Zealand; the Irish rose, Rosa hibernica, that is almost extinct; a Rugosa Sakhalin rose that is only found on an island between Japan and Russia; almost 50 tiny polyantha roses; a complete collection of all the known tea roses that exist in New Zealand; various canina roses, on which research is being done internationally to investigate the roses' potential as a treatment for cancer; a Scots rose section which, like so many in Mr Radka's garden, you can smell before you can see; and Rosa gallica, from which all modern roses come (the East India Tea Company brought many China and tea roses from China back to England in the 17th and 18th centuries, and they were crossed with Rosa gallica, giving birth to the modern day rose).
There are many other roses in Mr Radka's garden he cannot identify - some of which he gives his own personal family names to, such as ''Pop Swan's rose'' - and many roses from his late mother Sylvie Radka's garden.
''Mum had an eye for beauty and her garden was very, very beautiful. I have a lot of rare spring bulbs from her garden as well.''
In Central Otago, many of the old roses were brought over by settlers from the United Kingdom; miners' wives planted more than their fair share.
Now Mr Radka is increasingly being asked to write papers and present at national and international rose conferences, including at the New Zealand Heritage Rose Society conference in Dunedin in 2012 and the Australian Heritage Rose Society conference in Tasmania in 2014.
He was also a panellist at the International Rose Conference in Palmerston North in 2013.
His presentations have included personal stories of the evolution of his gardens, and family recollections.
''They [the papers] tend to be homely and about family stories, they're not highly researched or academic.''
But the personal connection strikes a chord.
One slideshow presentation incorporated a Maori element through background waiata, and the reading of a poem about Mr Radka's garden written by his late son Craig, who died in 2000.
There was not a dry eye in the house, and Mr Radka got not one standing ovation but two. He continues to reflect on the meaning of his garden to Craig and himself, and says the garden has been intertwined with and assisted his journey through grief.
''The garden has been my salvation.''
Last December, every rose in Mr Radka's garden was catalogued and labelled by a team of 12 volunteers that included heritage experts from United States and the rose conservators from the Auckland and Wellington botanic gardens.
He's been told the register is a model that should be adopted internationally, and is relieved the job is done; now he can get on with another round of seasons in the garden.
He already has another 50 new heritage roses he recently found around New Zealand to plant, and a batch of other roses on the way, too.
Emerging from a busy summer and now with the rose season all but over, he views his garden as tired and unkempt at present, although he says it is ''always beautiful in my eyes''.
Although the roses are low maintenance (he barely feeds or prunes them, their healthy soil seemingly allowing them to fend for themselves), the sheer size of the garden means it is labour intensive. A slight regret is the time the garden takes away from other loves such as reading and writing, and he would like to do more of both.
At present, he is completing a research booklet requested by the New Zealand Heritage Society. It was meant to be just about his own rose collection, but Mr Radka felt compelled to extend it to include stories from other growers around New Zealand.
''I can't take credit for all the other people who brought these wonderful roses into our country and kept them going so we can have them. I'm just at the tail end of other people who have brought roses in.''
Recent health issues are making him consider the future of his garden and the best way to protect the heritage rose collection; he wants the quest to keep heritage roses alive to continue long after he is gone.
But next, he'd love to set up a heritage rose nursery and write a book about Brandy Hill, is pondering holding an open day at his Springvale property and looks forward to new ideas in the garden with Noeleen, whose scientific knowledge, practical bent and gardening abilities complement his own and have his utmost respect.
''I'm sort of the dreamer and Noeleen is very practical. We're a good team.''
As for favourites, it is almost impossible to choose between the different roses as the seasons progress, Mr Radka says.
''When the damasks are out and you're among them you think nothing can match them. And then something else comes out ...''
For an Empress 
A symbol of love, beauty, war, and politics, it is believed the rose originated in central Asia anything between 35 and 70 million years ago. It is thought there are more than 30,000 varieties of rose today, including about 2000 heritage roses, although there is no precise definition of heritage roses, which can also be known as heirloom or old roses. Wild roses pre-date all of them.
Garden cultivation of roses probably began about 5000 years ago and they were cultivated by the ancient Egyptians, Chinese, Greeks, Romans and Phoenicians.
Rosa gallica, the French rose, is thought to be the oldest cultivated rose that exists today, and has possibly existed since 1200BC. It once bloomed wild throughout central and southern Europe and western Asia, and was crossed with China and tea roses in the 18th and 19th centuries to create the modern rose.
Many enterprising and illustrious uses for roses developed over the years: in the 17th century they were in such high demand that royalty considered roses or rose water as legal tender, and they were often used as barter and for payments; Rosa phoenicia was taken around the Mediterranean by the Phoenicians and traded; Rosa sancta, The Holy Rose, was found in graves in North Africa as chaplets on the heads of mummies.
In the early 1800s, Empress Josephine, Napoleon Bonaparte's wife, was a key figure in the rise of the popularity of roses. She began a ''rose renaissance'' by trying to grow all familiar varieties of roses in her personal garden at Malmaison, near Paris, and Napoleon directed all his captains to search for new roses in the lands they visited and bring them home for Josephine.
Even the English, who were at war with the French at the time, not only allowed roses for Josephine to cross the English Channel, but also granted permission to her chief gardener to freely travel throughout the country.
The ancient Greek poetess Sappho was the one who coined the phrase of the rose being ''the queen of flowers''.