There was literally so much to love at the recent Festivalland held Wellington, writes Liz Breslin.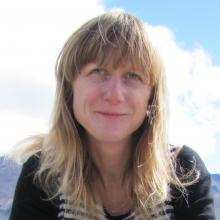 You know how some people get all excited about ball-kicking world cups? For me, the equivalent is Festivalland. A bit like being part of the Peruvian footy invasion, minus the kazoos. In fact, an arts festival is totally similar to o jogo bonito - "the beautiful game" -  though the teams keep changing, it's preferable to contravene that no-international-players rule, everyone scores and it's totally a draw. And it wouldn't happen without the coaches and  commentators and crowds going wild. And I think I might leave that metaphor there before it implodes.
I'm thinking about Festivalland because I spent last weekend in Wellington thanks to the literally wonderful folks at LitCrawl. Think "lit" like literature, lightbulb moments, figurative fires and 14-year-old speak for "well cool". With 25 shows over one evening, in small and eclectic venues - a bike shop, a music shop, a gallery, more - there were 576 possible ways to navigate the sessions. It's a genius thing of programming because it turns the Fomo factor up to 11. Some sessions get so crammed they turn people away, so you also have to work out the fastest routes, sloping through alleyways in your on-trend functional Wellington footwear. Oh, Wellington.
There was literally so much to love, but I had to go and dwell on the negative. It was in the brief. One of the sessions I participated in was about writers doing Bad Things (after the book of the same title by Louise Wallace; the poet, not the celebrity housewife). To redress the balance, I thought I'd take the opportunity today to say Five Good Things About Festivalland.
1. IT'S GOOD TO KORERO
The bird-feather flocking I do with other writers is predominantly over social media, because there are no weekly meets for arts matches. Though maybe that could be a thing. And  perhaps a fantasy arts league?
2. IT'S GOOD TO EXTEND YOURSELF
LitCrawl Extended, like Aspiring Conversations and the Dunedin Writers & Readers Festival, reminded me of the importance of long-form listening. An hour to focus on other humans interacting without phone, food or potty breaks. How simple and how crucial is it to be able to sit and actively listen, and listen? The answer is very. Very very.
3. IT'S GOOD TO REMEMBER
"Quietly revolt - history is on the move," said recent bilingual-collaborator Witi Ihimaera, and challenged the audience to write three pages of their own family history, to go back and back and back. "Email them to me," he said. Brave move. But he got me thinking. What if we were all more aware of and at peace with our own histories? Would that somehow give us a stronger grounding to move on together? And if we went back a fair bit further than three pages, wouldn't we all be connected anyway, even though my meditation app just reminded me we are all unique?
[N.B. This is one good example of how Festivalland is diametrically opposed to Everyday Life. All this exciting thinking and then you go home and the bins need emptying and the bills are squeaking. And you can't pay bills with ideas. Though that would be a Good Thing.]
4. IT'S GOOD TO TAKE NOTES
Yes. Or tweet things as they happen. Or scribe them on your phone. It is ludicrous to expect to be able to reconstruct a coherent train of thought from phrases scribbled next to doodles in the margin of a programme. Like, what was I thinking when I wrote "journalism a vital record", "100% pure fiction, hah!" or "Dealing drugs in Narnia - C. S. Lewis park in Belfast"?  
5. IT'S GOOD TO TAKE NOTE
I had a chance to reflect on my ski-town-lifestyle privilege when, during our Bad Things session, Hamilton-born Canada-bound poet and artist Faith Wilson read out my "Ski School for Grown-ups" poem, assuming it had been written about learning to ski on a ski holiday and not just a Wednesday or whenever. How lucky are we?
On a less flippant note, recent Dunedinite and long-time writer Fiona Farrell and reproductive rights legend Dr Dame Margaret Sparrow both big-upped the importance of access to tertiary education. It was called "The Opportunity" in Fiona's home when she was a child. And her sense of responsibility went back generations too. "I can write, so I have the duty to, for all the ancestors of mine who could only sign their births, marriages and deaths with an 'x'."
It all left me, for want of a much less cliched word, inspired. Not just for the power of the spoken and written words I heard, or what that makes me want to do with mine. But how we are together, to warp another cliche, greater than the sum of our arts. The literal possibilities. Lit.