The Proclaimers might have walked more than 500 miles to fall down at your door. But why are New Zealanders travelling around the globe to walk that distance for no apparent reason at all? Bruce Munro examines the "Camino phenomenon" and Kiwis' alleged love of walking. 
Lawyers are not known for hyperbole. Grit, fastidiousness, nerves of steel, perhaps. But not for loose comments or undeserved praise. So Dunedin barrister Chris Lynch's summation of the month-long trek she has just completed across northern Spain ... well, it stands out.
"It was 10 out of 10," she said this week from a Japanese hotel on her way back to New Zealand.
"It was fantastic to take time out of your life and spend five weeks walking all day ... reflecting on life and meeting folk from all over."
That odyssey was an 800km (500 mile) journey following a millennia-old pilgrim path known worldwide as the Camino de Santiago, the Way of St James.
A standout for Lynch was the Meseta Central, a tableland where most of Spain's grain crops are grown.
"The Camino crosses it. I thought it would be hot, dry and monotonous," she explains, "but it was probably my favourite part. Just walking day-after-day through it, with such massive open skies, was spiritual in itself."
It is the sort of experience that is drawing ever-larger numbers of walkers from around the globe.
The Camino became a famous Christian pilgrimage in medieval times. Up to 250,000 people from around Europe were making their way to the magnificent Romanesque Cathedral of Santiago de Compostela, claimed to house the bones of James, one of Jesus' first followers, each year.
But the Camino dropped out of favour during the later part of the past millennium, to the point that virtually no-one was walking it 50 years ago. Since then, however, there has been a phenomenal resurgence. The number of pilgrims who reached Santiago in 1985 (1245) had, by last year, swollen to 327,378.
That is a lot of feet doing a lot of walking.
In a smaller way, it is being mirrored here in New Zealand.
This country's Great Walks are experiencing a significant increase in foot traffic.
From the five-day 51km Abel Tasman Coast Track to the four-day 60km Kepler Track, all of New Zealand's nine (and about to be 10) top big walks are increasingly popular.
In 2013, almost 81,000 people did a Great Walk tramp. Last year, that had risen 40% to 114, 012, including 71,000 international visitors.
The Great Walks booking site is always flooded with queries as soon as it opens in June. This year was no exception, first day bookings being 15% higher than in 2018. The most popular was the Milford Track, which had 1978 bookings on the first day. Even the as-yet-unopened Paparoa Track had 564 first day bookings.
Why so much walking in so many directions? Why travel around the globe to walk from one spot to another for no apparent reason other than simply to traverse that chosen sliver of Earth?
For many who do the Camino, including Sue Duthie, of Oamaru, it is largely about fraternity - connections built with others.
For Duthie, a pharmacist, it began five years ago when a friend asked her if she wanted to "go for a walk", meaning , it turned out, the Camino. It ended with enduring, globe-spanning friendships.
"For me, one of the best things was the people you meet on the way and when enjoying shared meals together at the pilgrim hostels."
She says this despite some of the hardships those hostels, known as albergues, with their up-to-50-bed dormitories, imposed.
"One was called the Three Tenors. We found out why when we tried to go to sleep. That wasn't a very good night," she says with a laugh.
At one point, they encountered a man in his 70s who walked the Camino's 800km track full time.
"He said he enjoyed the lifestyle and it was cheaper than living in the UK."
Duthie's friend liked to walk faster than her. It was a small, persistent niggle until, during their final week of walking, they fell in with an English couple.
"He walked faster and his wife walked slower. So we paired up.
"We just seemed to gel.
"We'd walk and we'd meet up for lunch and later in the day.
"We've since been to visit and stay with them."
The start of Duthie's Camino was less salubrious.
On the first day it rained and it snowed. She also discovered her fitness was not what she hoped.
"At the end of that, I'd had enough. I took the bus on day two."
Alternating bus and foot power, Duthie's stamina increased. She completed the Camino in a month, walking a total of about 400km.
The trek can be tough, agrees Kelvin Wright.
The former Anglican bishop of Dunedin walked the most popular Camino route, de Frances, in two stages - the first half in 2009 and the second in 2012 - and the entire, coastal, del Norte route in 2015.
Wright says the first third of the Camino is all about the physical.
"In the first 10 days, you'll find out everything that is wrong with your body," he says.
"My wife and I walk a lot, but we weren't used to walking 20 or 30 kilometres a day, every day.
"You find pains and aches and blisters and goodness knows what. But you sort those out."
That is the second benefit Camino pilgrims, and other avid walkers, cite - increased fitness and health.
There is no denying the many benefits of walking, Associate Prof Sandy Mandic says by phone from Spain.
Prof Mandic, of University of Otago's Active Living Laboratory, is not there to do the Camino, but would like to walk and cycle it some day.
"Everything we know about the benefits of physical activity for the general population, actually refers to the benefits of walking," Prof Mandic says.
"There are numerous benefits for the management and prevention of multiple chronic diseases, such as diabetes, certain forms of cancer and cardiovascular disease."
Walking tones muscles, burns fat, builds bone mass, reduces the chances of catching a cold, halves the risk of Alzheimer's, improves blood pressure, eases stress ...
But although New Zealanders list walking as their most frequent recreational activity, we might not do as much walking as we like to think we do, Prof Mandic says.
Only half of Kiwis meet the national guideline for healthy physical activity levels. Of the 114,012 people pulling on tramping boots to do a Great Walk last year, only 38% were New Zealand residents. And, compared with some other countries, we do little walking to get from point A to point B.
"New Zealand adults, on average, walk eight minutes a day for transport. In Europe, people walk much more for transport - it's just part of what you do every day."
What we need to be doing is 30-60 minutes of moderate to vigorous walking (or other exercise) a day, five days a week.
A nun whom Wright met on the Camino was certainly meeting her quota.
Seventy-eight years old, wearing her full black habit, the nun had walked from her convent in Germany.
"So, by the time I met her, she had walked 1000km and still had 600 to go."
Religious people have a habit of walking the Camino. They say the primary benefit is spiritual.
What that means is not always clear.
It certainly is not clear on the Statistics New Zealand website, where spiritual health is listed as one of four elements of health that will be monitored as part of the Government's new focus on New Zealanders' wellbeing.
"This indicator will show how content people are with their spiritual health," the website states.
"Spiritual health encompasses unseen and unspoken energies, faith, spiritual awareness ... among other things".
"This indicator is still to be developed," it concludes.
According to the nation's bean counters, a connection with the non-material, the other, the divine, is beneficial, even if it is hard to measure.
Camino walkers, religious or not, seem to agree.
Lynch was invited to walk the Camino by her sister, Marilyn Pearson.
"She is Christian and it was on her bucket list," Lynch explains.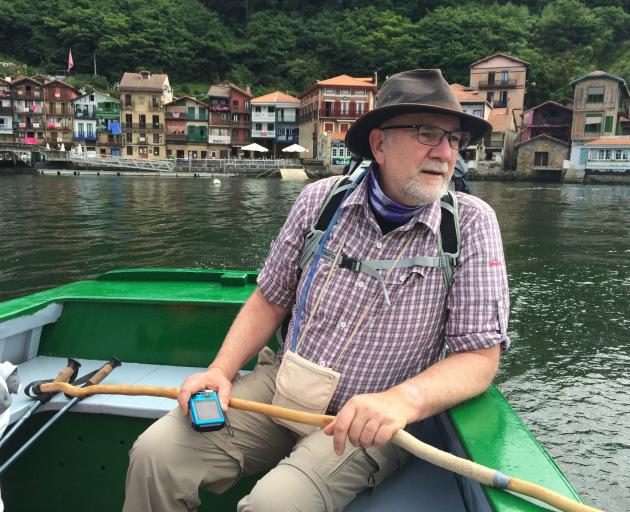 Even so, Lynch also found the experience transcendent.
"Walking day after day through beautiful countryside and through village after village.
"It was a spiritual journey and I don't think it could not be."
It was so good that, after finishing the 800km Camino, she walked a further 110km pilgrimage, alone, to Finisterre (Land's End), on the Atlantic coast.
Wright says it is the last third of the Camino that takes the attention beyond the material.
The first third is about the body, the second about the mind - "Why on earth am I doing this?" - and the final third is all about the spirit, he says.
"You're walking through beautiful hill country. It's like being in a Turner painting every day."
The repetitive action of walking day after day is "almost a form of meditation".
When Wright first walked the Camino a decade ago, he had recently completed radiotherapy. In 2015, he was contemplating retirement and wondering "What am I going to do with my life from here?"
"It helped me consolidate big decisions I was wrestling with and life changes that had happened.
"I think everyone on the Camino has a spiritual experience. Though some wouldn't name it that."
The beneficial process these walkers describe is integral to the Camino, but not its exclusive possession.
Taking time out from the normal routine, doing something that in a sense represents the journey of life and bringing your whole self, body, mind and spirit, to the act of reflecting on one's life - does not have to be done in the north of Spain.
New Zealand has its Great Walks. It also has Te Araroa, a 3000km series of interconnecting walking trails that stretch from Cape Reinga to Bluff.
Plenty of scope there for a personal pilgrimage.
Camino Skies, a documentary about six, modern-day, antiopodean pilgrims walking the Camino de Santiago, is screening at Rialto, Dunedin, from Thursday, July 11, at the Central Cinema, Alexandra, on July 8, 13, 17, 22, and Cinema Paradiso, Wanaka, on July 8.