We all have someone we know - a brother, sister, parent, child - who practises fatalism in the place of decision-making, writes Scott Willis.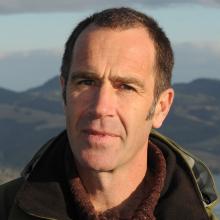 It can be infuriating to be on the other side. I know people who adamantly refuse to vote, because "it doesn't change anything". But not doing anything, refusing to act, is itself a choice that leads to change. We're like fish in the river of life — if we don't acknowledge the river and we let ourselves be taken along by the flow we'll end up where the river takes us, possibly caught in a social media net, tangled in conspiracy.
On the other hand, some of us like our place in the pool and try to stay in the same place but, regardless, the river will keep flowing, and the work it takes to remain still in the flow becomes exhausting after a while. The section of our community who attended the "Howl of a Protest" a week ago are fighting hard to stay still in one place when the world is moving towards zero carbon.
There's a third path. It involves looking ahead and negotiating the river braids, aiming for the most life-affirming route. Luckily, we're more intelligent than fish and can use our imagination and creativity to look beyond the here and now. Engaging in scenario planning can help us make sense of plausible futures and identify ways to get there. The work I'm involved in at present requires a great deal of scenario mapping to help guide investment of time and resources for decarbonisation.
Scenarios are models of future development, and we now have clarity around the general direction of travel in our earth systems. Data from May 2021 shows that Earth's CO2 levels are the highest they've been in more than four million years, at 419 parts per million. Back then sea levels were about 25 metres higher than today and our pre-human primate ancestors wandered the land. It was only 10,000 years ago that human civilisation began, with agriculture and the emergence of writing. It's only within the last few hundred years that human activity has begun seriously altering the climate.
Identifying key global drivers of change can help us "achieve a broad and open-ended adaptability to inherent unpredictability", argues David Holmgren, an Australian ecologist. One possible scenario he sketches envisages continued use of fossil fuels as climate impacts worsen, exacerbating hazards and leading to a hardening of power in the state and corporations. Another scenario suggests that resource constraints and severe climate impacts lead to a breakdown of global civilisation and eventual re-emergence of simple social organisation and low-impact technologies.
Without changes in basic values and practices, and a fast transition to low-carbon energy, we'll destroy the diversity and beauty of the world. As climate hazards occur with increasing frequency and intensity — think the latest West Coast, Marlborough and Canterbury floods, the Wellington region storm damage, devastating European floods, the North American "heat dome" and associated wild fires, the Pakistan heatwave, and drought and famine in Madagascar — the social challenges have become more pronounced and the risk of social conflict has increased.
I don't think many people would disagree with a future that allowed us to swim in clean rivers, a future where our food was free of chemical residues and nature could thrive, where our homes were warm and welcoming, and where our energy needs were met by renewables and not imports of cheap dirty coal. A regenerative, distributive and resilient Aotearoa New Zealand is possible, but it requires us to plan ahead and negotiate the river braids, backtracking if we find a dead end. In short, it requires a clear focus and adaptive practice.
So let's not ignore the discontent, but not pander to the extremists either, because we need to maintain a tolerant, caring society. That means listening, not to insults, but to fears and worries, and building space for safe discussion, and space to reach consensus where possible. Ultimately though, this decade, we must take action to reduce emissions and adapt, and we must exercise as much tolerance as we can, because a radical transformation is required and it will challenge us all.
I love negotiating our braided rivers. I want to find my way downstream to a new economic model that treasures and protects Papatuanuku and builds a regenerative and resilient Aotearoa New Zealand.
Scott Willis is a climate and energy consultant. Each week in this column one of a panel of writers addresses issues of sustainability.