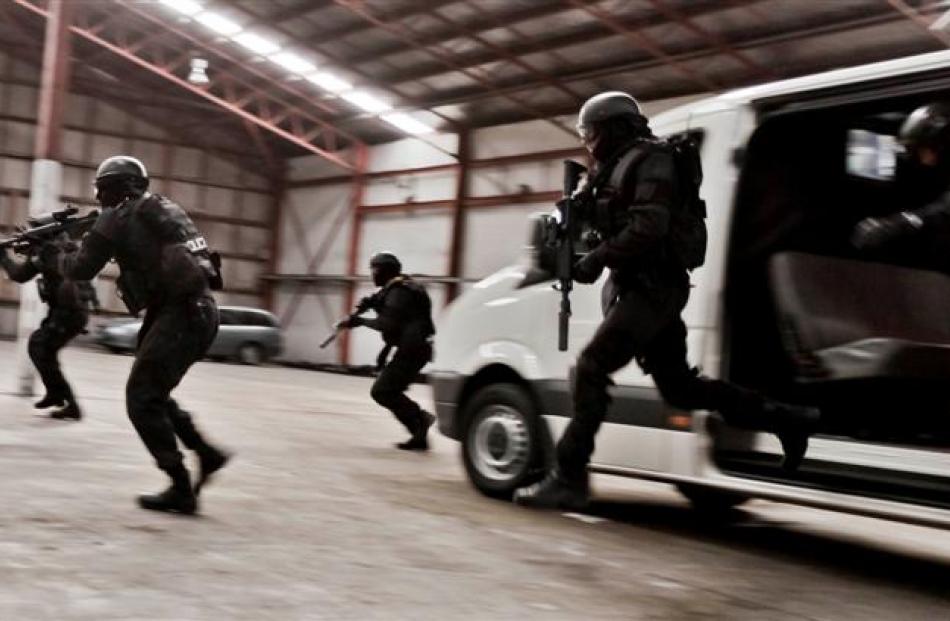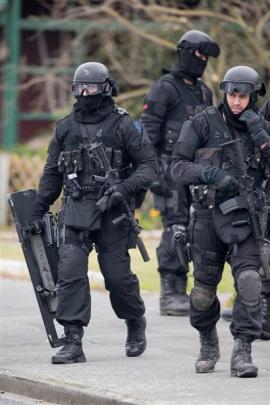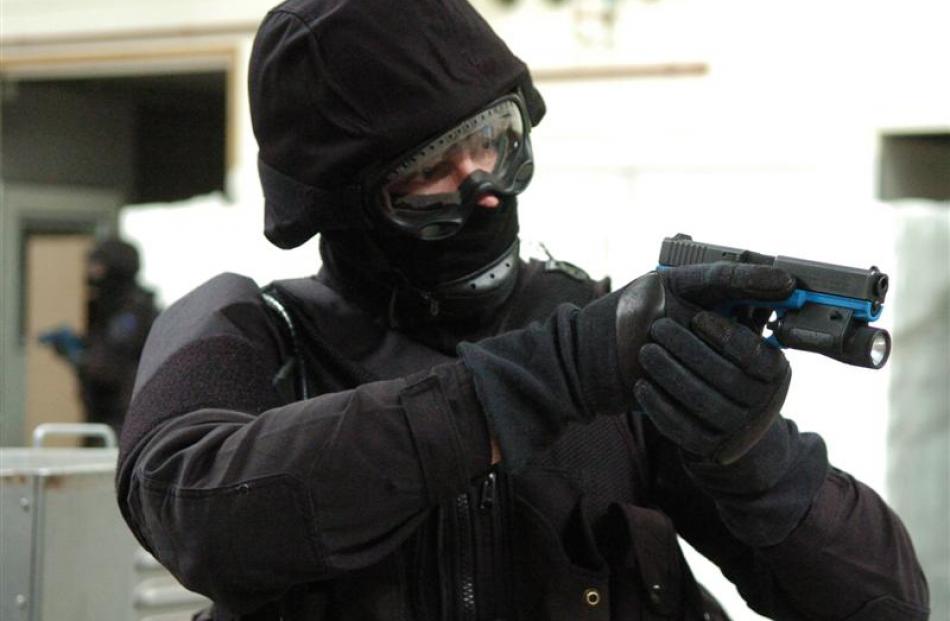 Never far from the headlines, the armed offenders squad marks its 50th anniversary this year. Shane Gilchrist discusses training, teamwork and tactics with Inspector Jason Guthrie.
Forget sniper rifles, Glock 17 pistols and other weaponry.
The most effective and important tool in the arsenal of the armed offenders squad is the humble loudhailer.
''I take significant pride in the fact that in the 16 years I have been in the AOS we haven't fired a shot at a person,'' says Inspector Jason Guthrie, who is both police area commander for Dunedin Clutha Waitaki as well as head of the region's 15-strong armed offenders squad.
''The best result is when a gun is not fired. And that comes down to teamwork and sensible decision-making, and the prominence of negotiation.''
A member of the Dunedin AOS since 1998, and AOS commander for Dunedin Clutha Waitaki for the past 18 months, Insp Guthrie says the squad is the ''pinnacle of teamwork within the police.
''It is hugely important that the group functions as a team. If people go off and act as individuals ... it's not ideal.
''We have standard operating procedures depending on the nature of the incident. Within that, there is a need for initiative and the ability to remain fluid.''
More than 100 former and present Dunedin armed offenders squad members and their partners will attend private celebrations this weekend marking the 50th anniversary of the establishment of the AOS.
Formed in August 1964 in response to a series of fatalities the previous year, the armed offenders squad operates under the core philosophy of ''cordon, contain, appeal''.
That is: cordon off the affected area, contain the offender(s), and appeal to them to surrender.
Former AOS commander Detective Superintendent Ray van Beynen, who has also written a history of the squad, says that motto reflects its focus on resolving incidents as peacefully as possible.
''In its 50 years, the AOS has undertaken thousands of deployments, ranging from domestic incidents and drug warrants to armed sieges.
"However, in that time, no AOS member has been lost during an operation, a record that we strive to continue.
''This is despite members putting their lives on the line in some of the most dangerous, highly charged and difficult situations possible.
"The fact they resolve the vast majority of incidents without a shot [being] fired is testament to their skill, training, courage and commitment, and I have no doubt that countless other lives have been saved because of their intervention.''
Armed offenders squad members were in the news again this week, involved in the hunt for Ashburton man Russell John Tully, who faces two charges of murder and one of attempted murder after two Work and Income workers were shot dead and a third seriously injured on Monday.
A subsequent series of copycat threats to Winz staff in other areas of the country prompted an armed response from police.
According to police, the AOS on average attends almost 800 incidents every year, which comprise both planned operations and emergency call-outs.
However, on average, shots are fired only once by police for every 260 deployments.
Insp Guthrie, who helped establish the new southern district command centre aimed at crime prevention, notes callouts for the Dunedin AOS have dropped significantly in the past two years.
Figures recently released to the Otago Daily Times show there were 18 callouts in 2012-13, compared with 36 in 2009-1010.
''I'm convinced that is on the back of our prevention work, including a focus on family violence and firearms re-licensing,'' Insp Guthrie says.
''I think a significant change in recent years has to do with firearms licence holders.
"If someone behaves in a way that might indicate they are no longer a fit and proper person, they are likely to have their licence revoked.''
On callouts ranging from armed incidents and suicide threats to hostage situations, armed offenders squad members are helped by a police negotiation team (PNT) trained in crisis intervention techniques, the police dog section as well as the special tactics group (STG).
In the early years of the AOS, dogs and their handlers were called in when necessary to deal with armed incidents.
Over time, it became clear that dogs could be useful in many situations and today they are a permanent part of the AOS.
Created in 1977 as the anti-terrorist squad, the STG was renamed in 1991 to reflect its wider role.
It is called upon to deal with situations that may be beyond the capability of the AOS; for example, resolving counter-terrorist and siege situations.
Other STG roles include specialist intelligence gathering around criminal activity, and security for VIP operations.
The 17 armed offenders squads in New Zealand comprise nearly 300 volunteers from various branches within the police.
To gain a place in the AOS, officers must qualify at a rigorous national selection course and attend regular training.
Insp Guthrie says the AOS selection process is ''gruelling'', involving exercises both mentally and physically challenging, including sleep deprivation.
''It is very robust, from a one-day local selection course, through to a three-day national selection, which is then followed by a three and a-half week national qualification course.
''The process is designed to challenge people physically, in order to gauge a person's stress response.
"Once you hit a certain level, decision-making and use of tactical options [can be compromised] ... it's the closest way to simulate how you might respond under stress.''
Stress comes in various guises, too, he notes.
''The AOS is a stressful job, but in different ways.
''When you are responding to a job, your senses are clearly on high alert.
"But there is a level of wider stress, in that the job impacts on family life, your wife and children. There can be long periods of being on call 24/7.''
Insp Guthrie is quick to point out that is not meant as any sort of complaint.
In fact, the AOS role has ''been a highlight'' of his career. It has also taken him places.
In 2011, he was posted to Afghanistan for seven months, as part of a New Zealand Police contingent in Bamiyan province.
''I think being a member of the AOS helped in me being selected, in terms of having a general skill set.''
Having joined the police 20 years ago, serving in the Dunedin area, including in frontline and administrative roles, Insp Guthrie has a personal connection to the AOS: his uncle, Sgt Stewart Guthrie (41), was killed by gunman David Gray at Aramoana on November 13, 1990.
''I do take some comfort from the fact my uncle was a member of the AOS.
"But, for me, the motivation for joining the AOS was more about the calibre of the people that you work with and the nature of the work.
"The link with Stewart was probably secondary to that.''
---
Shootings in 1963 prompted formation of armed offenders squad
The double homicides of four officers and a civilian at the hands of lone gunmen in separate incidents in early 1963 were the catalyst for important changes to the way police dealt with armed incidents.
On the afternoon of January 6, 1963, a mentally disturbed gunman opened fire on people at boarding kennels located in Bethells Rd, Waitakere, killing kennel-owner James Berry and seriously wounding customer Harry Pettit.
Detective Inspector Wallace Chalmers and Detective Sergeant Neville Power, who were among the first police staff to respond to the incident, were also shot and killed as they tried to surround the offender.
The offender was later declared insane and found unfit to stand trial. He spent the rest of his life in a psychiatric facility.
Less than a month later, on February 3, 1963, Constables Bryan Schultz and James Richardson were called to a domestic incident in Herbert St, Alicetown, Lower Hutt.
As they pulled into the driveway, a lone armed offender opened fire from the house, killing both men before they had left the vehicle.
He was caught without further incident, tried and jailed.
Both events sparked a wide-ranging review of police tactics relating to armed incidents, resulting in a recommendation that a special police squad to deal with armed offenders be formed.
---
Notable dates

Aug 1964: The AOS is formed, with the first group of hand-picked police staff undertaking training at the Papakura military camp.
Feb 1965: The newly formed Auckland AOS, led by Detective Inspector Graham Perry, successfully resolves a hostage drama in Auckland following the escape of three inmates from Mt Eden Prison. Using the newly developed method of ''cordon, contain, appeal'', the prisoners eventually give up and are returned to prison.
Jul 1969: The AOS fires its first shot after being called to a house in Whangarei, where an armed man is holding a baby hostage and threatening to shoot the baby and himself. Following a seven-hour standoff, Det Insp Graham Perry shoots the rifle out of the offender's hands, and with other AOS members disarms him and rescues the baby. Det Insp Perry is later awarded the George Medal for bravery.
Apr 1970: For the first time, the AOS fatally shoots an offender following an armed siege involving a gunman holding two hostages in the Wellington suburb of Northland. The official enquiry establishes that police actions were fully justified.
Oct 1983: An offender on release from prison seizes a shotgun from a sports shop in downtown Auckland and begins firing the weapon at random in public. A police dog, Luke, is shot and seriously wounded while trying to intervene. After a three-hour standoff, the offender is tackled and disarmed by police. Luke survives the shooting and police subsequently refine their dog-training programme as a result.
Nov 1990: At Aramoana, near Dunedin, resident David Gray begins a shooting rampage, killing 13 local men, women and children, and injuring three others. His final victim is AOS member Sgt Stewart Guthrie, who is shot while responding to the shooting reports. After a 34-hour operation, police shoot and fatally wound Gray when he opens fire on officers after refusing appeals to surrender.
Jul 1993: A man armed with a crossbow, knives and explosives walks into Morrinsville police station, taking eight people hostage and planting bombs. He demands to speak to well-known broadcaster Paul Holmes, who assists in the release of the civilian hostages. The man is later shot and killed by police after he opens fire and wounds an officer with the crossbow.
Jan 2003: Antonie Dixon, a regular methamphetamine user, embarks on a deadly crime spree, attacking and seriously wounding two women with a samurai sword before fatally shooting a man and taking hostages at a house in Flatbush, South Auckland. After lengthy negotiations by the PNT, he eventually surrenders.
May 2009: Former territorial soldier Jan Molenaar opens fire on officers executing a routine cannabis search warrant at his Napier home, killing Sen Const Len Snee, and seriously injuring Sen Consts Bruce Miller and Grant Diver. Friend Len Holmwood is also shot and wounded while trying to intervene. Assisted by the public, the AOS rescue the wounded men. After a siege lasting more than 40 hours, Molenaar is found dead from a self-inflicted gunshot.
---