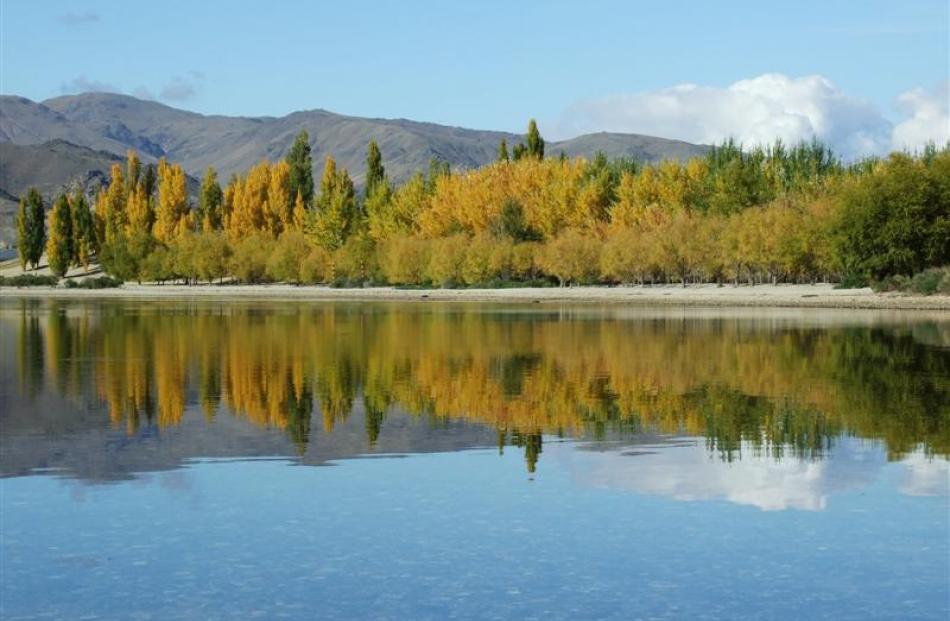 In light of Contact Energy's recent announcement it is set to begin public discussions on further hydro-electric development on the Clutha River, Shane Gilchrist canvasses opinion on Lake Dunstan and discovers the body of water created by the Clyde dam is one on which many care to reflect.
Susan Anderson was just 6 years old in 1993, when Lake Dunstan was completely filled. Sixteen years later, her words on the Clyde dam and the body of water it created are but a few when compared to the flow of discussion surrounding the subject.
Yet the observations of the Victoria University student are significant, representing a swirl of opinion as mixed as the confluence of the Clutha and Kawarau rivers at Cromwell.
In fact, Ms Anderson was criticised by her university supervisors for "sitting on the fence" in her final-year project for a bachelor of design degree (majoring in landscape architecture).
On one hand, the Clyde dam destroyed a rugged gorge, sealing homes, orchards and history beneath 60m of water; on the other, a benign lake is utilised by locals, holiday-makers, irrigators and, of course, Contact Energy, the company that generates hydro-electricity at Clyde and, downstream, Roxburgh.
Ms Anderson grew up in Twizel. Her parents are from Alexandra and Clyde, likewise her grandparents. Though she has long had a fascination with hydro-power, her thesis deals largely with landscape issues, aesthetic value, the "form" of land following large-scale human intervention.
Ms Anderson likens the Clyde dam - and our perceptions of it - to a raw wound that has formed a scab and is healing. The resultant scar, Lake Dunstan, now stretches for 26sq km.
Kevin Jackson's family-run orchard is about a kilometre west of Cromwell along State Highway 6. The prospect of rising waters forced Mr Jackson to move to his present location in 1989.
Twenty years earlier, at the age of 27, he'd shifted from Alexandra to an established orchard in the Cromwell Gorge; it's a place which he describes with much fondness.
The last orchardist to leave the gorge, Mr Jackson rues the loss of a "unique microclimate" which enabled him to get apricots to market a crucial 10 to 14 days before those who grew the fruit elsewhere in the district.
"I was only there seven years when the various hydro schemes were announced. I was shell-shocked . . . that caused a lot of anxiety." As plans for the Clyde dam firmed, Mr Jackson began looking at land elsewhere, from the Cardrona Valley to Millers Flat, evaluating crucial factors including soil type, location, proximity to townships (for a potential workforce) and a main highway (for roadside business). Utilising a mixture of "local knowledge, gossip and advice", he chose his current 30ha property, which he has since expanded to 40ha.
"It had to be the best piece of land in the district. When I set foot on it, a magic feeling came over me. I wouldn't say it is better than the Cromwell Gorge land, but it's the same soil type. However, I was starting afresh. It was very emotional having to move."
Though he doesn't miss the winters in the gorge ("It was probably the most miserable place in New Zealand. On the shortest day we had one hour's sunshine . . ."), he does rue the loss of a landscape: "The river from Clyde to Wanaka was, in my opinion, unique. Now that has been destroyed. The rapids at Cromwell were a landmark.
"If the Cromwell Gorge still existed, if there was no dam, it would have been one of the best tourist attractions in New Zealand. It had a rugged river; the water was pure; the gorge would have been fully developed into fruit . . .
"From the day it was announced that there were going to be dams on the Clutha, there was no further development in the Cromwell Gorge. When I moved into the gorge, it was only 30% developed in orcharding; there was a railway line through it and a road that no-one liked driving on because it was too narrow."
He has 29 trucks of varying sizes, many of which are adorned with distinctive, often large prints of Central Otago themes. There is even one depicting the last train trip through the Cromwell Gorge. Yet, despite the nostalgic themes that can be seen on vehicles plying roads from Christchurch to Invercargill, from Dunedin to Haast, Mr Carey prefers the present to the past, referring to the previous route through the Cromwell Gorge as that "old, concrete bloody thing up there".
"It's good the way it is now, rather than that wee concrete wall, I tell you. When you had two big vehicles coming together, we used to break our mirrors. I even jumped from the driver's seat to the passenger's side one time because I thought a bus was going to hit me.
"It has been great for us. It only takes half an hour now to get from here to Cromwell."
More significant, however, was the influx of people to the area: construction work on the Clyde dam began in 1979 and was completed in 1993, peaking in 1986-87 when more than 1000 workers were on-site. That's not including those who were involved in stabilisation work through the gorge or subsidiary employment.
"That's what kept us very busy - all those extra people who were here for the dam. That was marvellous. They slowly move away, but there is always someone who comes and replaces them."
Peter Mead was mayor of the Cromwell Borough Council from 1980-86; before that, he was deputy-mayor (1977-80). Thus he was both witness and party to a process of great upheaval, both structurally and emotionally. As the town's topography was drastically changed, so, too, was its infrastructure and population.
"Personally, the construction of the dam meant our [accountancy] business premises had to be relocated, as did many down in Melmore Tce. Of the people who lived in Melmore Tce, very few are still alive. As far as moving from the old street, I wasn't particularly upset over that." (In contrast, a former resident of Melmore Tce contacted by the Otago Daily Times was too upset to comment on the inundation of house and home.)
"Of course, you don't always get it right," Mr Mead concedes. "Whatever you decide isn't always popular and that's reflected in the electoral results. In the first election I stood, I topped the poll and from that there is only one way to go . . .
"By and large, I think most things have proved to be very successful. The mall would probably be the least so, and that was because it was designed, fundamentally, around the principle that you had the post office in the middle as that would generate the foot traffic. Back in those days, there were a multitude of sins you could obtain at the post office. Then along came the Lange Government, which effectively disestablished the post office and what was the cornerstone was no longer so.
"It was also intended that a supermarket anchor the mall, but . . . ultimately, we ended up with a supermarket just off the mall, so it hasn't got the same anchor that maybe everyone had hoped for."
Other developments included a major upgrading of sewerage, water and power services, "huge benefits to the town" that were the result of an amenities and finance agreement between council and Crown.
"Fundamentally, what that meant was the Crown would advance capital sums for the upgrade of infrastructure and other amenities. In return, the council would lift its rates to the average of a basket of similar municipalities who had similar services," Mr Mead explains.
"There was a provision within this agreement that in the event of the Crown not proceeding with what was then going to be a series of dams, the loan would be written off. That was where there was a huge benefit because the expenditure had all been committed and the infrastructure all upgraded then the Crown decided not to proceed with subsequent dams so the borough of Cromwell no longer had the financial noose around its neck."
Asked, perhaps naively, if that meant rates in Cromwell then dropped, Mr Mead confirms they did not.
"I know that caused some heartburn for some people. Rates did go up and I had to tell people they were getting extremely good value for money. Most people actually believed me." Drastic, too, was the change in population, Mr Mead reflects.
"You had a situation where you had a lot of newcomers in the town earning comparatively high incomes and that, not unnaturally, caused a bit of resentment for some time. The proportion that remained after hydro development was relatively small; that was no great surprise. A lot of these people were in the prime of their working lives so they were chasing the dollar wherever it was.
"There are always, with any changes like that, going to be pluses and minuses. There have been benefits greater than imagined and completely unforeseen. Then there have also been downsides. One of those was the influx of the Crown and all its employees and a large lot of money. For some time, the town lost its community spirit and that took quite a while to come back."
He can recall, as a 7-year-old, asking his parents about the white marks on the rocks in the Cromwell Gorge during a drive from Dunedin in the late '70s. The answer - that's where the water is going to reach - prompted childhood visions of schools of fish flitting around the bowsers of a Cromwell petrol station since submerged.
Now 39, Mr Walter often sees fish (real rather than imagined) gliding along the banks of his property. If the ongoing gardening permits, he sometimes attempts to land a couple. If it's a particularly hot day, he'll complete the commute from the Bannockburn winery with a dip in the lake. Other times, he'll set sail in his Laser craft in a race organised by the Lake Dunstan Boat Club to which he belongs.
"A lot of the time, we get a northerly coming down, but through the springtime last year we've had a lot of southerlies and southwesterlies, which are great for sailing because we don't get the big wave action."
Mr Walter has witnessed something of a swell in the wine industry, too: "There was perhaps only 30ha of vines when I came here, but now there are close to 2000ha."
Part of the reason for such growth has been the access to climate data obtained by the Ministry of Works in its research into the feasibility of building dams in the area and subsequently made available to other parties.
"There are properties that have been founded on the basis of that data," Mr Walter says. "I'm sure that information would have been released when they were displacing properties out of the Cromwell Gorge and those people had to find land with similar qualities for orcharding. There was a little booklet produced identifying the hot spots and Felton Rd in Bannockburn was one of them.
"Early on, there were no vineyards in this area, whereas now the Cromwell basin and around Lake Dunstan accounts for almost 70% of Central Otago's vineyards."
Dougal Stevenson, like Mr Walter, also found his youthful curiosity magnified by the craggy geography of the Cromwell Gorge.
Asked to offer his reflections on Lake Dunstan in light of an essay he penned on the subject and which aired on National Radio in August last year, the Dunedin-based broadcaster chuckles: "That's about all you can do, isn't it?"
He has no trouble bringing forth a mental picture of the gorge as he preferred it, including the old iron bridge at Cromwell (now submerged) from which he used to lean and "delight in the urgency of the Clutha shoving aside the impudent Kawarau".
"For some time, my father had a small farm near Cromwell when I was quite young and I recall the dredges and the tailings. All those things that people regarded as unsightly are now, of course, gone beneath the placid waters of Lake Dunstan.
"There will be people who argue it's a much more pleasant-looking community than it was at the end of the gold rush or the end of the railway era, but not me. I liked the roughness and the rawness, the tumble of the place. Now, the placidity is a lie; it's man-made."
More recently, Mr Stevenson spent New Year's Day at the lake. He believes it's going to be "quite pleasant" ultimately, a bit like the lakes of the Waitaki Valley.
"Eventually, they start to sit in the landscape quite comfortably. A few trees grow and it's a different world."
Which brings us back to Ms Anderson's metaphor of a wound on the mend, though Mr Stevenson prefers to offer other words of contemplation.
"I stand absolutely with those like [poet] Brian Turner who say we don't inherit the Earth from our parents; we borrow it from our children.
"I'm not looking forward to the day when a grandchild, intrigued by my father's photo album and by ours, asks: 'Who stole the river?"'

How it happened
• The Government passed the Clutha Development Empowering Act in 1982 to authorise the Clyde power scheme.
• The Clutha River was diverted through constructed diversion channels in 1982. The dam was completed in 1990, but lake filling and scheme commissioning were delayed while landslip issues were addressed.
• The filling of Lake Dunstan began in April 1992 and proceeded through four controlled stages until it was completed the following year. The lake covers an area of 26sq km and raised original water levels by 60m.
• The concrete gravity dam is 102m high and its power station has an installed generation capacity of 432MW. It utilises the combined flows from the Clutha and Kawarau rivers. The confluence of these two rivers occurs 20km upstream at Cromwell.
• The formation of Lake Dunstan required the purchase of more than 2000ha of land at a cost of $28.5 million; 60 residences were affected, as were 50 commercial premises.
• Geological investigations detected a number of areas of movement that required stabilisation, including buttressing and tunnelling work; 18km of tunnels have been dug into the hillsides and 6500 monitoring devices installed around the lake.