We need to get dressed differently and this week will be as good a time to start as any, writes Gina Dempster.
This week is Fashion Revolution Week, marking the anniversary of the Rana Plaza factory collapse, which killed 1138 people and injured many more on April 24, 2013. Fashion Revolution is a global movement born out of that tragedy, which calls for radical change in the way that our clothes are sourced, produced and consumed.
Its goal of having our clothing made in a safe, clean and fair way is hard to argue against, but it involves a global shift of values and processes around clothing. In a world of $5 t-shirts, where can we start rethinking what our relationship is with our clothes?
Student/artist Kirsten Koch says upcycling or shopping second-hand can be a radical act, as well as a creative one. She is hosting a Dunedin seminar on clothing upcycling to celebrate Fashion Revolution, with presentations from eight upcyclers living in Otago.
The eight artists presenting are Elena Poletti, Kezka Bizarre, Kerry MacKay, Desi Liversage, Simone Montgomery, Fiona Jenkin, Fiona Clements and herself.
Kirsten is studying for her master's in sociology at the University of Otago, and says upcycling is one of the strands of the evolving "Slow Fashion'' movement, or as some prefer to call it, "Slow Clothing''. Fashion, says Kirsten, has a short shelf-life that preys on people's insecurities and desire for conformity.
"We desperately want to be like everyone else, to be viewed as successful ... Clothing plays a big part in people's one-on-one interactions on a daily basis as a visual language indicating how much we fit into the group. The fashion system utilises this wish to be seen as 'OK' and even 'fashionable' to sell product.
"Clothing, on the other hand, can be worn until it wears out. Slow clothing isn't about buy, buy, buy and throw away.''
Expressing your creative side in clothing can be an antidote to the pressure to fit in or be perfect, says Kirsten, who like many of the other presenters, experimented with making her own accessories and clothes while growing up.
"For many participants, their parents were makers as well, and they learned in their youth to be creative and not be ashamed of it. For some participants, textiles were their private world and it was amazingly powerful for them.''
For artist Simone Montgomery, textiles were an escape from a difficult journey through primary school with undiagnosed dyslexia.
"My world was pictures in my head - pictures are my first language - written and spoken language is my second. English is a foreign language to me; imagine if you were just plonked in the middle of China with no interpreter, that is what it was like. My escape was to make Barbie clothes from scraps of material from mum's sewing. I have never stopped making.''
Upcycling also prolongs the life of clothing, by reviving discarded and downgraded textiles and clothing. The global waste created by fast fashion and low-quality, cheap clothing is overwhelming. Every second, a truck-load of textiles is burned or landfilled. A flood of second-hand cheap clothing is overwhelming op-shops around the world.
Many of the upcyclers at the seminar operate as a social enterprise, with the goal of engaging the public through making, teaching, selling, exchanging and gifting their work. Five are involved with Stitch Kitchen, Dunedin's sustainable fashion hub. But, Kirsten says, challenging the fashion status quo can be difficult financially.
"Even the people who are most financially successful still cannot make an income out of it. They survive on Government arts funding or supplement their income through trying to find paid work. Part of my research is understanding why they are driven to do it. They are effectively local spokespeople on slow fashion and they're extremely creative thinkers and makers.''
However, new opportunities may open up as people look for alternatives to super-cheap and wasteful fast fashion. Research from online second-hand store Thred Up predicts that the value of the second-hand market will overtake the fast fashion market by 2028. Kirsten says that people are disillusioned with the fast fashion model of manufacturing and are making the choice to buy second-hand because they don't want to support more new things being made.
Kirsten, who never buys anything new except underwear and tights, says reading the label can help you figure out what materials a garment is made from and where it has been designed and made.
"New Zealand designers are trying hard and local is good, but many New Zealand designers do not manufacture locally, and we do not always know if they are manufacturing ethically as they are not mandated to have their business processes audited.''
Kirsten recommends giving second-hand shopping a go.
"Lots and lots of people are doing it now. You can find really interesting clothing, there are some garments that were only on the new racks two months ago if that's what you like, and there is a much bigger variety now for a diverse range of bodies and tastes.''
Clothing upcycling seminar
Local clothing upcyclers from throughout Otakou (Otago) will discuss their practice and display their creations. Wednesday, April 24, 11am-4.30pm, Dunedin Public Art Gallery conference room, 2nd floor.
Free, all are welcome, including children.
Gina Dempster is communications officer at Wanaka Wastebusters. Each week in this column, one of a panel of writers addresses issues of sustainability.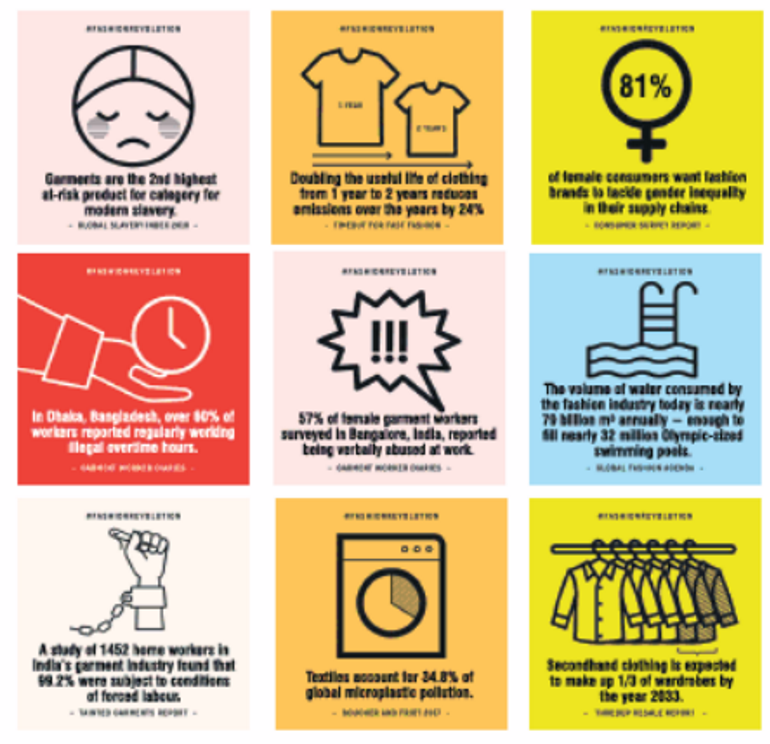 You too can be part of the Fashion Revolution with 8 #haulternatives
You don't need to buy new clothes to enjoy a haul. Instead of the traditional fashion haul, where you go shopping and post a video of what you've bought, try a #haulternative; a way of refreshing your wardrobe without buying new clothes. Pick the one that most inspires you and create a haulternative video for Fashion Revolution Week (April 22-28, 2019).
LOVE STORY
No-one can replace the beautiful jacket that your grandmother wore and gave to you. Or that perfect little dress you found while travelling somewhere special. Rather than buying new, fall back in love with the things you already own. Share a story, or write a love letter about an item of clothing that means a lot to you.
BROKEN & BEAUTIFUL
Just like you never stopped loving your teddy when he lost an eye or arm, there are certain items of clothing which we continue to love, maybe even more, when they are no longer perfect; a pair of jeans that are almost worn through but are so soft and fit so perfectly still, a favourite jumper that's fraying at the sleeves. Share the story about an item of clothing that you've worn in to the point that others may see it as damaged or broken, but that you love and will cherish forever.
FASHION FIX
When we wear clothes we adore again and again, they can start to show signs of wear and tear. A rip, a missing button or a stain should never stand in the way of you and a good outfit. Don't throw them out, give them a fashion fix. Make your clothes last longer by repairing them when they need it. Get creative; make your broken seams, holes and tears into a fashion statement.
SECOND-HAND
Recreate your favourite looks for a fraction of the price by buying from your local charity shops.
SWAP
Swapping, swishing, sharing. The simplest way to extending the life of your clothes is by giving them a new owner.
DIY
If you've fallen out of love with a piece of clothing, don't throw it out, change it up. You can tailor clothes to a different shape, add new embellishments, or dye it a different colour. You could turn it into something completely new, like a scarf or an accessory.
VINTAGE
Hunt for your own unique piece to own a slice of history and channel that Audrey Hepburn, Lauren Bacall or Marilyn Monroe look. Vintage gives you personal style and means you'll be reusing, repurposing and extending the life of beautiful clothes.
HIRE
Hire catwalk looks for high street prices, it makes perfect sense. Super cheap designer clothes to loan and wear for any occasion. All you have to do is give them back.
SLOW
Fast fashion and mass-produced luxury have distracted us from the beauty and true value of the handmade, from intricate embroidery to a simple, delicate hand weave. Handmade and artisanal are fast becoming the new luxury: discover which technique you are most drawn to (embroidery, boro, crochet, lacemaking, weaving ...) and follow the thread to your favourite piece.
For more 
• Go to www.fashionrevolution.org/about/get-involved/