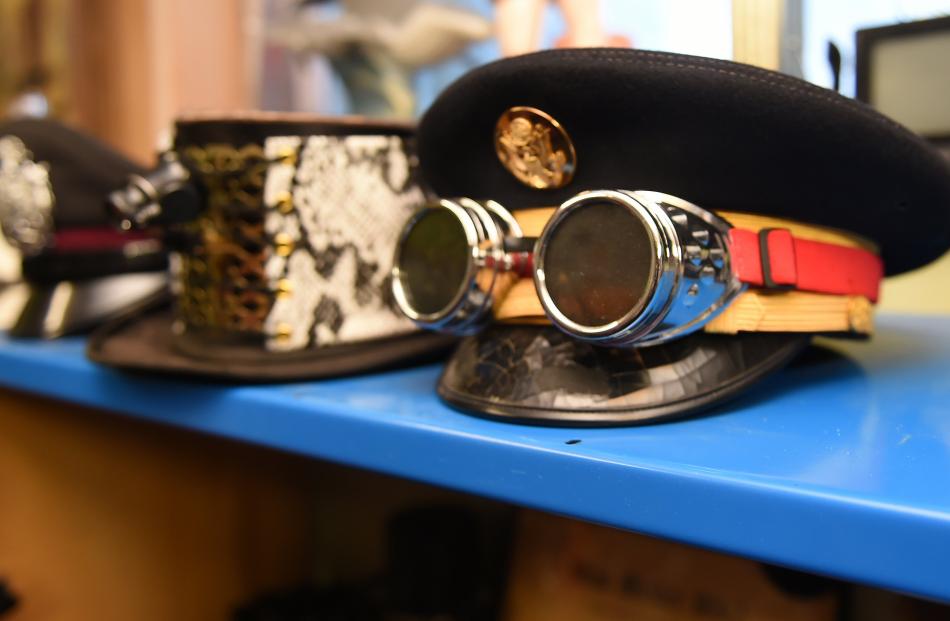 Steampunk maker James Bryan combines ''do-it-yourself'' creativity with Victorian views of the future. Kim Dungey reports.
James Bryan lives in a regular house but what goes on inside is anything but ordinary.
The door to the basement is a dead giveaway. Looking more like the entrance to a new realm or a secret lair, it features electrical conduit winding like a serpent around copper pipes, a faded gauge and a radiation warning sign. A red light flashes when a chain is pulled.
On the other side, the Dunedin steampunk enthusiast turns found objects into model airships, quirky lights and remote-controlled teapots.
A ray gun has been assembled from an insulator, a tarnished brass vase and a hexagonal-shaped vacuum gauge from an old milking machine. The reflector is a folding steamer basket.
His lights combine half-inch steel water pipe of the type found in 1950s houses with carbon-filament bulbs, medical equipment such as oxygen flow meters and industrial items such as metal fire alarms.
The six-car basement fits only two vehicles because it is so full of his creations, one of them a first attempt at an airship: "I filled it with helium to see if it would float but it was too heavy,'' he says.
In the driveway, a 4m-long dirigible is mounted on an electric wheelchair.
Recently he adapted LED lamps to fit inside the light fixture from a historic reprographic camera discovered in the former John Colours Ltd building in Crawford St. The original carbon arc lamp would have been a fire hazard and given off dangerous UV, he says. But the fixture's mechanical levers "perfectly'' fit the steampunk culture with its Victorian-inspired dress and gadgetry.
Breaker to maker
Only a "wee nipper'' when he started pulling apart toys, valve radios, watches and his mother's kitchen appliances, Mr Bryan learned from the odd electric shock to "look first, touch second''. His two 944 Porsches, one with powerful stereo speakers, are a reminder of his early jobs as a radio serviceman and a machinery dismantler.
He now services electrical rehabilitation equipment such as wheelchairs, beds and hoists, but spends weekends searching op shops and demolition yards for objects in brass, wood and copper.
"It keeps the integrity of what we're about because plastic didn't exist in Victorian times,'' he explains. "It also keeps you thinking about how you're going to do things. I prefer not to use glues. I use proper mechanical means to join things together - soldering, nuts and bolts, changing the threads and fittings so I can make things work.''
Steampunk fans view things differently, he says, quoting American poet Henry David Thoreau: "It's not what you look at. It's what you see that counts.''
One example - a light that was a kitchen appliance before the motor and mixing blade were swapped for a bulb and a socket: "From the time I saw it in a shop, it was never going to be a milkshake maker again.''
Another? The shallow bowls of more than a dozen spoons, linked together like chain mail to form epaulettes for a jacket.
Combining elements of science fiction and fantasy with steam-powered technologies of the 19th century, the steampunk culture encompasses everything from art to film and fashion.
Sometimes set in the American west or in a post-apocalyptic future, it is more commonly inspired by the Victorian and Edwardian eras. As American author Caitlin Kittredge put it: "It's sort of Victorian-industrial, but with more whimsy and fewer orphans...''
Mr Bryan acknowledges the 19th century was a time when class discrimination and imperialism were rife but says steampunk enthusiasts focus on only the best parts, like the clothing and the well-made technical instruments.
"[Back then], it was very much the haves and the have-nots. We've added a 2017 twist. We have the look but without the attitude.''
Members of the Dunedin Steampunk Society and the Dunedin Gasworks Guild of Gadgeteers greet cruise ship passengers in steampunk attire, hold goggle-making workshops and race teapots, mounted on remote-controlled car chassis, he says, describing a world of tea parties and time travellers' balls, where everyone vies for attention but no-one takes themselves too seriously.
Helen Bryan, a 59-year-old cleaner whose steampunk character, Lady Flinder, explores with a butterfly net and carries scorpions and lizards in tiny bottles dangling from her utility belt, is just as involved as her husband. She also makes most of their steampunk clothing - a mix of neo-Victorian, Edwardian and military styles accessorised with chains, walking canes, pocket watches and "medals of self-importance''.
Mr Bryan disappears into the room that is his wardrobe and pulls out a frock coat with pirate cuffs attached, slotted metal spoons bent into the shape of goggles "because you've got to have eye protection when you're out adventuring'' and a top hat with brass "chimneys'', red and blue flashing lights and a clock spring in place of a feather.
His 60-something waistcoats hang alongside more than 50 pairs of flamboyant shoes and a series of backpacks with billowing steam and multicoloured plasma discs.
To complete the look, the 60-year-old has sideburns shaved to look like the metal bars of an American gridiron helmet, a brass clip set into his whiskers and a brightly coloured beard that, thanks to hair chalk, can be purple one day, green the next.
When he and his wife flew to Europe last year, they wore full steampunk clothing, partly because he wanted to buy brass lamps and vases and "couldn't see the point in wasting luggage space taking civvies''.
Back in Dunedin, he is slowly giving their 1970s block home the steampunk treatment: dials, gauges and industrial-style lights in the lounge will be repeated in the bedrooms and even the toilet.
Technically they should be living in a Victorian mansion. But they bought the house before discovering steampunk, he says, recalling how he went straight to the basement, took one look and made up his mind up.
"Bob, the land agent, said, "You haven't seen the rest of the house yet'.''
"`I don't care', I said. `I'll take it'.''